Brian Idalski named SCSU women's hockey head coach
Former North Dakota women's head coach will replace Steve Macdonald, who was let go after the end of the 2021-22 season.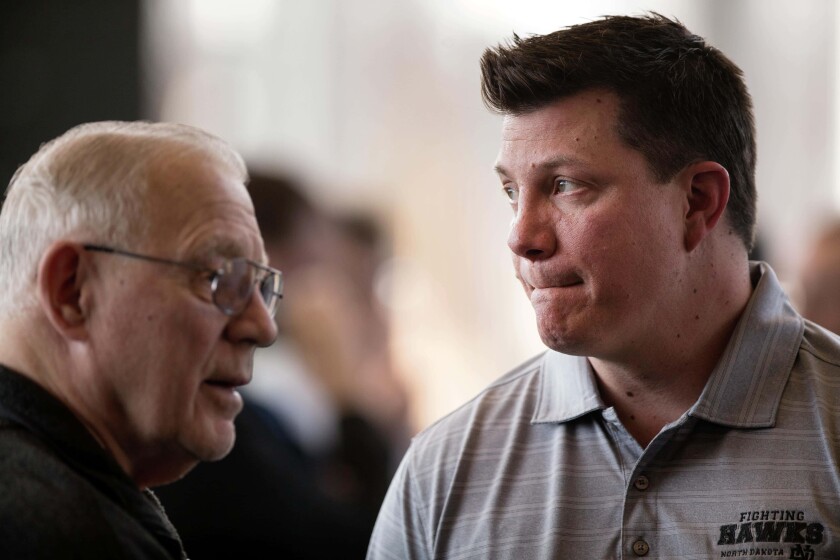 ST. CLOUD, Minn. — Former University of North Dakota head women's hockey coach Brian Idalski has been named the new head coach for the St. Cloud State women's hockey team.
Idalski, 51, was the head coach for China's women's team at the 2022 Beijing Olympics and has spent the last three seasons as the head coach of the KRS Vanke Rays in the Russian professional women's hockey league. With KRS, his teams went 77-17, won a playoff championship in 2019-20 and a regular season championships in 2020-21 and 2021-22. He was selected to coach in the league's all-star game in 2019-20 and was named the league's Coach of the Year for the 2019-20 and 2021-22 seasons.
"His background, experience, and success as a head coach at international, professional, and collegiate levels of women's hockey make him a great fit for our Huskies program," St. Cloud State athletic director Heather Weems said in a news release. "Coach Idalski successfully built UND women's program into a national contender and is recognized for his ability to raise performance expectations through recruiting and developing players. He has a strong understanding of the recruiting landscape and how to compete in the WCHA, the premier women's collegiate hockey league."
"I'm really excited to be back in St. Cloud and for the opportunity to lead the women's hockey program," Idalski said in the news release. "The WCHA is the best collegiate hockey conference in North America, and I look forward to building St. Cloud State into a winner. I'm thankful to Heather Weems and the search committee for entrusting me with this opportunity and can't wait to get to work."
From 2007-17, Idalski was the head coach for the Fighting Hawks before North Dakota cut the program. While at UND, the Fighting Hawks had five 20-win seasons and made NCAA Tournament appearances in 2012 and 2013. He inherited a team that went 3-31-2 prior to his arrival and had a 169-156-39 in 11 seasons with the team.
In 2006-07, Idalski was an assistant coach for the SCSU women's hockey team under head coach Jeff Giesen. From 2001-06, Idalski was the head coach for the University of Wisconsin-Stevens Point women's team, an NCAA Division III program.
Idalski played college hockey for UW-Stevens Point and was a defenseman for the Pointers from 1991-95. He then played four seasons of minor league hockey before becoming a coach. Under Idalski, UW-Stevens Point went 108-21-11, was the national runner-up in 2003-04, took third in the nation in 2005-06 and had a national quarterfinal finish in 2004-05. The Pointers captured three conference regular season titles and four conference tournament championships and Idalski was a two-time conference coach of the year award winner.
At SCSU, Idalski replaces Steve Macdonald, who was fired after three seasons as head coach. Under Macdonald, the Huskies were 12-58-8.
St. Cloud State has struggled to be successful for the majority of time since the program joined the NCAA Division I level in 1998. The Huskies joined the WCHA in 1999 and have gone 150-399-53 (.249 winning percentage) in conference play and have not finished higher than fifth place in the eight-team conference since 2009-10.
The team's best finish in the WCHA was when it finished third with an 11-11-6 conference record in 2009-10 under Giesen. That was also the last season the Huskies finished with an overall record above .500 (15-14-8). Under five head coaches, St. Cloud State has an overall record of 238-510-71 (.291).
In 2021-22, the Huskies went 4-20-3 to finish seventh in the WCHA and 9-23-3 overall. Two of the highlights of the season were that graduate student goalie Emma Polusny became the first player in program history to be named to the All-WCHA First Team and two Huskies — forwards Jennina Nylund and Klara Hymlarova — played in the Olympics.
2022-23 SCSU's WCHA schedule
7, 9 — at Ohio State
14, 16 — vs. Wisconsin
21, 23 — at Minnesota
28, 30 — vs. St. Thomas
4, 6 — at Bemidji State
11, 13 — vs. Minnesota Duluth
2, 4 — at St. Thomas
9, 11 — vs. Minnesota
13, 15 — at Minnesota State
20, 22 — vs. Ohio State
27, 29 — vs. Bemidji State
3, 5 — at Wisconsin
10, 12 — at Minnesota Duluth
17, 19 — vs. Minnesota State
24, 26 — WCHA quarterfinals