Three-goal minute buries Bemidji State, gives Mavericks series split
The Beavers conceded three goals in 58 seconds, and that stretch doomed Bemidji State in a Saturday defeat to Minnesota State.
BEMIDJI -- The Bemidji State women's hockey team had a great first period against Minnesota State on Saturday at the Sanford Center.
Looking for a sweep against the Mavericks after a 2-1 victory on Friday, the Beavers held MSU to three shots on goal while crafting quality chances for themselves. That all changed in the second period, though.
Perhaps fatigued by killing a penalty early in the frame, BSU's defense faltered, conceding three goals in 58 seconds. That stretch doomed Bemidji State, and Minnesota State finished off the 3-0 win to earn a series split.
"Probably the best way to describe it is frustrating," BSU head coach Jim Scanlan said. "We played maybe our best period of the year in the first period, just in terms of controlling the play. Credit to Mankato, they got their feet going in the second. But it was just that short stretch – we got outmuscled for a rebound on the first goal, and then we go consecutive our-stick-to-their-stick turnovers that result in goals. And that's tough."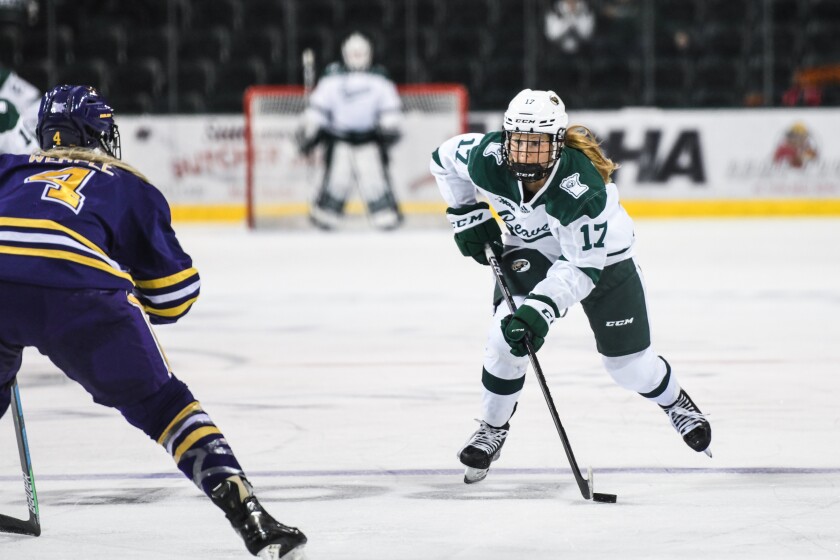 The unraveling began in the second period after Adriana Van De Leest was called for tripping. The Beavers (3-8-1, 1-7 WCHA) successfully weathered that penalty, but shortly thereafter, the Mavericks (3-7, 3-7 WCHA) began to draw blood. Sydney Langseth had the first strike at 11:31, then Taylor Otremba doubled it up ten seconds later. Still within a minute of game clock, Charlotte Akervik added the backbreaker at 12:29, digging the Beavers a hole they could not climb out of.
"We need to manage the puck better," forward Calli Forsberg said. "That's why they scored those three unanswered goals. We need to be better all around in the defensive zone, staying above their players. It's the little things that we were messing up on."
Forsberg thought Bemidji State might have been thrown out of sorts by Van De Leest's penalty, but that's something the Beavers want to root out of their game."We can't let that happen to us, but sometimes it tends to," Forsberg said. "Sometimes, we let that get to us, and we definitely can't do that against these kinds of teams, because they're good."
Scanlan stressed BSU's puck management as well, noting that Bemidji State gave the Mavericks life when it turned the puck over on unsuccessful clearances.
"On the second one, I don't know if we just fanned on it or what happened," Scanlan said. "But we turn it over to them right in the slot and they score. And then the third one, instead of an east-west clear, we just throw it out to their defenseman, and she winds up scoring. So preventable – that's what we keep saying, those things are preventable."
The first period was a clear positive for the Beavers to take from the contest, but moving forward, they're looking to put forth three frames like that every time out.
"The good is we came out and played so well in the first," Scanlan said. "But now our challenge is you've got to put that together back-to-back-to-back and play consistent hockey. You're always going to play good teams in this league, so they're certainly going to come compete and they're going to battle, and that certainly happened. But again, (it goes) back to managing the puck."
"We came out on our toes, just like coach has always said," Forsberg added. "We did that (in the first period). We did that yesterday, and a good thing happened – we got a W."
Hannah Hogenson finished with 24 saves in net for BSU, while MSU's Alexa Berg totaled 27 stops to pick up the shutout.
Bemidji State returns to the ice against St. Cloud State on Friday and Saturday, Nov. 4-5, at the Sanford Center.
Minnesota State 3, Bemidji State 0
MSU 0 3 0 -- 3
BSU 0 0 0 -- 0
First period -- No scoring.
Second period -- 1, MSU GOAL, Langseth (Otremba, Mashuga), 11:31; 2, MSU GOAL, Otremba (Mashuga), 11:41; 3, MSU GOAL, Akervik (Bryant, Nelson), 12:29.
Third period -- No scoring.
Saves -- Hogenson (BSU) 24; Berg (MSU) 27.