Linser, Soderberg lead Bulldogs to historic sweep of Badgers in Madison
Anneke Linser scored the lone goal in UMD's first sweep in Madison since 2007. Emma Soderberg made 28 saves for her fifth shutout of season.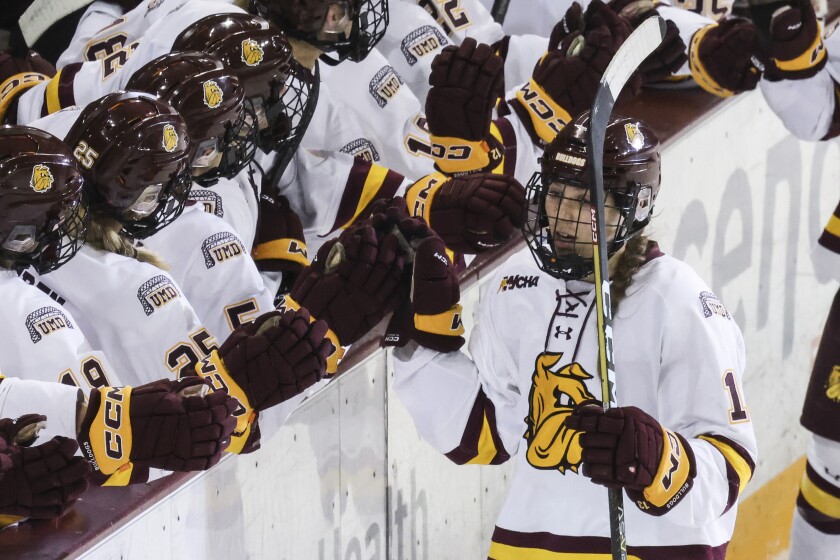 MADISON — Minnesota Duluth edged Wisconsin in a defensive tussle Sunday at sold-out LaBahn Arena, winning 1-0 to sweep the Badgers in Madison for the first time since the 2007-08 season.
Fifth-year senior wing Anneke Linser broke the scoreless stalemate with 12:13 remaining in regulation by sliding a backhander under outstretched Badgers goaltender Jane Gervais. It was Linser's second goal of the weekend after registering the game-tying goal in Saturday's 3-1 win.
"I liked all our goals this weekend. They weren't pretty, they were gutsy, loose pucks in the crease," Bulldogs coach Maura Crowell said. "That's where we want to be. We want to be all over them, hunt down those loose rebounds.
"(Linser) has been a big presence on the ice and nowhere is it felt more than in the slot for a goaltender. When she puts a puck in there, sticks with it and grinds it out, it's awesome."
The Bulldogs and Badgers combined for 75 shots on goal Saturday compared to just 54 on Sunday.
Minnesota Duluth returned from a month-long layoff to beat Wisconsin 3-1 in the series opener in Madison.
UMD fifth-year senior Emma Soderberg — one day after making 44 saves — finished with 28 saves on 28 shots Sunday for her 16th career shutout, tying fellow Swedish Olympian Kim Martin for third all-time in career shutouts by a UMD goaltender.
Riitta Schaublin sits second at UMD in career shutouts with 17. Kayla Black holds the single-season (10 in 2014-15) and career (20) records for shutouts.
"She's just a tremendous leader on our team. People might not know that, but she really is," Crowell said of Soderberg. "Having that between the pipes, it's so important for our success. I'm really excited for her to come into the new year, her last semester, for her to start it like that."
Love to see it! I was fortunate to grow up in Duluth watching @KimMartin86 as a dedicated fan. @emmasoderbrg's career at UMD has always felt like a parallel one to Kim's—#30, Swedish sensation, both more beloved off the ice than on it. And that says everything! https://t.co/JzlD4yYnvV

— Laura Bellamy (@laurabellamy91) January 8, 2023
UMD is the first team to sweep Wisconsin at LaBahn since October 2014. The Bulldogs have swept in Madison just four times, with a Nov. 30-Dec. 1, 2007 series being the most recent.
The last time the Bulldogs swept the Badgers in a season series was Oct. 13-14, 2012, in Duluth.
Sunday's win also gives UMD a victory in the four-game regular season series as the Bulldogs took eight out of 12 points after winning in overtime and losing to Wisconsin in Duluth back in late October.
"It doesn't get much better than this," Crowell said of the sweep. "It's a tough place to play, a really good team, a high-flying offense. They pressured us and put us into tough spots all weekend long, but our team defense was locked in. Everybody did her job, none bigger than Soderberg in net."
The Bulldogs return home next weekend to host Bemidji State at 6 p.m. Friday and 3 p.m. Saturday at Amsoil Arena.