Family of SCSU's Brendan Bushy will have a short trip to NCHC Frozen Faceoff
Junior defenseman's dad grew up in East Grand Forks. His grandfather, Joe, died in 2015, but used to sell beer at UND games at Ralph Engelstad Arena. Joe also helped get East Grand Forks Civic Center get built and was a longtime goal judge for Green Wave high school games. Joe's brother, Dennis, is a longtime arena manager who has a rink named after him in Moorhead.
GRAND FORKS — There will be 3,000 spectators allowed into Ralph Engelstad Arena this weekend for the NCHC Frozen Faceoff, the conference's postseason tournament.
While Brendan Bushy plays for the St. Cloud State men's hockey team, many family members and friends will be on hand when the second-seeded Huskies (15-9-0) play seventh-seeded Colorado College (4-16-2) at 2:37 p.m. Friday (NCHC.tv, Midco Sports Network). The semifinals will be played on Monday (3:05 and 8:05 p.m.) with the championship game at 7:37 p.m. Tuesday. The semifinals and championship games will be on CBS Sports Network.
Brendan's father, Jon, grew up just across the Red River in East Grand Forks, Minn., and several family members still live in the area. Brendan grew up about an hour away in Thief River Falls, Minn., with his dad, mom (Melissa) and younger brothers, Evan and Owen.
"I grew up going to a lot of UND games and I just remember being a little kid, sitting next to my dad, watching the games," Brendan said. "When you look up in the stands and see little kids, you say, 'Not too long ago, that was me sitting right there and now I'm here.'
"It's just cool to get back up north and being there and I'll have a decent amount of family there."
Grandfather had big influence in East Grand Forks
Not only does he have family in the area, he has some family members who have been very influential on hockey in northwestern Minnesota. Brendan's grandfather, Joe Bushy, was a member of the East Grand Forks Hockey Association that helped get East Grand Forks Civic Center built in 1974.
Besides volunteering for EGFHA, he also was a goal judge for East Grand Forks High School games and Jon has some distinct memories from when he did.
"My dad goal judged for East Grand Forks for probably 25-30 years and he wouldn't get paid for it, but he loved doing it," Jon said. "I remember going to games. At the time, he had a really high stool that stood about 5-6 feet up from the floor and I remember I would go underneath his goal judge chair and I would just watch the game from beneath, by my dad.
"My dad passed away (in 2015) and, at the Civic Center, they do glass etchings for people who have really given back to the program. Where my dad was a goal judge, they put 'In Memory of Joe Bushy.' There's a picture of me at the rink because I was a Division I athlete," said Jon, who played defense for Minnesota State-Mankato from 1997-2001 and is a volunteer assistant coach for the Thief River Falls junior varsity boys team. "The picture of my dad is for his volunteering and giving back to the program and helping build the Civic Center."
RELATED:
For a handful of years after Ralph Engelstad Arena opened in 2001, Joe and his wife, Carol, sold beer at UND games.
"My dad was a very social person and loved to be around people and that was a way for him to be around people," Jon said of his father, who was a regional circulation director for Forum Communications, the Star Tribune and USA Today. "They probably did that for 5-10 years. But once his grandsons started playing, he'd rather be watching his grandsons play."
When Brendan was asked about his grandfather, he imagined how excited that he would have been to see him play this weekend.
"He wanted to do whatever he could to see us grandkids succeed and I know he'd be a pretty happy camper now if he got to go to Ralph and watch me," Brendan said. "My dad likes to say that if my grandpa was living, he'd probably never have missed a home St. Cloud game or any of my games in the area. He loved hockey and loved to support me and Evan whenever he could."
Jon said that his father started a tradition of taking his family to the Minnesota State High School League boys hockey tournament when he was young. That tradition continued after Brendan and his brothers were born and the games were held at Xcel Energy Center in St. Paul.
"Sadly, he never got to see me play at the X in the state hockey tournament," said Brendan, who helped Thief River Falls take third in the Class A state tournament in 2016. "But winning that Section (8A) title in East Grand Forks and winning the (NCHC's) Penrose Cup (in 2019) are my two favorite hockey memories."
After the Prowlers beat East Grand Forks 3-1 for the 2016 section title, the Bushy family took a photo together with the trophy near the area in the arena honoring Joe.
"That was very special," Jon said. "If he was here ... for him to see Brendan make the state tournament and to see what Evan has done. That would have made his world.
"But he's still here. He's a big part of the boys and what they've accomplished."
A rink named after a Bushy
Jon's brother, Jay, also played for East Grand Forks High School and their two sisters were all athletes, though there was no girls hockey offered when they were growing up.
RELATED: 'The heart and soul of Moorhead hockey': Bushy has given everything to the Spuds
But the hockey connections to the area do not end with Brendan's immediate family. His great uncle, Dennis Bushy is a long-time arena manager and youth hockey coach in Moorhead.
He was honored in 2017 with the William Thayer Tutt Award at the USA Hockey President's Award. The award is given to a volunteer who, during many years of service, has displayed a selfless dedication to the enhancement of ice hockey at the grassroots level in America.
Dennis is also the District 15 director for Minnesota youth hockey. When ground was broken for the Cullen Hockey Center in Moorhead, the third rink was named after Dennis.
"He still schedules all the youth hockey and helps coach the bantam team," Jon said. "We call him 'Puck.' He's my Uncle Puck."
Jon said he is not sure if Dennis will be able to make the games at Engelstad because he is so busy.
But he's undoubtedly proud of Brendan's solid season with the Huskies. The 6-foot-2, 230-pound, 22-year-old defenseman has a career-best seven points, is fourth on the team in blocked shots (25) and seven on the team in plus/minus (plus-4) in 24 games. For most of the season, he has been on the Huskies' No. 2 defensive pairing with junior Spencer Meier.
"I just feel so much more confident out there," said Brendan, who scored his first college goal on Feb. 13 in a win over Miami. "I'm confident with the puck and I have that extra half second (with it). It's been a fun year.
"I came in mentally ready and I have that confidence and that swagger that (head) coach (Brett) Larson and (assistant) coach (Dave) Shyiak have helped out with a lot. I came in mentally prepared and ready. I just took the opportunity and ran with it."
And Brendan will not be the lone Bushy playing hockey in the Grand Forks area over the weekend. Brendan's youngest brother, Owen, is playing in a bantam district playoff game on Saturday in East Grand Forks.
"Owen's got a practice Friday night in Thief River that we have to get back to after Brendan's game," Jon said.
Owen and Brendan's brother, Evan, won't be able to attend any of those games. Evan, a defenseman and St. Cloud State commit, plays for the North American Hockey League's Minnesota Wilderness and he has games Friday and Saturday in Cloquet against the Janesville Jets.
For more hockey news: The Rink Live is your top-shelf destination for regional hockey coverage. Situated in the country's premiere hockey footprint, skate on over for exclusive content and the latest in college, USHL and high school hockey. Subscribers to Forum Communications' network of newspapers also enjoy access to The Rink Live as part of their membership.
1
/
7:
St. Cloud State defenseman Brendan Bushy (18) keeps the puck from Minnesota Duluth forward Cole Koepke (17) in the first period Saturday, March 6, 2021, at the Herb Brooks National Hockey Center in St. Cloud. (Jason Wachter / The Rink Live)
2
/
7:
St. Cloud State's Brendan Bushy of Thief River Falls blocks a Fighting Hawks shot as UND's Rhett Gardner looks for a rebound in an NCHC game last season at the Ralph Engelstad Arena. Eric Hylden / Grand Forks Herald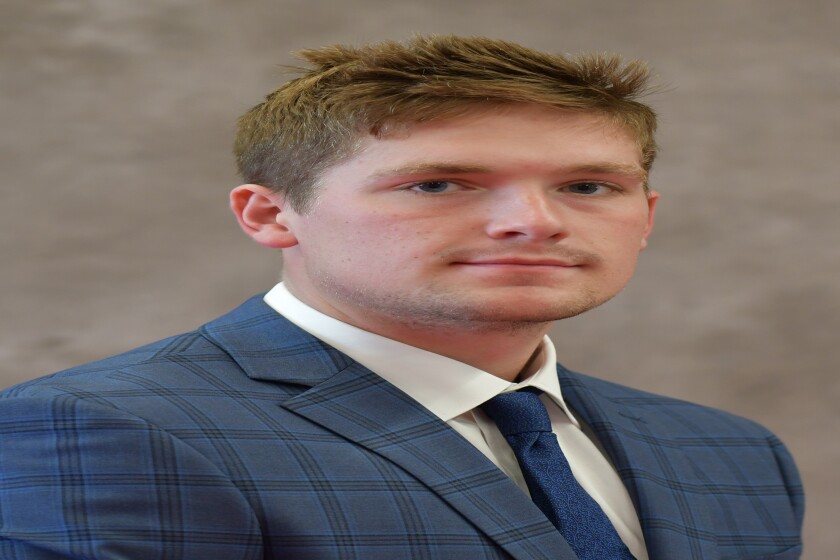 3
/
7:
St. Cloud State sophomore defenseman Brendan Bushy
4
/
7:
St. Cloud State defenseman Brendan Bushy (18) skates with the puck against against Minnesota Duluth in the first period Saturday, March 6, 2021, at the Herb Brooks National Hockey Center in St. Cloud. (Jason Wachter / The Rink Live)
5
/
7:
Nebraska Omaha forward Martin Sundberg (16) reacts as the puck bounces off St. Cloud State defenseman Brendan Bushy (18) in the second period Sunday, Dec. 6, at Baxter Arena in the NCHC Pod in Omaha. Tyler Schank / Forum News Service
6
/
7:
University of North Dakota's Jasper Weatherby, St. Cloud State defenseman Brendan Bushy and University of North Dakota's Jordan Kawaguchi go into the boards after the puck in the second period Friday, Feb. 21, 2020, at the Herb Brooks National Hockey Center in St. Cloud, Minn. Jason Wachter / The Rink Live
7
/
7:
From left: St. Cloud State defenseman Brendan Bushy (18), St. Cloud State forward Will Hammer (16) and Western Michigan forward Luke Grainger (9) react as the puck becomes airborne in the first period Tuesday, Dec. 1, at Baxter Arena in Omaha. (Tyler Schank / tschank@duluthnews.com)
1
/
7:
St. Cloud State defenseman Brendan Bushy (18) keeps the puck from Minnesota Duluth forward Cole Koepke (17) in the first period Saturday, March 6, 2021, at the Herb Brooks National Hockey Center in St. Cloud. (Jason Wachter / The Rink Live)
2
/
7:
St. Cloud State's Brendan Bushy of Thief River Falls blocks a Fighting Hawks shot as UND's Rhett Gardner looks for a rebound in an NCHC game last season at the Ralph Engelstad Arena. Eric Hylden / Grand Forks Herald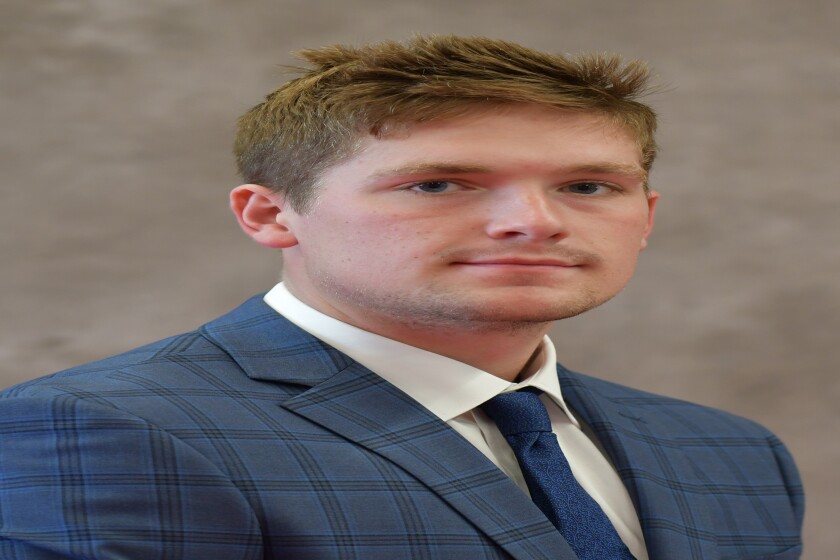 3
/
7:
St. Cloud State sophomore defenseman Brendan Bushy
4
/
7:
St. Cloud State defenseman Brendan Bushy (18) skates with the puck against against Minnesota Duluth in the first period Saturday, March 6, 2021, at the Herb Brooks National Hockey Center in St. Cloud. (Jason Wachter / The Rink Live)
5
/
7:
Nebraska Omaha forward Martin Sundberg (16) reacts as the puck bounces off St. Cloud State defenseman Brendan Bushy (18) in the second period Sunday, Dec. 6, at Baxter Arena in the NCHC Pod in Omaha. Tyler Schank / Forum News Service
6
/
7:
University of North Dakota's Jasper Weatherby, St. Cloud State defenseman Brendan Bushy and University of North Dakota's Jordan Kawaguchi go into the boards after the puck in the second period Friday, Feb. 21, 2020, at the Herb Brooks National Hockey Center in St. Cloud, Minn. Jason Wachter / The Rink Live
7
/
7:
From left: St. Cloud State defenseman Brendan Bushy (18), St. Cloud State forward Will Hammer (16) and Western Michigan forward Luke Grainger (9) react as the puck becomes airborne in the first period Tuesday, Dec. 1, at Baxter Arena in Omaha. (Tyler Schank / tschank@duluthnews.com)
1
/
7:
St. Cloud State defenseman Brendan Bushy (18) keeps the puck from Minnesota Duluth forward Cole Koepke (17) in the first period Saturday, March 6, 2021, at the Herb Brooks National Hockey Center in St. Cloud. (Jason Wachter / The Rink Live)
2
/
7:
St. Cloud State's Brendan Bushy of Thief River Falls blocks a Fighting Hawks shot as UND's Rhett Gardner looks for a rebound in an NCHC game last season at the Ralph Engelstad Arena. Eric Hylden / Grand Forks Herald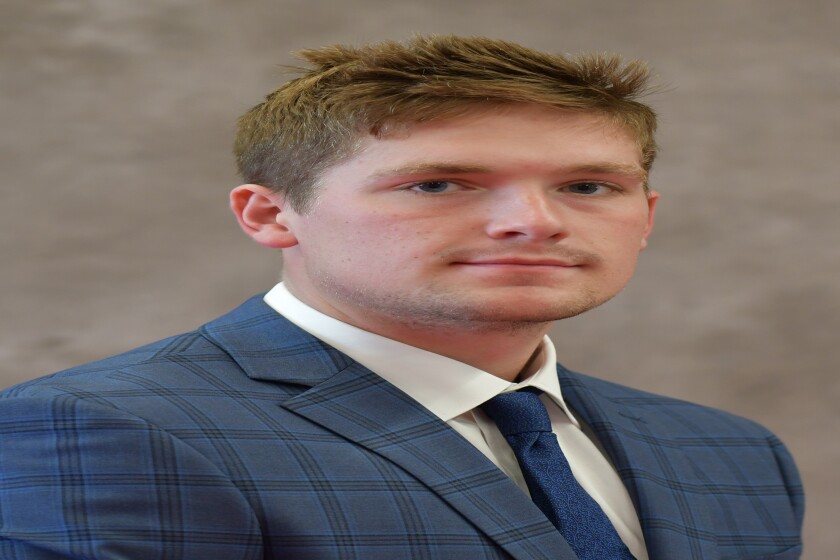 3
/
7:
St. Cloud State sophomore defenseman Brendan Bushy
4
/
7:
St. Cloud State defenseman Brendan Bushy (18) skates with the puck against against Minnesota Duluth in the first period Saturday, March 6, 2021, at the Herb Brooks National Hockey Center in St. Cloud. (Jason Wachter / The Rink Live)
5
/
7:
Nebraska Omaha forward Martin Sundberg (16) reacts as the puck bounces off St. Cloud State defenseman Brendan Bushy (18) in the second period Sunday, Dec. 6, at Baxter Arena in the NCHC Pod in Omaha. Tyler Schank / Forum News Service
6
/
7:
University of North Dakota's Jasper Weatherby, St. Cloud State defenseman Brendan Bushy and University of North Dakota's Jordan Kawaguchi go into the boards after the puck in the second period Friday, Feb. 21, 2020, at the Herb Brooks National Hockey Center in St. Cloud, Minn. Jason Wachter / The Rink Live
7
/
7:
From left: St. Cloud State defenseman Brendan Bushy (18), St. Cloud State forward Will Hammer (16) and Western Michigan forward Luke Grainger (9) react as the puck becomes airborne in the first period Tuesday, Dec. 1, at Baxter Arena in Omaha. (Tyler Schank / tschank@duluthnews.com)
1
/
7:
St. Cloud State defenseman Brendan Bushy (18) keeps the puck from Minnesota Duluth forward Cole Koepke (17) in the first period Saturday, March 6, 2021, at the Herb Brooks National Hockey Center in St. Cloud. (Jason Wachter / The Rink Live)
2
/
7:
St. Cloud State's Brendan Bushy of Thief River Falls blocks a Fighting Hawks shot as UND's Rhett Gardner looks for a rebound in an NCHC game last season at the Ralph Engelstad Arena. Eric Hylden / Grand Forks Herald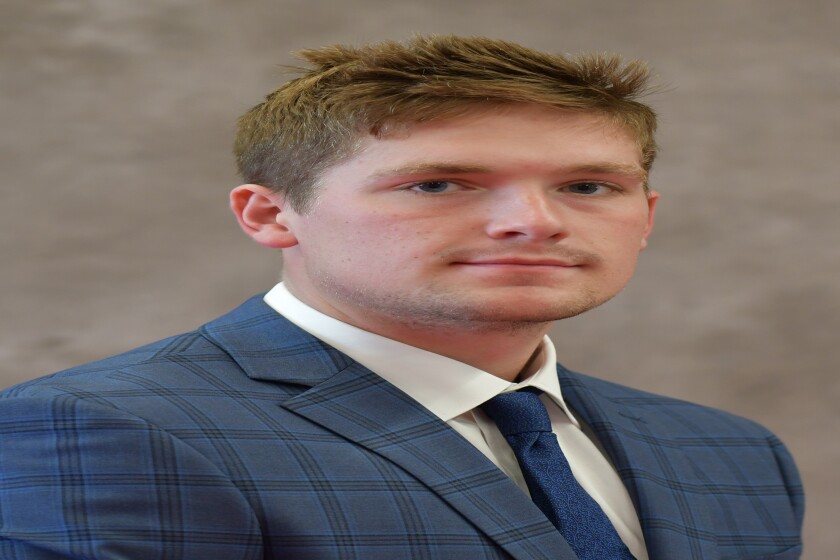 3
/
7:
St. Cloud State sophomore defenseman Brendan Bushy
4
/
7:
St. Cloud State defenseman Brendan Bushy (18) skates with the puck against against Minnesota Duluth in the first period Saturday, March 6, 2021, at the Herb Brooks National Hockey Center in St. Cloud. (Jason Wachter / The Rink Live)
5
/
7:
Nebraska Omaha forward Martin Sundberg (16) reacts as the puck bounces off St. Cloud State defenseman Brendan Bushy (18) in the second period Sunday, Dec. 6, at Baxter Arena in the NCHC Pod in Omaha. Tyler Schank / Forum News Service
6
/
7:
University of North Dakota's Jasper Weatherby, St. Cloud State defenseman Brendan Bushy and University of North Dakota's Jordan Kawaguchi go into the boards after the puck in the second period Friday, Feb. 21, 2020, at the Herb Brooks National Hockey Center in St. Cloud, Minn. Jason Wachter / The Rink Live
7
/
7:
From left: St. Cloud State defenseman Brendan Bushy (18), St. Cloud State forward Will Hammer (16) and Western Michigan forward Luke Grainger (9) react as the puck becomes airborne in the first period Tuesday, Dec. 1, at Baxter Arena in Omaha. (Tyler Schank / tschank@duluthnews.com)