SCSU recruit Leo Gruba impresses at Fargo Force camp, waits to see if his name will be called in NHL Draft
The 18-year-old defenseman from Lake Elmo, Minn., and Hill-Murray High School graduate, is ranked No. 125 among North American Skaters by NHL Central Scouting in their final 2022 draft prospect rankings. The NHL Entry Draft will be held July 7-8 in Montreal
Leo Gruba thinks he may have had a bit of an advantage when he took part in camp about a month ago for the Fargo Force of the United States Hockey League.
Gruba's season with the St. Cloud Norsemen of the North American Hockey League ended on May 21 in the semifinals of the league's Robertson Cup playoffs. So when he got to camp, it had not been a long layoff since his last game.
"I was kind of at a little bit of an advantage because our season got done so late," he said. "I was still in game shape, which was kind of funny.
"There was a lot of skill up there and guys that make you look good. I was fortunate to be on a pretty loaded team," Gruba said of the camp, which had eight full rosters. "A lot of guys could be in the USHL. It's a little bit of a younger crowd than the NAHL, but it was that much faster, that much quicker, passes are on the tape every time. You don't get as much time."
While Gruba may have noted the higher level of play, he caught the eyes of new Force head coach Nick Oliver.
"I thought he handled himself very well," said Oliver, who spent the last four seasons as an assistant coach for the St. Cloud State men's hockey team. "You don't always know what to expect in a USHL camp in early June. He'd come off a great run to the Robertson Cup (playoffs) and he showed up in good shape.
"I was impressed. He handled himself like a veteran, someone who has been through that process before, and he did a nice job."
The SCSU recruit could get drafted
Gruba, an 18-year-old from Lake Elmo, Minn., verbally committed to play for SCSU on June 1. A recent graduate of Hill-Murray High School, Gruba could continue a magical year by hearing his name get called on July 7-8 during the NHL Entry Draft in Montreal.
He is ranked No. 125 among North American Skaters in NHL Central Scouting's final rankings for the 2022 draft. Oliver said that there are a lot of tools that scouts see when they assess the 6-foot-1, 202-pound defenseman.
"I think he projects as a natural, two-way defenseman," Oliver said. "His size, skating ability, his competitiveness will allow him — in time, once he adds some more detail and consistency to his game — to be a good defender.
"On the front side of the game, he brings a shooting element. I think he brings a creative element where he can create both individually and for making plays to other guys on the ice. He can bring some offense and bring some numbers. I think that's what excites the pro scouts that I've talked to about him.
"But I also think the thing that excites them is he's just kind of scratching the surface on what we all hope he can get to. Part of the NHL Draft is being able to project and look at someone who has a very good base skill set and a very good toolbox ... I think people are looking at him as a guy that has those tools, but has a lot of upside down the road."
The former Huskies forward (1990-94) recently saw his 18-year-old son, a defenseman, make a verbal commitment to play for the Huskies. Tony talks about his son, shares memories of playing for St. Cloud State with The Rink Live's Mick Hatten on the Huskies Hockey Insider Podcast.
Since the camp, Gruba said that he has been working out six days a week and skating four times a week to prepare for next season. He knows there is a possibility he could be taken on the second day of the draft and admits to some excitement about it.
"It's hard not to think about it," he said. "There's a lot of speculation that's been going on for a while. But I'm just focused on getting away from the rink a little bit and not getting too worked up on it.
"I'm excited. I don't think it's a bad thing to be pretty stoked for that (draft) day, if it comes. If I get a call, that would be great. But I don't want to build it up to be any bigger than it is. It is an honor and a big deal. But it doesn't make or break anything. I don't want to put too much time into it because there's nothing I can really do at this point."
The 18-year-old senior at Hill-Murray High School is the No. 100-ranked North American skater in the midterm rankings by NHL Central Scouting and is weighing NCAA Division I offers. But his next task is helping St. Cloud reach the second round of the NAHL playoffs, which begin Friday
While the draft is about projecting talent in a few years, Oliver said that he enjoyed seeing what some of the possibilities that Gruba can bring to the Force this fall. With the Norsemen, Gruba saw time on special teams and had eight points and was a plus-2 in 21 games.
"With most of our staff being new this year, we're able to go into this (season) with an open mind and without a lot of preconceived notions on a lot of players," Oliver said. "That will allow a lot of our guys to really earn their opportunities and earn the roles they're going to be in, which I'm excited about and see how that plays out.
"(Gruba) is right in the mix of someone we want to give opportunity to and want to see if can take it and run with it. We don't have any returning right-handed defensemen in our group. I feel like that side of our 'D' core, there will be some good competition there. We're hoping that Leo can be a guy who can come in and earn that."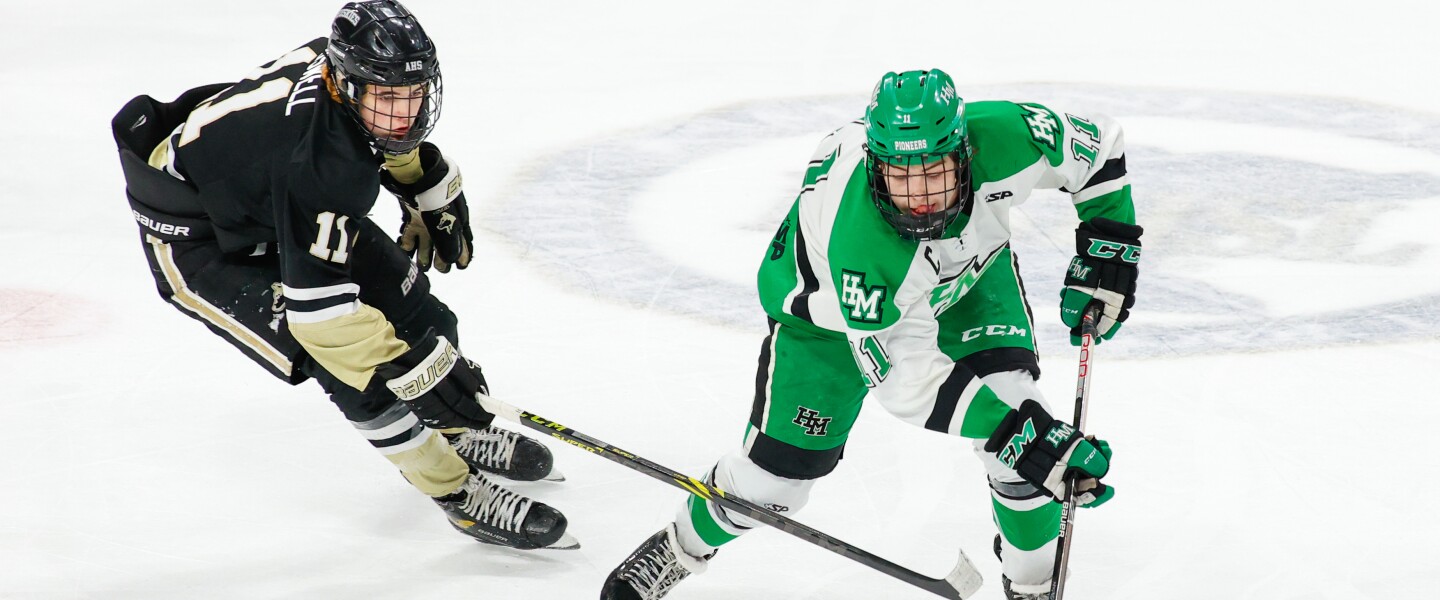 Played in 3 state tournaments
Gruba played three seasons at Hill-Murray and was the team captain as a senior. He helped the Pioneers reach three Class AA state tournaments, which included a state title in 2020 and a third-place finish in 2022.
As a senior, he was named to the AP All-State First Team, was third on the team in points (33 in 31 games) and tied for the team lead in plus/minus (plus-42). In three seasons, he had 16 goals, 53 points, 22 penalty minutes and was a plus-45.
They say it takes a village, and the St. Cloud State incoming freshman had his family there from the beginning.
He is likely to be the second St. Cloud State recruit taken in this year's draft. Adam Ingram, a 6-foot-2, 174-pound center from West St. Paul, Manitoba , is ranked No. 27 among North American Skaters. The 18-year-old had 26 goals and 55 points in 54 games playing in the USHL for the Youngstown Phantoms this season.
Fargo F Cole Knuble could be drafted
Oliver said that the Force have a returning player also likely to be taken in the draft. Cole Knuble, an 18-year-old forward from East Grand Rapids, Mich., is ranked No. 84 among North American Skaters by NHL Central Scouting.
Knuble, who is listed at 5-10 and 175 pounds, was named to the USHL All-Rookie Team after having 20 goals and 49 points in 62 games last season. Knuble has committed to Notre Dame and is the son of wing Mike Knuble, who played in the NHL from 1996-2013 with the Detroit Red Wings, New York Rangers, Boston Bruins, Philadelphia Flyers and Washington Capitals. Cole's brother, Cam, has played forward the last two seasons for Western Michigan.