North Dakota shores up its defense, goaltending, looks to contend ... again
The Fighting Hawks have 20 returning letterwinners and have added four NHL Draft picks in its freshman class after tying for the NCHC regular season title for the third straight season in 2021-22.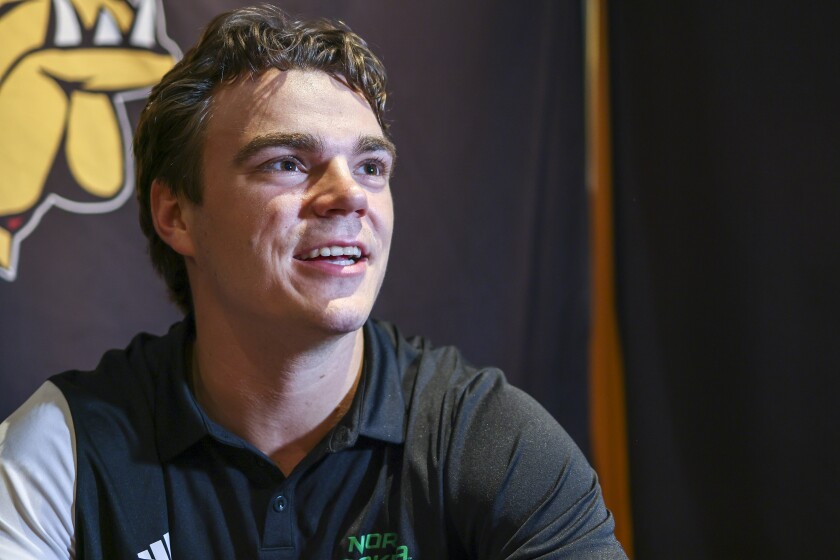 ST. PAUL — To see an NCAA Division I men's hockey program bring in 14 new players in a season when there is no coaching change is rare. But last season, North Dakota had to bring in that many after a combination of players finishing their eligibility and signing pro contracts under head coach Brad Berry.
Going into the 2022-23 season, there are seven new players on the Fighting Hawks roster, which is the fewest of any team in the NCHC.
"We have a little more certainty on who is going to be in our locker room," Berry said on NCHC Media Day. "We have a lot of (defensemen) back who were on our team last year. We have Ethan Frisch back, Tyler Kleven, Chris Jandric, Brent Johnson and then we added a few transfers in Ty Farmer from UMass and Ryan Sidorski from Union.
"We have some experience back there (on defense) and, hopefully, it's not such a big change for us and we can have some continuity with our 'D' pairs. There's going to be competition to be in our lineup."
Offensively, North Dakota looks to be led by junior forward Riese Gaber, who led the team in goals (15) and points (37).
And, per usual, it is not wise to bet against the Fighting Hawks to win the NCHC regular season title. No team in the first 9 seasons of the conference has won the Penrose Cup more times than the Fighting Hawks (5).
"What we accomplished last year is amazing, just seeing the guys come together and being able to go into battle every night for each other ... I was super happy and proud of our guys for pulling off the Penrose with 14 new guys," UND captain Mark Senden said of the regular season title. "You don't see that a lot.
"We're hoping to take it a step further this year."
Head coach: Brad Berry (8th season, 162-77-25 overall, 102-52-14 NCHC).
Last season's record and finish: 24-14-1 overall, 17-6-1 NCHC. The Fighting Hawks tied with Denver to win their third straight NCHC regular season title. After losing in the semifinals of the NCHC Frozen Faceoff to Western Michigan, UND lost in overtime to Notre Dame in the opening round of the NCAA Tournament Albany Regional.
Last season's NCHC finish: Tied for 1st out of 8 teams.
NCHC preseason media poll: 2nd.
Notable changes: After having 14 players new to the program a year ago, the Fighting Hawks have the fewest newcomers (7) of any team in the NCHC. Probably the most interesting change is that the Fighting Hawks have gone to the transfer portal again to add a goalie in former Michigan State starter Drew DeRidder, who played in 49 games the last two seasons and has a career save percentage of .916 and career goals-against average of 2.95 after playing on 3 teams that finished last in the Big 10. UND has also added two experienced transfers on defense in fifth-year players Ryan Sidorski (97 games at Union) and Ty Farmer (134 games at UMass).
New faces: The four freshmen include forwards Jackson Blake (Eden Prairie, Minn.), Ben Strinden (Fargo, N.D.), Owen McLaughlin (Spring City, Pa.) and Dylan James (Calgary, Alberta).
Blake is a fourth-round draft pick of the Carolina Hurricanes, Strinden is a seventh-round pick of the Nashville Predators, McLaughlin is a seventh-round pick of the Philadelphia Flyers and James is a second-round pick of the Detroit Red Wings.
Outlook: With 20 returning letterwinners from a team that tied for the Penrose Cup and reached the NCAAs for the 17th time out of the last 19 tournaments, the Fighting Hawks look to be back in the thick of it for the NCHC and national championship races. North Dakota has added a freshman class that includes four NHL Draft picks. UND is ranked fourth in both national polls and was picked to finish second in the NCHC behind defending national champion Denver. With the additions they have made, the Fighting Hawks could be a better defensive team than they were last season when they tied for 20th in goals-against-per-game (2.6). Preseason All-NCHC pick Riese Gaber is back after leading the team in goals (15) and points (37) and so is sophomore F Jake Schmaltz (24 points). Finding a pilot for the power play will be important after Jake Sanderson signed with the Ottawa Senators. The Fighting Hawks will also look to be better than 41st in the nation on the penalty kill (78.6%). But expecting UND to be less than a big-time contender is not wise.