Grant Cruikshank plans to transfer to SCSU in the fall
Former Gopher, Colorado College forward will be a graduate student and plans to play his last season of college hockey with the Huskies.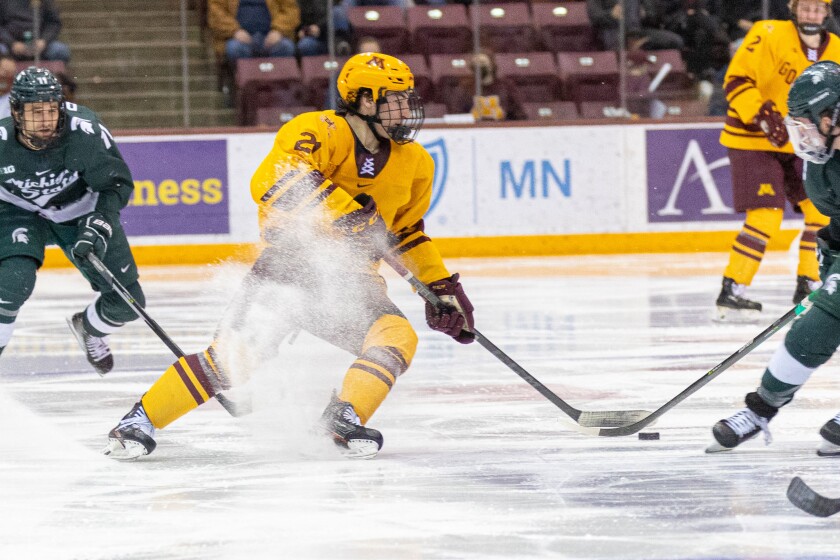 ST. CLOUD, Minn. — He almost ended up with the St. Cloud State men's hockey team for the 2021-22 season. He plans to join the Huskies for the 2022-23 season.
Grant Cruikshank, a 23-year-old forward from Delafield, Wis., said on Thursday that he plans to be a graduate student transfer for the Huskies in the fall. Cruikshank entered the transfer portal on Monday. Last season, he played for the University of Minnesota after transferring from Colorado College, so this is his second time through the portal.
"It was crazy still, but it was a little bit easier because I knew the (SCSU) program, the coaches and I didn't have to do as much learning about all the programs as I did last year," Cruikshank said. "I had a great relationship with (head coach Brett Larson) last year and had so many good talks. He reached out right away once I was in the portal and kind of rekindled our relationship and I'm super excited."
In Part 1 of a four-story preview of the 2021-22 Minnesota Gophers' hockey season, we meet perhaps the most sought-after member of the NCAA hockey transfer portal last spring. Former Colorado College forward Grant Cruikshank chose the team that he was raised to loathe as a kid in Wisconsin, growing up with famous parents that instilled in him some world-class skating skills.
In his one season with the Gophers, Cruikshank had seven goals, 15 points, was a plus-8 and won 55.3% (83-67) of his faceoffs in 33 games playing mostly wing. He helped Minnesota win the Big 10 regular season title and reach its first Frozen Four since 2014.
"Other schools were in the mix, but I have such a great relationship with Lars there and I couldn't be more excited to work with him and his coaching staff," Cruikshank said.
Cruikshank played three seasons for Colorado College before transferring to Minnesota and had 30 goals and 45 points in 90 games. After the Tigers coaching staff was let go after the 2020-21 season, Cruikshank entered the transfer portal for the first time. He had serious discussions with the Huskies, but ultimately chose the Gophers for the 2021-22 season.
"There really wasn't anything to be honest, there wasn't one thing that kept me from coming," he said of his decision to play for the Gophers. "Last year, it was a gut feeling and it's the same this year. I went with my gut.
"Having played in St. Cloud many times, I can't wait to be on the home side."
The addition of Cruikshank should help fill a need for the Huskies at center. Kevin Fitzgerald, who led the team in scoring this past season, finished his college eligibility. Nolan Walker could have come back for a fifth season, but ended up deciding to sign an AHL deal with the Toronto Marlies.
That left the Huskies with two returning centers in Jami Krannila, who will be a senior, and Mason Salquist, who will be a sophomore.
"I think I can play a really big role," said Cruikshank, who was the captain his last season at Colorado College. "Coming in as an older guy, I hope to bring in a lot of leadership, a lot of experience. I'm going to be playing down the middle so I want to try to play a really nice two-way game, sound defensively and chip in offensively, too.
"I use my speed to create turnovers and create offense. Hopefully, I'll help out on the special teams as well. I want to bring an all-around game, a 200-foot game, bring some speed and some scoring, too."
Cruikshank said that he had a conversation with Gophers head coach Bob Motzko earlier in the week and that helped him decide to head back to the portal.
"They didn't really have any more (scholarship) money and ... the decision to go into the portal was where he felt it was the smartest move for me," Cruikshank said of his discussion with Motzko. "I absolutely loved the University of Minnesota and the coaching staff. I feel at home with those guys. Those guys are my brothers for life. I can't speak highly enough about my teammates there. I'm going to be friends with them forever.
"I certainly was very sad, but looking forward now, I'm really looking forward now to St. Cloud."
Colorado College connections
There are connections between Cruikshank and a couple of people with the Huskies. Goalie Dominic Basse was a teammate of Cruikshank's for one season at Colorado College and Basse announced Monday that he plans to transfer to play for the Huskies next season.
The 20-year-old goalie from Virginia played the last two seasons for the Tigers and is a draft pick of the Chicago Blackhawks
St. Cloud State's director of hockey operations/video coordinator R.J. Enga was an assistant coach at Colorado College before taking his position with the Huskies in September. Enga helped recruit Cruikshank to Colorado College and also helped him decide to join the Huskies.
"He reached out both times with CC and with St. Cloud," Cruikshank said. "My parents have known (Enga) for quite a bit of time. Throughout the recruiting process this time, he was a sounding board for me. I'm excited to work with him again."
Cruikshank will be finishing his undergraduate degree in sociology this summer and plans on working on a master's degree in sports management at SCSU.
The junior left wing from Delafield, Wis., has been hot, picking up 5 goals, 2 assists and is a plus-6 in his last 4 games. The team captain's parents are former Team USA Olympic speed skaters Dave Cruikshank and Bonnie Blair, a five-time gold medalist
Cruikshank comes from a pretty famous and athletic family. His mother is Bonnie Blair, who competed in four Winter Olympics, won five gold medals and a bronze in speed skating. His father, Dave Cruikshank, competed in four Olympics in speed skating. His sister, Blair Cruikshank, is a speed skater who competed in the 2018 U.S. long track speedskating Olympic trials. Blair was not able to compete in the 2022 Olympic trials because she tested positive for COVID-19.