Daily Skate: Most of the NCHC will have new starting goalies next season
UND's Zach Driscoll, Minnesota Duluth's Ryan Fanti, St. Cloud State's David Hrenak, Omaha's Isaiah Saville, Western Michigan's Brandon Bussi and Colorado College's Dominic Basse will all be gone from their teams.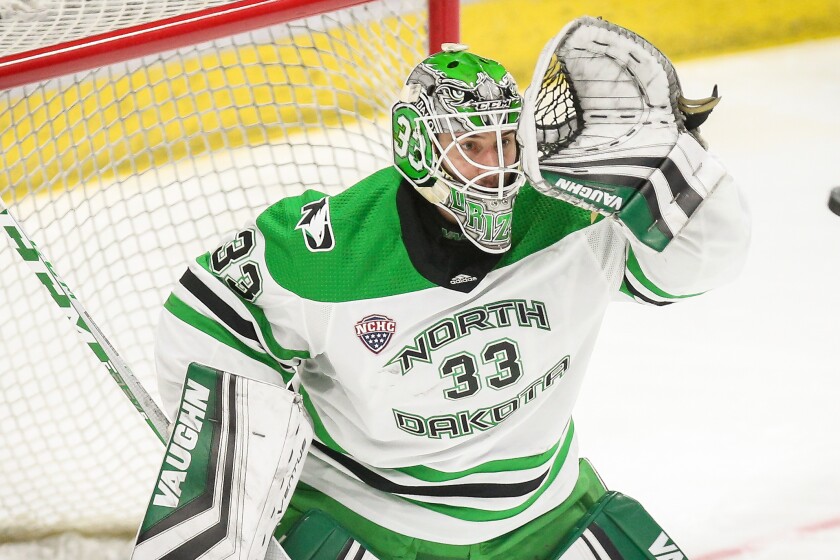 GRAND FORKS — The goaltender position will look a lot different in the National Collegiate Hockey Conference next season.
UND starter Zach Driscoll's college eligibility is out and he will soon sign an amateur tryout deal with the Toledo Walleye of the ECHL. He will look for a permanent deal in the summer.
Minnesota Duluth starter Ryan Fanti, the league's goalie of the year, signed with the Edmonton Oilers on Monday after a terrific late-season run.
Western Michigan starter Brandon Bussi, who led the Broncos to their first NCAA win in program history this season, will soon sign with the Boston Bruins, according to Herald sources.
St. Cloud State starter David Hrenak signed with the Los Angeles Kings on Monday.
Omaha starter Isaiah Saville has signed with the Vegas Golden Knights.
Colorado College starter Dominic Basse has entered the transfer portal.
That leaves just two starting goalies in the NCHC. Denver's Magnus Chrona is still chasing an NCAA title, but could sign with the Tampa Bay Lightning when the Pioneers are done. Miami's Ludvig Persson appears set to return to the RedHawks.
It's entirely possible Persson is the only starting goalie back with his team.
Some teams appear to have their goalie situations figured out for next year.
UND added Drew DeRidder from Michigan State out of the transfer portal to join Jakob Hellsten as the 1-2 punch in Grand Forks.
Colorado College will bring in Kaiden Mbereko from the Lincoln Stars to join Matt Vernon and serve as the Tigers' 1-2 in Colorado Springs. Mbereko played for the U.S. World Junior Championship team last winter.
Minnesota Duluth has Zach Stejskal ready to start next season.
But others may have to look in the transfer portal, where strong goalie options will thin out quickly.
St. Cloud State, Omaha and Western Michigan likely need goalies from the portal.
The Mavericks will bring in Simon Latkoczy from Madison in the USHL, but they'll need a second goalie, too, because they lost both Saville and Austin Roden, who is transferring to Providence.
A lot of these teams might be battling for the same goaltenders.
Right now, it appears that the three most coveted options are Gustavs Grigals from Alaska, Kyle McClellan from Mercyhurst and T.J. Semptimphelter from Northeastern.
Grigals was excellent for Alaska this season (.919 save percentage) and put on a show in beating Minnesota in Mariucci Arena and tying Denver in Magness Arena.
McClellan posted a .932 at Mercyhurst, where he carried the Lakers to the Atlantic Hockey semifinals by allowing no more than one goal in six consecutive games.
Semptimphelter was outstanding in backing up Hobey Baker Award finalist Devon Levi at Northeastern. He was especially good during the Beanpot, where he stopped 69 of 71 shots against Boston College and Boston University while Levi was at the Olympic Games.
Behind that trio, there are two drafted goalies in the portal in Basse, a Chicago Blackhawks pick, who posted an .891 through 41 career games at Colorado College and Arizona State's Cole Brady, a New Jersey Devils pick, who posted a .905 in 25 career games.
UND likely needs a 'D' in portal
UND has already grabbed a goalie out of the portal, but it may have to go back for a defenseman.
UND lost sophomore blue liner Jake Sanderson to the Ottawa Senators as it expected, and now needs to fill that roster spot.
Its current commits who are graduating high school, or have graduated, are Tyler Dunbar, Nate Benoit, Abram Wiebe and Trey Ausmus. All of them appear to be best served to play another year of junior hockey before coming to campus.
That means the coaching staff is likely monitoring the portal to see if there are good options there.
The most accomplished defensemen to enter the portal as of Wednesday morning are Miami captain Derek Daschke, who has 85 career points, and UMass senior Ty Farmer, who was part of both an NCAA national championship team in college and a USHL Clark Cup-winning team in juniors with Fargo.
Last summer, Central Collegiate Hockey Association teams combined for one NHL signing — Minnesota State defenseman Walker Duehr. On Monday, two Michigan Tech players signed NHL deals alone — forward Brian Halonen, a Hobey Baker Award finalist, signed with New Jersey and defenseman Colin Swoyer signed with Pittsburgh.
Another sign of how much NHL teams love big goalies: Dartmouth's 6-foot-4 netminder Clay Stevenson signed with the Washington Capitals after playing just 23 college games. Stevenson had a very good year at Dartmouth, posting a .922 save percentage.
St. Cloud State has had a pair of signings in Hrenak and fourth-year senior Sam Hentges (Minnesota Wild).
Minnesota Duluth fourth-year senior Noah Cates signed with the Philadelphia Flyers and made his NHL debut Tuesday night against the Wild in St. Paul.
Western Michigan defenseman Ronnie Attard, the back-to-back winner of the NCHC's offensive defenseman of the year, has signed with the Philadelphia Flyers and could make his NHL debut as soon as Saturday.
Western Michigan 6-foot-3 left winger Ty Glover unexpectedly signed a free-agent deal with the Philadelphia Flyers after two years in Kalamazoo.