Former Hockey East commissioner receives Joe Concannon Award
Joe Bertagna recognized for promoting the interests of Hockey East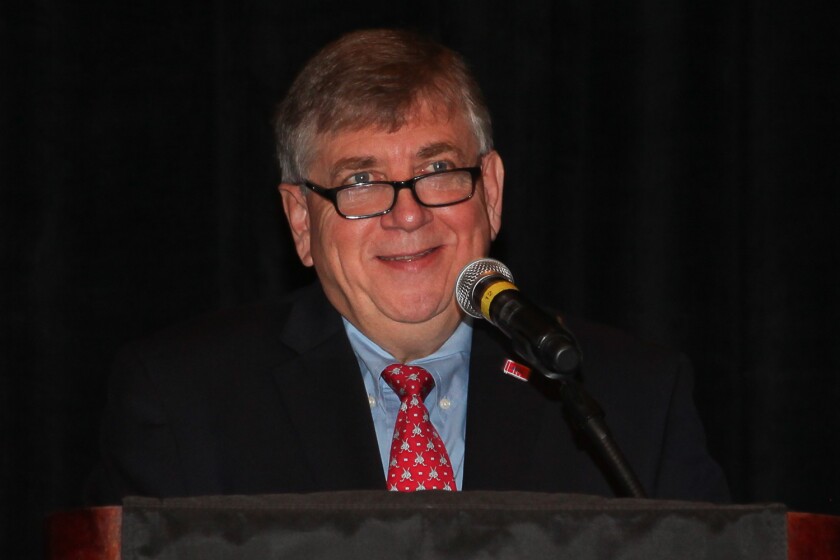 BOSTON — Former Hockey East commissioner Joe Bertagna was named the recipient of the Joe Concannon Award during the conference's media day on Tuesday, Sept. 13 at TD Garden. The honor was named in 2001 in memory of Boston Globe sports writer Joe Concannon and is presented to an individual who has demonstrated an outstanding body of work in covering and/or promoting the interest of Hockey East.
Bertagna is entering his 40th season as a hockey league executive and was commissioner of the ECAC for 15 seasons, led Hockey East for 23 and is beginning his third as commissioner of the Tier III junior Eastern Hockey League.
Bertagna grew up in Arlington, Massachusetts, played goalie for Harvard University beginning in 1969 and began his administrative career as an intern with the ECAC in 1976. He is the executive director of the American Hockey Coaches Association and has been in that position since it was created in 1991. Bertagna has run summer programs for the past 46 years and was a goalie coach for the Boston Bruins (1985-91) and the 1994 U.S. Olympic Hockey Team.
From playing goalie in the Ivy League, to running his own hockey camps to serving as commissioner for multiple leagues, Joe Bertagna has touched American hockey on every level.
In 2017, Bertagna received the Distinguished Service Award from USA Hockey and was inducted into the Massachusetts Hockey Hall of Fame by Massachusetts Hockey. In 2018, he was inducted into the ECAC Hall of Fame.
He has written a number of books, the most recent of which is "The Hockey Coaching Bible" in 2015.
Bertagna was also instrumental in bringing about the formation of the women's division of Hockey East. In 2013, his contributions to the women's game were recognized by naming the Hockey East tournament trophy the Bertagna Trophy.
He has served two stints on the NCAA Ice Hockey Rules Committee, serves on the Board of Directors for both USA Hockey and the Hockey Humanitarian Award Foundation and was instrumental in securing the funds for the formation of College Hockey, Inc., the marketing arm of the Hockey Commissioners Association.
After starting two seasons at Harvard (1971-73), Bertagna played professionally for the Milwaukee Admirals and in Cortina, Italy.