League scheduling favors newcomer Augustana 'easing into the CCHA' in 2023
All of the things that Augustana athletics had on its hockey checklist are now complete, with a coach hired, an arena under construction and Tuesday's announcement that the Vikings will join the CCHA in the fall of 2023.
SIOUX FALLS, S.D. – New college hockey programs need many things to have the best chance to succeed. Chief among the needs are an arena, a coach and a conference to call their home.
The new college hockey program being developed at Augustana University can check all three of those boxes now, with Tuesday's announcement of a conference home for the Vikings. The Central Collegiate Hockey Association will be a nine-team league starting in the fall of 2023 when the Vikings begin their inaugural season as a Division I program and as part-time members of the CCHA.
Augustana will play 16 CCHA games its first two seasons of D-I hockey — two games versus each of the other eight league members — before becoming a full-fledged CCHA member for the 2025-26 season.
Don Lucia, the CCHA commissioner, said the "easing into the CCHA" schedule is a product of a few league teams already having their schedules for 2023-24 and from looking at the start-up of new programs, who often take their lumps on the ice in their first few years, but are more competitive by year three.
"It allows us to get our skates underneath us a little bit and still be full voting members (of the CCHA)," said Augustana athletic director Josh Morton in a Zoom call with the media on Tuesday afternoon. "The scheduling piece allows us to get our footing, so I think it's a great scheduling solution."
It is seemingly a perfect fit, geographically, as Sioux Falls is located within a six-hour bus ride or less from current CCHA members Bemidji State, Minnesota State Mankato and St. Thomas.
"Augustana is on the western side of the CCHA footprint, it's a hotbed for USHL recruting, and we think that was an important piece as well," said CCHA commissioner Don Lucia. In November 2021, Lucia and athletic directors from three other CCHA schools made a site visit to Augustana and came away impressed. "When we arrived in Sioux Falls ... I think the other athletic directors who were with us on the site visit saw what a vibrant community it is. It's growing, and they love their athletics. We're excited to have them as a part of the CCHA."
The arena part of the checklist is already well underway. Ground was broken for the 3,000-seat Midco Arena in the fall of 2021 and the Vikings are expected to move in prior to their first real college hockey games in the fall of 2023.
The new CCHA held its inaugural season in 2021-22, with MSU Mankato winning the league's regular season and playoff titles, and advancing to the NCAA title game before falling to Denver in the Frozen Four finale. In addition to Augustana and the three Minnesota schools, league members include Michigan Tech, Northern Michigan, Ferris State, Bowling Green and Lake Superior State.
Augustana hired long-time St. Cloud State and Minnesota assistant coach Garrett Raboin as the program's first head coach last month.
"We began this academic year with three goals for our hockey program and with this invitation we have now accomplished all three — finalize the design of Midco Arena, hire a head coach, and find a conference home," said Morton in a statement. "Joining a league that has quickly established itself as a nationally competitive conference means a lot and we look forward to adding to the excellence of the CCHA in 2023 as we bring the highest level of college hockey to Augustana University."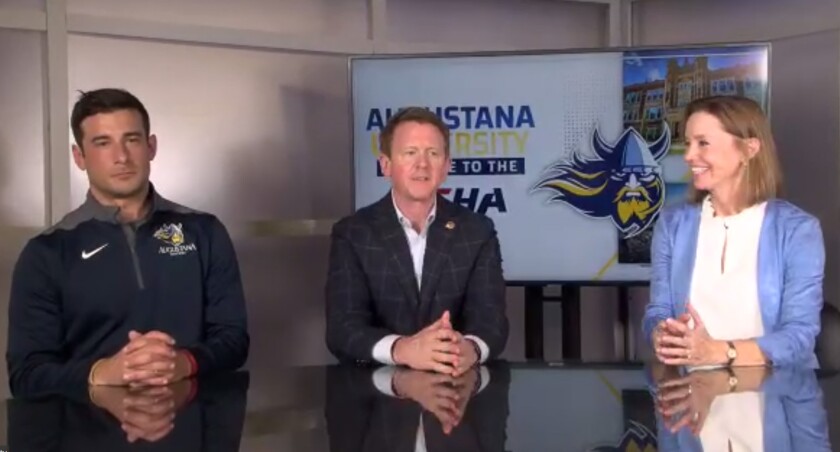 Augustana will be the first D-I hockey program based in South Dakota, but Sioux Falls has long been regarded as a hockey-centric community with the historic success and support of the USHL's Sioux Falls Stampede.
Raboin said the conference membership will bring some clarity to his recruting efforts, as potential future Vikings will have a better idea where and who they will be facing on the ice. He also mentioned the large-scale growth of youth hockey numbers in Sioux Falls and elsewhere in the state.
"Hockey is something that's happening right now in South Dakota. It's booming, kids are dying to play and there's not enough ice sheets to satisfy the need," Raboin said. "I'm just getting to learn it, and I'm hopeful that there will be Augies from the state of South Dakota on campus in the not-too-distant future."
Lucia noted that like Hockey East and Big Ten Hockey, the CCHA will roll with an odd number of teams for the time being but admitted there is always talk of conference movement and additions, especially in the west.
"We're in no hurry to add a 10th member. If somebody makes sense and they come knocking on our door and it's going to make our brand better and our league better, we're certainly going to look at that," Lucia said. "But at this time, we're moving forward with nine teams."