Former Shattuck-St. Mary's goalie Christian Manz commits to play for Augustana
The 18-year-old from Blaine, Minn., played last season for the Chicago Steel and is the first goalie to commit to the Vikings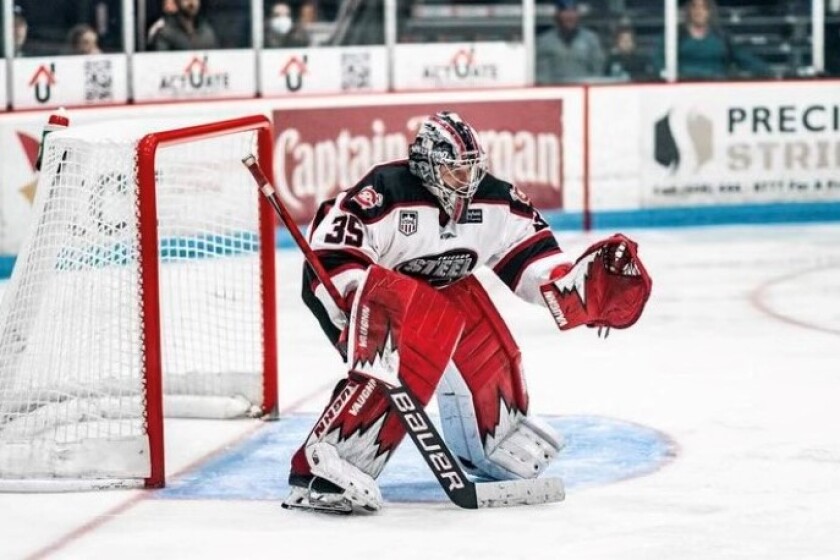 Christian Manz took his time and visited four schools that have NCAA Division I Frozen Four appearances in their history.
In the end, he decided to be a part of a team that has no hockey history. On Aug. 19, the 18-year-old goalie from Blaine, Minn., verbally committed to play for Augustana University.
Manz said he also visited Miami, New Hampshire, Ohio State and St. Cloud State.
"I was super excited to see different schools and see what I would like," he said. "It came down to I really enjoyed Augustana, really enjoyed the campus, really enjoyed the coaching staff. I'm super excited for what they're building, all the facilities.
"Starting something new — it's something the whole community is behind in Sioux Falls. It's awesome to see the community support and I had a really good connection with coach (Garrett) Raboin and coach (Andy) Boschetto. I'm super excited for what the future holds."
Manz played junior hockey last season for the Chicago Steel in the United States Hockey League. In 19 games during the regular season, he was 12-4-2 with a 2.83 goals-against average and .907 save percentage.
"The first three months, I was actually the third goalie and didn't play any games," he said. "There was an injury and I got an opportunity to play a couple games and it just took off from there. I felt more comfortable and really good.
"I worked those first three months on developing, focusing in practice, working really hard in the weight room," said Manz, who is listed at 6-foot and 176 pounds. "Toward the end (of the season), I was playing every other game."
He ended playing in all three of the Steel's playoff games and went 1-2 with a 2.37 GAA, .922 save percentage and a shutout.
"He kind of forced our hand and did all the things that he needed he do and away he went," said Chicago assistant coach Karel Popper, a former Ohio State and University of Minnesota goalie coach. "He is extremely hard working. He's definitely detailed in his approach to goaltending. Those two elements allowed him to develop his game last year a lot.
"He and I had a lot of time together — especially at the beginning — because he wasn't playing and was slotted to be the third (goalie). But his combination of work ethic and his ability to try new things, stay open-minded and be very detail oriented allowed him to really develop his game at a quick pace."
I am proud and honored to announce my commitment to play Division 1 Hockey at Augustana University. I would like to thank all of my coaches, friends, teammates, and especially my family who have helped me along the way. Excited to start something special at Augustana. #GoVikings pic.twitter.com/RDtNt7b13i

— Christian Manz (@c_manz1) August 19, 2022
Playing in Philadelphia, at Shattuck-St. Mary's
Manz played the 2020-21 season for the Philadelphia Hockey Club in the National Collegiate Development Conference, which is in the Northeastern United States and is part of the United States Premier Hockey League. In 20 games, he was 2-14-0 with a 4.35 GAA and .885 save percentage for Philadelphia.
"It was definitely different and an adjustment to junior hockey," he said of playing for Philadelphia. "It was a great experience and an awesome year."
Before playing for Philadelphia, he spent two seasons playing for Shattuck-St. Mary's School in Faribault, Minn. So what made him decide to go out east and play in the NCDC?
"Playing older guys with more experience and with the COVID shutdown that year, the league was a lot better than it was in years past," Manz said. "There were players coming down from Canada ... a lot of great players and great shots. It really helped me develop into the player and person I am today."
Manz is from Blaine and played his youth hockey in the Spring Lake Park Youth Hockey Association. He said that no one else in his family plays hockey, but he got interested in it at a young age.
"My dad started talking me to open skates and I enjoyed it and I started playing in first grade in mites. The first year, I was a player. The second year, with the rotation with (playing) goalie, I just tried it out and really enjoyed it and loved it," he said. "I've stuck with goalie ever since.
"(My parents) were super supportive. It was something they'd really never heard of, so they've kind of supported me the whole way and it's been awesome. They're a big part of my success, for sure."
Big development season with strong team
He joined a successful Chicago franchise last season. In 2019-20 and 2020-21, the Steel had the best record in the USHL both seasons and then they won the Clark Cup as league playoff champions in 2021. Last season, the Steel won the Eastern Conference regular season title with a 39-13-9-1 record and ended up getting upset by Madison in the first round of the playoffs.
He took a number of lessons from that season to prepare for the season about to start in Chicago.
"How fast and skilled the players are, having awareness on the ice of where guys and having really good patience and making sure that you're always set and ready for a shot," Manz said. "If they do pass it across, always be ready.
"With how good the players are in this league, it's about having situational awareness of where guys are and really having trust in your feet."
Manz is likely to be sharing the net this season with another Minnesotan. Jack Stark, a 19-year-old who has committed to Yale and is from Chaska, missed nearly all of last season after having double hip surgery.
Popper said that the duo will begin the season splitting time and he sees a bright future for Manz.
"He is a very good skater and one of his biggest assets is that he's able to read the game very well," Popper said. "Sometimes, if he can't do something, he's able to get away with it because he can read the game at a higher level. That allows him to compensate for potential flaws.
"I think he tracks the puck well. One of the things we worked on quite a bit — and he became very good at — is attacking the angles. Instead of chasing pucks off rebounds or off deflections, he's chasing the angle instead. He's working continuously on getting on angles first to allow pucks to hit him."
Manz said that there is no set timeline for when he will leave junior hockey and play for Augustana, which has its first season in 2023-24.
"If I feel like I need more games in Chicago, then I'll stay here," he said. "If the coaching staff thinks I'm ready to go in, I'll go in. If they feel like I need another year (of juniors beyond '22-'23), then I'll stay.
"I think it was a big part of my (college) decision where I have some flexibility of when I'm comfortable and when I'm ready to step in and not rushing the process."
Physical defenseman Ethan Perrault, a 19-year-old from Ohio, will play for Vikings next season