Bemidji State pulls out OT win over ASU thanks to Martan, Martin 'twins'
The pairing of fifth-year Mitchell Martan and junior Eric Martin made magic together on Saturday at the Sanford Center.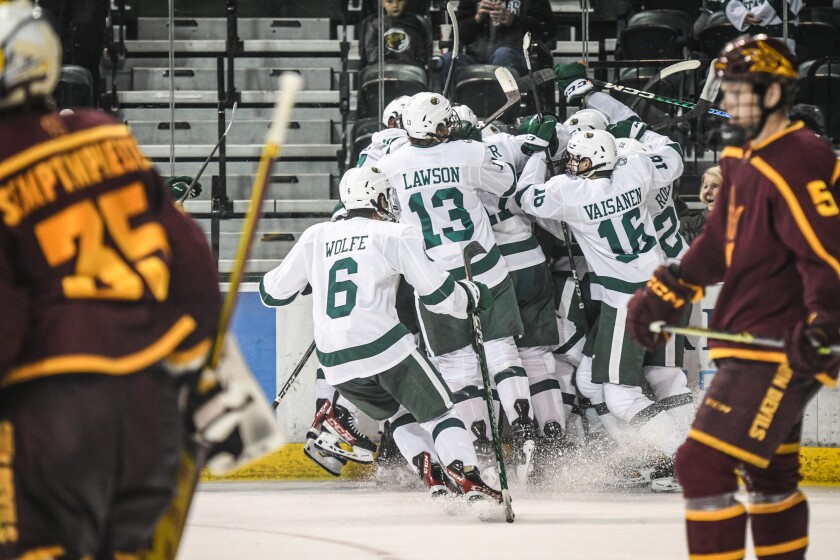 BEMIDJI -- One came from Canisius, a fifth-year transfer looking for a new home. The other has been within the walls of the Bemidji State men's hockey team locker room for multiple years.
But the Tom Serratore-christened "twins" of fifth-year Mitchell Martan and junior Eric Martin made magic together on Saturday at the Sanford Center.
They combined for seven points – including the game-winning goal by Martan in overtime – as the Beavers won 5-4 over Arizona State for their first victory of the year.
"(Martan) was really good tonight," Serratore said of his game-winning scorer.
BSU's head coach brought in Martan for moments like this, and he praised the seasoned winger's poise after Saturday's game.
"We watched a lot of tape (on him)," Serratore said. "He has some skill, but the biggest thing is he's strong. He's strong on the puck. But he just brought experience, and we lost so much (from) last year, we had to bring in some experience. We had to bring in some guys that were grizzled veterans that played a lot of hockey, played a lot of hard minutes."
When Martan skated into the crease and deposited the winning goal past Sun Devils goaltender TJ Semptimphelter, he wasn't doing anything differently from what brought him success at Canisius. He simply put his head down and went to the net with intent.
"It just kind of seemed like the puck was finding me tonight," Martan said. "But I just keep working. Not every night's going to be like that, so I go out and enjoy it, have fun with the guys."
Martin, who had three assists, is entrusted with a bigger role this season after the Beavers lost their full top line from last year. It's a role he's still growing into, but you can't argue with the results on Saturday – especially when he paired with Martan.
"We got our chemistry going right from day one," Martin said. "We're not playing together (normally), but we're playing the same power play. Just from day one, we were moving the puck and I love the way he plays. I think our games complement each other really well."
The win represented needed catharsis a night after Bemidji State (1-1) put up 40 shots on goal but was unable to score a single one. Alexander Lundman scored 1:56 into Saturday's game to break the ice, then Jakub Lewandowski doubled it up at 5:42 in the first period.
But ASU (1-3) wasn't going anywhere. The Sun Devils surged back with goals by Matthew Kopperud and Josh Doan, tying the game at 2-2 by 12:31 into the first period.
"It was a battle," Serratore said. "It was back and forth. We scored a couple goals right away, so the dam finally broke. Last night, we played so well and didn't score. So that was key. But they hung around and they made some plays."
BSU continued to put pressure on with a power-play score by Martan at 13:39 for a 3-2 lead, but Arizona State countered with Robert Mastrosimone's goal at 19:35.
The teams traded blows in the second period as well. Jere Vaisanen put the Beavers back up 4-3 with a power-play goal at 5:20 – assisted by both Martan and Martin – but ASU answered once more with Mastrosimone's second at 15:03, also with a man advantage.
After a scoreless third period, though, the 3-on-3 overtime belonged to Bemidji State, as Martan poked in the winner at 4:03.
"It's good to win a game like this," Serratore said. "This was not an easy win, because they kept answering back. We're not only playing Arizona State, we're playing against ourselves right now as well. That's a big part of it. And you win those games, it's a builder for you."
The Beavers now enter a week off, and they'll next return to the ice to open CCHA play against Michigan Tech on Friday and Saturday, Oct. 21-22, in Houghton, Mich.
Bemidji State 5, Arizona State 4 (OT)
ASU 3 1 0 0 -- 4
BSU 3 1 0 1 -- 5
First period -- 1, BSU GOAL, Lundman (Martan, Vaisanen), 1:56; 2, BSU GOAL, Lewandowski (Martin, Rosén), 5:42; 3, ASU GOAL, Kopperud (Doan, Sillinger), 11:00, PP; 4, ASU GOAL, Doan (Szmagaj, Sillinger), 12:31; 5, BSU GOAL, Martan (Martin, Pickering), 13:39, PP; 6, ASU GOAL, Mastrosimone (Szmagaj, Jensen), 19:35.
Second period -- 7, BSU GOAL, Vaisanen (Martan, Martin), 5:20, PP; 8, ASU GOAL, Mastrosimone (Doan, Lovell), 15:03, PP.
Third period -- No scoring.
Overtime – 9, BSU GOAL, Martan (Zmolek, Vaisanen), 4:03, 3v3.
Saves -- Enright (BSU) 21; Semptimphelter (ASU) 40.