Three-time Gophers captain Sammy Walker expected to sign with Minnesota Wild
Originally drafted by the Tampa Bay Lightning, the former Mr. Hockey winner known for his speed and scoring prowess became a free agent and is expected to "stay home" signing with the hometown NHL club.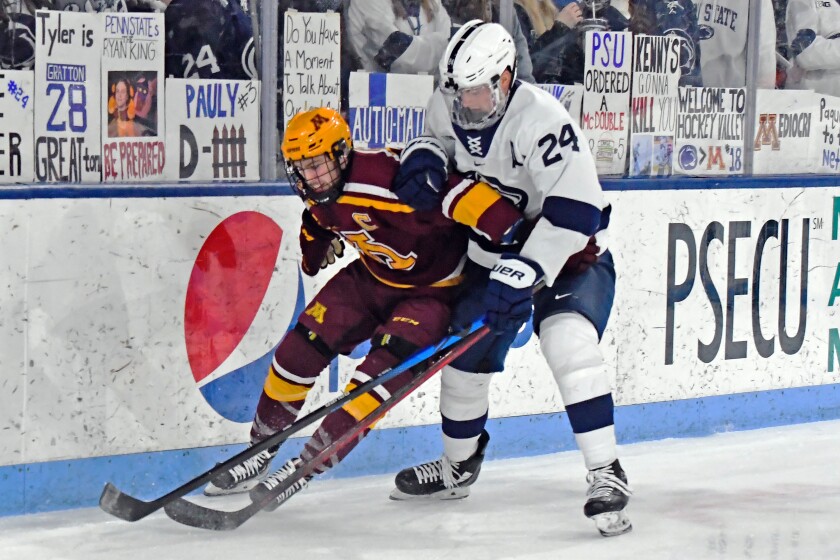 MINNEAPOLIS — Along with his ability to put pucks in the net, his blinding speed and wearing the captain's 'C' for three years with the Minnesota Gophers, forward Sammy Walker is known for his smile. It's just a huge, toothy grin that brings joy to any room.
One can envision that grin turned up just a few more notches as Walker – a Mr. Hockey winner and the Big Ten's top freshman as a college rookie – takes another step toward living the dream of any kid from the State of Hockey.
Nothing was official from the team or from Walker's camp as of Wednesday night, but Michael Russo of The Athletic first reported that the Minnesota Wild are expected to sign Walker, 23, to a two-year entry-level contract. Originally drafted by Tampa Bay in 2017, Walker became a free agent this week when the Lightning opted not to sign him.
A prep star for Edina, Walker was named the Mr. Hockey winner in 2018 after putting up 28 goals and 30 assists in 25 games for the Hornets. He burst onto the college scene for the Gophers in Bob Motzko's first season at the helm, notching 26 points in his rookie season and being honored by the conference as their top freshman.
He began his sophomore season with that 'C' on his sweater and is believed to be the only second-year Gopher to be a team captain in the 101-year history of the program. He led the team in points that season, and finished second to current NHLer Sampo Ranta as a junior, scoring the overtime winner versus Michigan in the Big Ten tournament, on the way to the Gophers winning the conference playoff crown.
One of the first Gophers to jump feet-first into the Name, Image & Likeness game once it became part of the college sports picture, Walker has run a popular summer hockey camp in Richfield the past two seasons.