Longtime Hastings-Motzko friendship in focus as Mavericks, Gophers meet again
No matter what happens on the ice in Minneapolis and Mankato this weekend when Minnesota and Minnesota State Mankato square off, coaches Bob Motzko and Mike Hastings will shake hands and maybe even share a hug, as these two true friends have done for decades at dozens of arenas.
MINNEAPOLIS — It was a scene that had played out dozens of times at small rinks in Nebraska and South Dakota and central Minnesota over the years, on many cold winter nights, with a few hundred hearty souls still in the building. But this time, when Minnesota coach Bob Motzko offered a post-game handshake to longtime friend and Minnesota State Mankato coach Mike Hastings, the brightest spotlight in the college hockey world was upon them, on a rainy spring night in Boston.
Motzko and Hastings have been true friends and on-ice rivals dating back to the time when both coached in the USHL, with Motzko running the Sioux Falls Stampede and Hastings behind the bench for the Omaha Lancers.
They're both from small-town Minnesota — Hastings is from Crookston and Motzko is from Austin — and both have roots at St. Cloud State. Both have reached out to the other in times of great challenges recently, as the Motzko family tragically lost their son Mack, and the Hastings family dealt with a serious illness. And both men clearly know a little bit about recruiting and coaching hockey players to do great things.
This weekend's home-and-home series between the Gophers and Mavericks will be their first in the regular season since 2018, when Motzko was barely a month into his first season on the job at Minnesota. But the Gophers' last two seasons have been ended by MSU. In 2021, the Mavs blanked Minnesota 4-0 in the Littleton Regional finale, and last season the team in purple advanced to its first Division I appearance in a NCAA title game, coming from behind to beat the Gophers 5-1 in the Frozen Four semifinals.
Still, while the Gophers players talk about revenge and having these games circled on their calendar since the schedule was released, for the coaches there is the same quiet respect and friendship they have enjoyed for decades.
Motzko for his part downplays the "frenemies" angle, saying that it's a fun story for the media, but having seen Hastings on the opposing bench for more than 20 years and enjoying that friendship away from the rink.
"It's a good story for you, but we've done it. How many times have we gone against each other, going back to the USHL … so, 'See ya after the game,'' Motzko said, with a laugh, as he met with the media at 3M Arena at Mariucci on Wednesday.
Like Motzko did before taking the head coach position at St. Cloud State in 2005, Hastings was a Gophers assistant coach under Don Lucia for a year and joked that their years of shared history in college hockey means that he and Motzko are old, more than anything.
"Neither one of us is a spring chicken. We've been through peaks and valleys in our own careers, and other things in life," Hastings said on a Zoom call with the media this week. "I talked to Bobby today … and just caught up with him a little bit. He talked about his club, I talked about us. We agreed on one thing: as old guys, we don't like the beginning of new years, because there are so many question marks."
Motzko for his part concurred, saying his only wish for this showdown between neighborhood rivals that are both ranked in the top five nationally is that it would happen later in the season, when both teams are a bit more settled in their lineups.
And no matter what the results are on the ice on Friday and Saturday, they will meet on the ice, shake hands and maybe even offer a hug, as old friends are apt to do.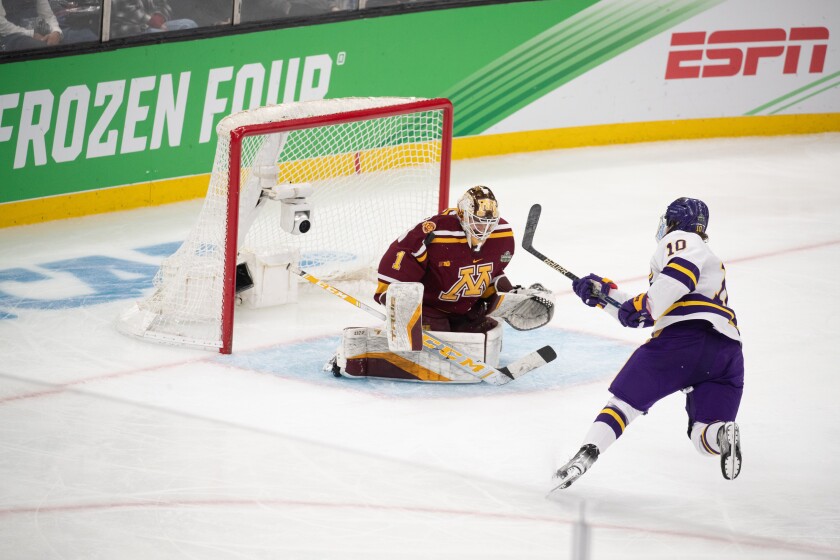 Friday's series opener versus Minnesota State is a 7 p.m. CT starts and will be televised by Bally Sports North with Sam Ekstrom on play-by–play and former Gophers standout Ben Clymer serving as analyst. The game will also be streamed live on the Bally Sports app and on B1G+ .
The Saturday rematch begins at 6 p.m. CT at the Mayo Clinic Health System Event Center in Mankato. It is being televised by KEYC-TV in southern Minnesota, with Fox9+ picking up the feed in the Twin Cities.
On radio, the Gophers can be heard on 1130 AM / 103.5 FM in the Twin Cities with Wally Shaver and Frank Mazzocco in their 11th season together describing the action.
Postgame interviews with coach Motzko and Gophers players can be seen live, roughly 10 minutes after the final horn at The Rink Live's Facebook page.
The Gophers lead the all-time series versus the Mavericks 38-18-6, with their first on-ice meeting coming in 1998. However, the Mavs have had the upper hand lately, winning seven of the last eight meetings between the in-state rivals, including the last four in a row.