Gophers prepare for addition, and possible subtraction, in exhibition win versus USA U18s
While keeping an eye on two players that will be added to their roster next season, the Minnesota Gophers were also cognizant of the chance that they will lose a few players to the Olympics this season, as they played their final exhibition game before Big Ten play restarts.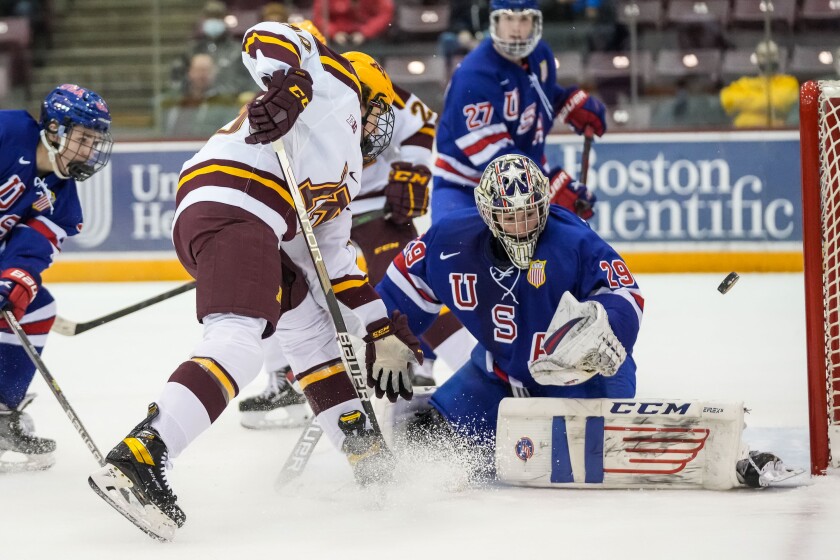 MINNEAPOLIS – One would hope there would be no significant math involved for the Minnesota Gophers when they meet with USA Hockey's top future collegians on the rink. But it is understandable if Gophers coach Bob Motzko was thinking about addition and subtraction on Monday evening, Jan. 3, at 3M Arena at Mariucci.
Two of the skaters for the USA U18 Team – which was playing one of its 19 games versus college competition – will be added to the Gophers next season, trading in their red, white and blue for maroon and gold. And in the next six weeks or so, there may be some subtraction from the Gophers roster, as two or three current players in maroon and gold may switch to red, white and blue and represent the country at the Beijing Winter Olympics.
One of the Gophers being talked about as a potential Olympian, co-captain Ben Meyers, scored a pair of goals as his team rallied from a two goal deficit to win 5-3 in this game. But the final score was significantly less important than the 120 minutes of time on ice the Gophers logged Sunday and Monday in exhibitions (they beat St. Thomas 5-2 a day earlier) as they work their way back into playing shape and return to Big Ten play on Friday at Michigan State.
"This isn't rocket science when you're off for a month. You're going to be rusty and you're going to keep getting better, and I thought that's what we did all weekend," Motzko said.
It was tied 1-1 after a period, then future Gophers forward Jimmy Snuggerud scored a pretty goal for Team USA, which brought a broad smile to the face of Motzko, who will add him to the 2022-23 roster.
"I loved it, how he won the puck battle down low, he's going to be a fun player," Motzko said, tipping his cap to Team USA defenseman Ryan Chesley, who is also a Gopher commit.
But that is the view eight months from now, when the team convenes for next season. Looking at the coming eight-week window, Motzko also used these exhibitions as a kind of tryout for players further down on his depth chart, knowing that players like Meyers, defenseman Brock Faber, defenseman Ryan Johnson or others might get drafted to skate for their country in China. If Monday's game was Meyers' version of a tryout for the Olympics, he might want to update his passport and vaccination records.
"He's so fast, and his skill is unbelievable. It's definitely hard to go against him in the corners," said Snuggerud.
Aaron Huglen, who scored the tying goal for the Gophers in the third, said that in the locker room Meyers was vocal and reminded the team that exhibition or no, nothing less than a win was expected from the home team.
"Before the game he was taking it like any other game and telling us to get going, so we're just following his lead," Huglen said. "He's a phenomenal player."
Postgame comments from Minnesota Gophers coach Bob Motzko, forward Blake McLaughlin and forward Aaron Huglen following a 5-3 exhibition win over the USA Hockey U18 Team on Monday, Jan. 3, 2022.
The Gophers also seemingly survived two scares and look to be at full strength when they get to East Lansing, Mich., on Friday. Defenseman Mike Koster left the game after taking a hard hit along the boards in the second period. Motzko said it does not appear to be serious. Matthew Knies, back from scoring a goal for his country at the brief World Junior Championship – which was canceled due to COVID after the Americans had played just one game – played in the first period then departed due to an illness. But most important was the rust removal after being off since Dec. 4.
"Both of these games these past two days were huge for us," said Gophers forward Blake McLaughlin, who had a goal and an assist. "We've had a month off now, so playing two games and getting our feet under us, we were down 3-1 and were able to come back so playing behind for a bit was good for us, battling back."
Justen Close started in goal and had 25 saves.
Minnesota 0-2-3—5
USA U18 1-2-0—3
First period — 1. USA, Frank Nazar (Logan Cooley), 4:01, (pp). Penalties — Jack Perbix, MIN (roughing), 2:54; Cole Spicer, USA (roughing), 17:10; Matt Staudacher, MIN (roughing), 17:10.
Second period — 2. MIN, Ben Meyers (Mason Nevers, Grant Cruikshank), 6:21, (pp). 3. USA, Jimmy Snuggerud (Lane Hutson, Cooley), 9:25. 4. USA, Rutger McGroarty (Gavin Brindley, Tyler Duke), 10:49. 5. MIN, Rhett Pitlick (Sammy Walker), 17:54. Penalties — McGroarty, USA (hooking), 3:14; Cutter Gauthier, USA (boarding), 8:57; Rhett Pitlick, MIN (hooking), 9:06; Blake McLaughlin, MIN (roughing), 14:12; Seamus Casey, USA (holding), 14:57; McGroarty, USA (hitting after the whistle), 20:00; Perbix, MIN (unsportsmanlike conduct), 20:00.
Third period — 6. MIN, Aaron Huglen (Pitlick, Tristan Broz), 3:19. 7. Meyers (McLaughlin, Staudacher), 12:43. 8. MIN, McLaughlin (Staudacher, Bryce Brodzinski), 16:04. Penalties — Staudacher, MIN (tripping), 6:36; Carl Fish, MIN (kneeing), 9:42; Cooley, USA (elbowing), 17:15; Brindley, USA (goaltender interference), 18:12.
Shots on goal — MIN 7-21-9—37; USA 12-12-4—28. Goalies — Justen Close, MIN (28 shots-25 saves); Dylan Silverstein, USA (37-32). Power plays — MIN 1-of-4, UST 1-of-6. Referees — David Marcotte, Kevin Corbett. Linesmen — Johnathan Morrison, Nicholas Bradshaw. Att. — 6,946.