Gophers hockey fantastic four: The rookie, Logan Cooley
The expectations are extraordinary for freshman forward Logan Cooley, who comes to the U of M as one of the highest NHL draft picks in program history, and insists he's not in a hurry to get to the
MINNEAPOLIS — There was bright sunshine when Logan Cooley stepped off a plane in Minnesota on the first Sunday of 2022. And the high temperature was minus-4 that day as he looked around the Twin Cities and the University of Minnesota campus.
The next night, when his USA Hockey National U18 team faced the Minnesota Gophers, Cooley assisted on two of his team's goals in a 5-3 loss. On the line chart that night, he still had the interlocking ND logo of Notre Dame next to his name, but that was bound to change.
About this series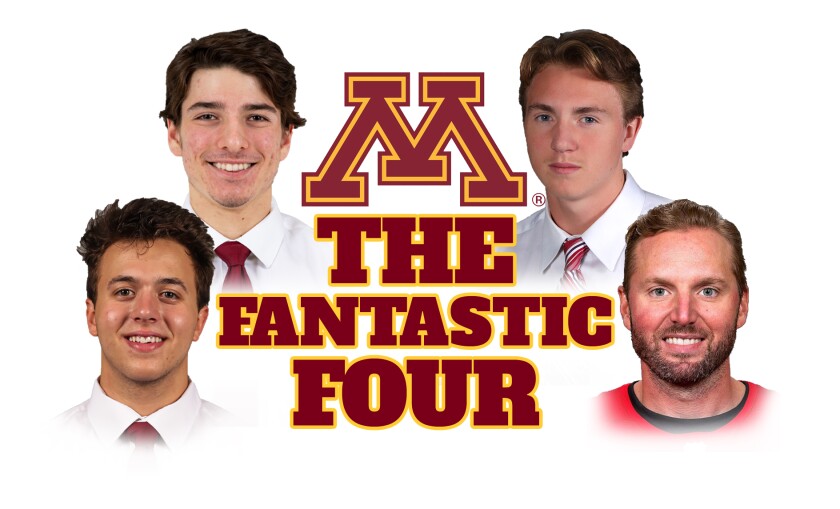 In a four-part preview of the 2022-23 Minnesota Gophers' hockey season, The Rink Live's Jess Myers explores the goalie (Owen Bartoszkiewicz), the captain (Brock Faber), the rookie (Logan Cooley) and the legend of the program (Thomas Vanek).
"I was 14 years old when I committed to Notre Dame and I didn't really know anything about it. I saw their gold helmets and I thought that was pretty cool," said Cooley, now 18 and one of the elite offensive players coming into college hockey this season. The Irish are reputed to be a defense-first program, and Cooley was looking for more puck-moving opportunities.
"I was extremely young, and as I got older I started to realize it was probably not the right style of play for me. I don't think I could fit in that (system)," he said.
Paired with Jimmy Snuggerud – who had followed his father and grandfather in committing to the Gophers a year earlier – on Team USA, Cooley had found some real chemistry and a friendship. He had spoken to the Gophers, Penn State and North Dakota about his college hockey future. Even with 3M Arena at Mariucci roughly half full on a Monday night for their game versus the Gophers, Cooley liked what he saw in Minneapolis.
"I loved the atmosphere," Cooley said after a recent captains practice at what is now his home rink. "I had a chance to walk around campus a little bit too. It was freezing out, but me and Snuggerud walked around and got something to eat, and I loved the place."
A little over a month later, the Gophers team plane landed at Penn State for a series versus the Nittany Lions and the coaches, seated in the plane's front row, turned on their phones for the first time in two hours. There was audible joy when they saw that while they were in the air somewhere over the Great Lakes, Cooley had posted the Goldy Gopher logo on his Instagram story.
Cathy Cooley's brothers played college hockey — one at Notre Dame and another at Colorado College. They later coached high school hockey in Pittsburgh, where the Cooley family lives.
"When the boys were little we would follow their teams and go to all their games, so that's what jump-started everything," Cathy said, recalling the times she would take her sons Eric, Riley and Logan to watch high school hockey.
Naturally, the boys wanted a rink in the Cooleys' backyard, in the suburb of West Mifflin, Pennsylvania. But where Minnesota's frigid winters make neighborhood rinks as common as lakes and Caribou Coffee around these parts, it is notably warmer in the Keystone State, even in the winter.
"It was tougher here. We tried to do an outdoor rink in our yard and our driveway and it was a struggle at times. You'd get a sunny day and it would all melt," Logan's father Eric Cooley said. The miracle of outdoor refrigeration came to the rescue. "His uncle was able to get a small chilling unit, and it would work up to 50 degrees."
On that outdoor rink, Cathy recalls the youngest Cooley boy watching his brothers, patiently waiting his turn. Eric played college hockey at Niagara and Ohio State, and will skate for the AHL's Chicago Wolves this winter. Riley played AAA hockey in Pittsburgh and later skated in the NAHL. So there was some talent in the family. The older siblings showed little brother Logan no mercy on the outdoor rink, but the family learned quickly that the youngest Cooley boy had some special skills.
"I could tell how good Logan was doing just by how many times his brothers threw him over the snowbank at the outside rink," Eric said, with a laugh.
With stars like Sidney Crosby, Evgeni Malkin and former Gopher standout Phil Kessel winning Stanley Cups there, Pittsburgh is generally crazy for the NHL's Penguins, and the Washington Capitals are the hated enemy. Things were the opposite in the Cooley house, where Logan learned to love Caps star Alex Ovechkin.
Areas on the ice where Logan Cooley generates higher performance.
"He was so passionate about the Caps that we fell in love with them from watching him," Cathy said. "It was contagious, and if the Caps lost, it was a bad day, trying to get him to go to bed."
When USA Hockey started showing interest in Logan, he began dreaming of wearing red, white and blue himself. Cathy and Logan got an apartment in Michigan while he played for Team USA and his game blossomed. About the time he was picking the Gophers, Logan was being talked about as one of the top North American skaters heading into the 2022 NHL Draft. When the first few picks were announced on a July night in Montreal, Cooley was the first North American selected, third overall by the Arizona Coyotes.
There was bright sunshine when Logan Cooley stepped off a private jet in Arizona on a Friday in July. And the high temperature was 109 that day as he looked around the Valley of the Sun and the place he hopes to work within a few years.
"We got off the plane and it was like you were in an oven. It was insane, but you get used to it pretty fast," Cooley said. "During the draft process and the combine, I had a really good connection with Arizona. It's the team I felt most comfortable with and I talked to them the most. I felt if I was (available) they might pick me, so I'm glad it worked out."
He spent five days in the desert, skating with the Coyotes other prospects and getting to see Mullett Arena, the new 5,000-seat rink on the Arizona State University campus, where the Coyotes will play, for now, as they work to get a new NHL-size rink built — they hope — within a few years. Cooley will play there in late November when the Sun Devils host the Gophers for a pair of games.
Immediately there was concern among the Gophers fan base that Cooley would sign a pro contract and never actually play college hockey. He put those fears to rest, arriving on the U of M campus in late August. The next concern is that Cooley will be one-and-done in college. But getting to know and enjoy the life of a freshman student-athlete during Minnesota's most perfect weather month, he does not seem to be in a hurry to move along.
"I'm not a guy that's trying to rush out of here as fast as possible. I want to take my time, get stronger on the ice, continue to grow my 200-foot game and become a better person," Cooley said, rattling off a "to do list" off needed improvements. "I want to continue to get stronger, put on more weight, try to find some techniques that I can add to my game, get better and stronger on draws by going against bigger guys. I don't want to make the jump and not be a player that's going to help a team like the Coyotes. I want to take my time, and then when it's right I'll make the jump when I'm NHL-ready."
Bob Motzko is hesitant to appear like he's got a favorite among the 11 newcomers on the current Gophers roster. When asked about Cooley — who one draft expert called the program's biggest commitment since Kessel donned maroon and gold nearly two decades ago — Motzko says he's excited about all of the freshmen. But on further examination, after his play for the American entry in August's World Junior Championships, the coach admits Cooley could be something special.
"Watching him this summer I really paid close attention because he's going to play for us and you can just see the talent is at a different level," Motzko said. "He's got a great skating ability, to separate and get free in tight areas. And I saw a real 'want' in his game. 'I want to get the puck, I want to go fight for that thing.' All great ones, when they have talent, when they get that extra gear to compete, that's when they get to a different level. And it appears he's got all that."
While he stands out on the ice, Cooley has a quiet nature when the skates are off. About the most flashy thing about him in civilian clothes is a bright orange Phoenix Suns hat – a souvenir from his future jobsite visit to Arizona – he wears to the rink and back. The Cooley parents said the biggest struggle Logan has had while in Minnesota, so far, is missing his goldendoodle, Cooper.
Having played alongside him at World Juniors, Gophers co-captain Brock Faber saw the potential for greatness, without a hint of arrogance.
"He's a quiet kid but also a really good kid. He's funny and he's fun to be around," Faber said. "Obviously as a hockey player, he's pretty fun to watch. Just an unbelievable addition for us, and it's going to be exciting to get him on the ice and see all the cool things he does."
Not one for superstitions or rituals, Cooley said there is no particular meal or music he has to have before games. If he has one pregame quirk, it has to do with the tools of the trade.
"I'm maybe a little crazy about my sticks," he admitted. "They all have to be taped a certain way and if I have any little nick on my stick it kind of gets in my head. All my sticks have to be perfect."
Kessel helped the Gophers win a WCHA title and was named the conference's top rookie, then bolted to the NHL after a lone season with the Gophers. It is easy to predict that Cooley will have a similar timeline in Minnesota. But again, his new coach preaches patience among those with sky-high expectations for the kid who will wear 92 on his roster.
"Let's let the season get started," Motzko said, when this reporter asked about all Cooley might do as a Gopher. "Let's write things after they get going. But I'm sure he's going to give you plenty of things to write about."
And at that thought, the coach smiled.
Projected as one of the top two North American skaters ahead of the 2022 NHL Draft, the Pittsburgh native announced his commitment to the University of Minnesota on Thursday.
Before he will don a NHL sweater for what all expect will be a lengthy and lucrative pro career, Logan Cooley will skate for the Minnesota Gophers for at least one season. But when he is ready to
In this episode, we talk to Jess Myers about Bob Motzko's squad getting a commitment from top prospect Logan Cooley, go over the week's highlights, and get Dave Starman's thoughts on the World