Gophers hockey fantastic four: The goalie, Owen Bartoszkiewicz
Amid all of the mid-season consternation with Jack LaFontaine leaving and Justen Close taking over the Gophers net last January, a tall, quiet kid with orange pads and a long last name arrived from
MINNEAPOLIS — It sounds like something you would hear from a bad scammer trying to get your credit card number over the phone, or as the consolation prize on a low-rent game show.
"You've qualified for an all-expenses–paid trip. To the Twin Cities. In January."
About this series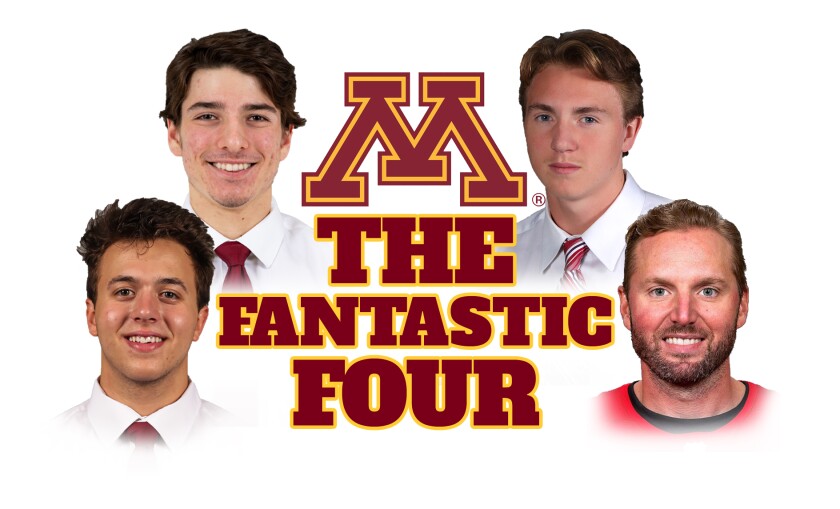 In a four-part preview of the 2022-23 Minnesota Gophers' hockey season, The Rink Live's Jess Myers explores the goalie (Owen Bartoszkiewicz), the captain (Brock Faber), the rookie (Logan Cooley) and the legend of the program (Thomas Vanek).

But when Owen Bartoszkiewicz got a phone call from a Minnesota Gophers assistant coach one Sunday last winter, what was happening was very, very real. After a sweep at Michigan State, the team's star goalie, Jack LaFontaine, was pressured into signing a pro contract, right then and there, and the Gophers were in need of a puck-stopper to back up presumptive starter Justen Close.
Bartoszkiewicz, who had committed to the Gophers less than a year earlier and had logged a dozen games in a backup role for Youngstown in the USHL, didn't hesitate. That Sunday afternoon, his family found out that the goalie was headed west when the wheels were already in motion, literally.
"He called us and said, 'Minnesota called. I've got my car packed and I'm already driving,'" said Owen's father, Todd, who is a software engineer and lives in the Detroit suburbs. "He didn't wait for us."
While goalies — even the most active ones — spend most of their on-ice time in a confined space, in the crease or a few feet from it at most, Bartoszkiewicz has shown that for the betterment of his career, he will go where the opportunity presents itself, be that Michigan, Texas, Ohio or now Minnesota.
Todd Bartoszkiewicz played some goalie along with other sports while growing up in St. Louis, and made his way to St. Cloud State as a swimmer in the late 1990s. A few times, when Craig Dahl's Huskies were in need of a practice goalie, he even donned the pads and stopped pucks from the likes of Matt Cullen, Dave Paradise and Mark Parrish at the National Hockey Center's auxiliary rink. Todd later attended the U of M for a few years before settling in Michigan, originally to work for Ford Motor Company.
Thanks to his father's time in Minnesota, Owen was the odd kid among his childhood friends who would often wear a hoodie with a maroon and gold M rather than the colors of the Spartans or Wolverines. Owen played all sports as a kid in Northville, Michigan, but fell in love with hockey, and specifically goalie, in large part from going to Todd's men's league games.
"I always went to watch my dad play, and he always had so much fun playing that I think I resonated it a little bit from him," Owen said.
Playing AAA hockey as a 15-year-old in Michigan, Owen started winning games as he grew, and in a region where major junior hockey is a much more influential part of the sports scene, began dreaming of a quick route to join his hockey hero, Marc-Andre Fleury, in the NHL. When none of the major junior teams that had expressed interest in Bartoszkiewicz drafted him, he changed on the fly and looked for a new place to play with an eye on college hockey.
He found it in the form of a NAHL expansion team in north Texas, of all places, a mere 1,100 miles from his home. With the Wichita Falls Warriors, Bartoszkiewicz thrived on the ice in terms of numbers and wins, and scouts took notice. A month before he announced his commitment to the Gophers, The Hockey News ran a story on Bartoszkiewicz headlined " Meet the Goalie Every Scout Needs to See ." Off the ice and the locker room, he learned a lesson from the Warriors coach that would be applied a year later, on that winter Sunday when the Gophers came calling.
"My coach at the time, Garrett Roth, told us, 'It's not about you, it's about what you leave on the table for the next guy,'" Owen recalled. "That stuck with me a little bit when going through the commitment process and coming (to Minnesota) in January, it was like, if I say no, what are these guys going to think of me when I show up in the fall?"
Late addition to the lineup
So on a cold Friday night, with a team from Alaska in town to play the Gophers, a line chart was handed out featuring a third goalie on the roster with a 14-letter last name (pronounced "Bart-a-skay-vich"). Owen warmed up wearing pads that were white with bright orange trim, from his Ohio junior team, then took a seat on the bench and spent three months watching Close backstop a Big Ten title and a Frozen Four trip.
Gophers coach Bob Motzko hinted that Bartoszkiewicz might get a start at some point down the stretch last season, but Close kept winning and never offered a reason to begin a goalie rotation. The silver lining, along with the conference title and the trip to Boston to skate on ESPN, is that Bartoszkiewicz starts as a freshman, eligibility-wise, this fall, even with half a year of college classes and college hockey practices on his resume.
"I get to skip out on some freshman stuff and I'm not stuck in the classroom all summer," said Bartoszkiewicz, who shares an apartment with teammates Rhett Pitlick and Ryan Johnson. "It's nice living with older guys and not staying in the dorms."
He looks good. He's made a lot of key saves for us in the games I've played in and he seems very athletic. He's obviously a bigger goalie and I think he could be really good down the road.
- Nick Leddy, Da Beauty League teammate
Instead, the summer was spent mostly on the ice, sometimes three hours a day or more between open hockey with his Gophers teammates, coaching at a hockey camp and skating in a half-dozen Da Beauty League games in Edina. On a Wednesday night in early August, Bartoszkiewicz battled former Gophers goalie Jared Moe, now at Wisconsin, in a DBL game. It is notoriously not a goalie-friendly place. Defense is optional, backchecking is non-existent and the guys in the crease are out-numbered routinely. Bartoszkiewicz loved it, out-dueling a future on-ice rival for a 10-6 win.
"They're messing around and having fun, so I'm not getting too mad or anything," he said after the game, about the general lack of assistance from his defenders. "I like the back-door plays and I like to test myself so it doesn't bother me. I get a little anxious sometimes, but it's all good."
One of those DBL defenders, former Gopher and current St. Louis Blues rearguard Nick Leddy, liked what he saw from the lanky kid who has traded in the orange pads for a snappy maroon and gold set.
"He looks good. He's made a lot of key saves for us in the games I've played in and he seems very athletic," Leddy said. "He's obviously a bigger goalie and I think he could be really good down the road."
Waiting for that first shot
When forwards and defensemen think of goalies, the easy-to-explain task is stopping the puck. The bigger matter is trust. Players want to know that nine times out of 10, or better, the goalie has their back. That level of trust leads to more free-wheeling, risk-taking hockey, knowing that the goalie will be there for a bailout if mistakes and turnovers happen.
Close has clearly earned the Gophers' trust, helping the program get to the Frozen Four for the first time since 2014 last season. While Bartoszkiewicz has yet to face "live ammo" in a college game, he is clearly part of the team's big picture for the coming season, and has earned a modicum of trust among his teammates with his commitment to the team starting last January, and that relentless off-season work. Bartoszkiewicz joked that his biggest on-ice foe is dehydration, late in that third hour of stopping pucks on any given summer weeknight.
"Every day last season he came to practice and worked his tail off, and this off-season he's been working hard in the gym and on the ice, skating all the time, so we're excited to have him," said Gophers defenseman Matt Staudacher. The only other Michigan native on the team, Staudacher joked that the addition of Bartoszkiewicz to the locker room was huge, as they're the only Detroit Lions fans on the roster.
Motzko has repeated that he does not make out his line charts in the summer, nor will he name a starting goalie until Oct. 1 when Lindenwood visits Minneapolis for the season opener. But if Close is the clear number one with his work and success last season, Bartoszkiewicz seems like his first collegiate start can't be far away either. For his part, Bartoszkiewicz said his chief rival for playing time, Close, has been a welcoming friend since the Michigander showed up in the locker room eight months ago.
"I look up to him, almost like an older brother," Bartoszkiewicz said of Close, who will be a senior. "He's been really close to me and has helped me a lot. There's a little competition, but we both recognize each other as good goalies, so I don't think we really worry about anything."
The Gophers fan base returned to 3M Arena at Mariucci in droves late last season to see a Big Ten title clinched and playoff battles with Penn State and Michigan. Those crowds stand out in his mind, as do the goosebumps that attacked when Bartoszkiewicz and his team skated out onto the ice of a packed NHL rink in Boston for the Frozen Four. He is eager to get on the ice for real and get what they expect could be a special season underway.
"A lot of guys are kicking at the door just to get the season going," he said. "We're really interested to see what we can do, and we all trust each other to do our job. We're enjoying the time off we have, but everyone is ready to go."