Gophers hockey fantastic four: The captain, Brock Faber
He played for USA Hockey in Michigan. He accepted a college scholarship in Indiana. He was drafted by a NHL team in California. But through it all, the love of this game and family keep pulling
MAPLE GROVE, Minn. – For some Minnesota kids, being named a co-captain of one of college hockey's storied programs would be a career highlight. For Brock Faber, the Minnesota Gophers defenseman who will serve as one of three captains for the 2022-23 season, that honor was the second-most interesting thing that happened on a random summer weekday.
On the morning of Wednesday, June 29, the Gophers put out a press release announcing that Faber, Jackson LaCombe and Jaxon Nelson had been elected captains for the coming season, by a vote of the Gophers players. With that out of the way, Faber settled in to tackle some of the "student" part of his student-athlete gig.
About this series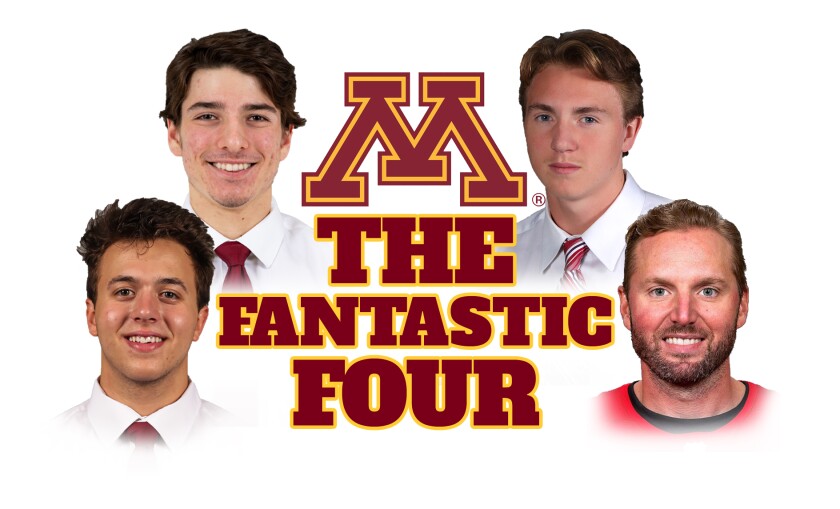 In a four-part preview of the 2022-23 Minnesota Gophers' hockey season, The Rink Live's Jess Myers explores the goalie (Owen Bartoszkiewicz), the captain (Brock Faber), the rookie (Logan Cooley) and the legend of the program (Thomas Vanek).
"The news came out about me being captain, and then a few hours later I was doing homework and my phone kept ringing. I answered and it was Rob Blake," Faber recalled. Blake, the Los Angeles Kings general manager, who had picked Faber in round two of the 2020 NHL Draft, was calling to say that Brock's rights had been traded, and from that moment on, his NHL future was with the Minnesota Wild.
"And then the phone started blowing up even more," Faber said, with a laugh. "The day was about 20 hours of being on my phone. The next morning when I woke up it all started to sink in, but it was a special time for sure."
For the Wild, getting Faber's rights in a deal that sent winger Kevin Fiala west was a chance to develop a player that they feel would likely be playing at Xcel Energy Center this winter if he wasn't returning to campus for his junior year.
"He's really a high-end prospect and someone we think is not far away from playing (in the NHL) at all," Wild general manager Bill Guerin said when the trade was announced. "I know he's going back for his third year at the U but in all actuality I think Brock could probably play sooner than that. But it will be a good year for him back there, and we'll cross that bridge at the end of the season."
Brock, 20, is the youngest of Jay and Karri Faber's three children. Oldest sister Payton is 23, a U of M graduate, and works for a Minneapolis advertising agency. Brock is a student and hopes to work for a St. Paul-based sports franchise within a few years. And then there is what Brock jokes is the real hockey star in the family – his 22-year-old sister Paige. Born with special needs, Paige is without a doubt Brock's biggest fan, and the inspiration behind much of the success he has had in life. But as an adapted floor hockey player in her teens, Paige showed the first flashes of stardom in the family.
"She had more points in half a year than I do in my career," Brock said, recalling the days when Paige played every position with great success in floor hockey. As for little brother, there was a time in eighth or ninth grade when he appeared destined for stardom. On the football field.
Jay coached youth football in Maple Grove where son Brock was an offensive standout.
"He could see the holes as a running back, and see the whole field," Jay said. "He could always spot the open field better than anyone else."
That vision and ability to see the plays and the holes developing translated to the ice, where scouts started showing up at Brock's bantam games to watch him control the play from the back end. He had just turned 14 when the family took a trip to Notre Dame. The Fighting Irish offered a campus tour, took the Fabers to a football game versus Georgia, and dangled a full scholarship to the renowned Catholic school.
"As parents you're not really sure, but also as parents you're like 'Oh my God, they just offered my child a full ride scholarship to Notre Dame,'" Karri recalled. "And they wanted an answer right away."
Brock said yes to the Irish offer. A few years later he said yes to USA Hockey's offer to play for the National Team Development Program in Michigan, after weighing the pros and cons. The pros were obvious, as the facilities, the coaching and the on-ice opportunities are a huge step in any hockey career. The cons included missing out on his last two years of high school football, and moving a time zone away from his family.
On the ice in Michigan, Faber excelled. But when the hockey was done, his parents felt the homesickness in his voice when Brock would call home. It was around that time that college in Indiana started to feel like another extended stay away from mom, dad and his sisters. Faber re-opened his college search, and eventually followed his heart to the Gophers.
Like many Minnesota kids, Brock once dreamed of playing in a packed 3M Arena at Mariucci, wearing the maroon and gold. The reality when he arrived on campus in the midst of a pandemic was starkly different. The arena attendance was limited to 150, or less. Classes were all online. The student-athletes were effectively under house arrest, unable to have a true college experience for much of Faber's freshman year.
Here's a pretty highly-touted young guy who probably could go right to the National Hockey League and he's got unfinished business here. He's all-in for the program and his teammates. If there's a definition of a leader, that's pretty much it.
Bob Motzo, Gophers head coach
And college hockey was a jump up, but he stayed in the lineup, kept learning, kept growing. The Gophers blasted out to a 10-0-0 start and were top-ranked in the nation. They ended Brock's freshman year a game shy of the Frozen Four, but hoisted the Big Ten's tournament trophy.
The crowds came back last year. The Gophers won a conference title, and got to the Frozen Four, and along the way, Faber was named the Big Ten's top defensive player after a breakout season. And that honor came after he missed three weeks of Gophers games to fly to China and back, skating for Team USA at the Winter Olympics.
1
/
6:
Brock Faber was a bantam playing defense for Osseo Maple Grove youth hockey when scouts started showing up at his games, which eventually led to offers from colleges and USA Hockey.
2
/
6:
All the way back to his youth hockey days in Maple Grove, Minn., Brock Faber's biggest fan has always been his sister, Paige.
3
/
6:
The Faber family (left to right): Payton, Jay, Paige, Karri and Brock.
4
/
6:
After the Minnesota Wild acquired his rights in late June of 2022, Brock Faber skated in the team's development camp at TRIA Rink in St. Paul a few weeks later.
5
/
6:
Team USA's Brock Faber (14) warms up before the men's ice hockey preliminary round against Canada at the Beijing 2022 Olympic Winter Games. Faber, a Minnesota Gophers defenseman, was acquired by the Minnesota Wild in a trade with the Los Angeles Kings.
6
/
6:
Defenseman Brock Faber (14) guarded the space in front of goalie Jack LaFontaine during a game between the Minnesota Gophers and the North Dakota Fighting Hawks on Nov. 27, 2021 at Ralph Engelstad Arena in Grand Forks, N.D.
In Beijing the Americans failed to medal. At the Frozen Four in Boston, the Gophers bowed out to Minnesota State Mankato in the semifinals. Last month at the World Junior Championships in Alberta, Faber was Team USA's captain and helped the Americans storm into the medal round without a loss, only to suffer an upset in the quarterfinals. So if one wonders why he would turn down a potential pro contract for one more year of college, the answer is two-fold.
"Here's a pretty highly-touted young guy who probably could go right to the National Hockey League and he's got unfinished business here. He's all-in for the program and his teammates. If there's a definition of a leader, that's pretty much it," Gophers coach Bob Motzko said. "And the family is having a blast. College hockey is a fun run, and you don't want it to end."
Motzko admits that he never saw Faber carry the football, but with the way Brock plays hockey, there are some gridiron correlations.
"He's just got great power down low, so I could see where he'd be a great running back. There's no moment that's too big for him. I compare him to a linebacker. He's a beast defensively," Motzko said. "He's changing the game for us with the way he defends and eats minutes. He's going to play a lot for us because he's a superior athlete, and he's controlling the ice."
Last season, the loose and fun Sammy Walker and the all-business Ben Meyers were two of the team's captains. Both have moved on to pro hockey now — Walker with the Wild and Meyers with the Colorado Avalanche. Faber said he hopes to incorporate what he learned from both men in a Gophers leadership role. He sees himself not as one of the three captains, but as one of about two dozen team leaders.
"It's a huge honor and I'm thankful to have the opportunity and to have learned from those two," he said of Walker and Meyers. "But there are a ton of leaders in the locker room. Whether you have the 'C' on your jersey doesn't really matter."
Still, when the captains vote was announced, there were no surprises when Faber's name was called.
"That was an obvious choice," said defenseman Matt Staudacher. "He leads by example on and off the ice. He's not a guy who says much, but his actions speak for him and for everybody in the room. We all have his back, and we all voted for him to be captain."
The season that most expect to be Faber's final run at a NCAA title is now just days away, and after an opening weekend with first-year Division I program Lindenwood, the speed limit goes up quickly. Their nemesis, the Mavericks, then their oldest rival, North Dakota, then the Big Ten opener at Ohio State all will hit before any kids show up at the Faber house in Halloween garb.
"We're looking forward to getting out there versus Lindenwood and then Mankato, which is going to be one of those games right off the bat," Faber said.
And through it all, the one guarantee is that Paige, his biggest fan, will be there to cheer him on from the stands, and offer a hug afterward. Their mother feels that Paige's challenges with a disability are an important bit of perspective in Brock's life which has been filled with so much success. She notes that Brock tried practically every sport as a kid and excelled at all of them, even winning two state baseball titles before he was a teen.
"Everything for Brock has always come somewhat easy. If he sets a goal, it's easy for him to attain it at a young age…Whatever he does, he ends up being somewhat good at," Karri said. "I think that watching Paige, and how hard it is just for her to live a normal life, and the challenges she faces just to gain independence, I think that makes him really appreciate the things he was born with. I think that plays a huge role in their relationship because he knows that she battles things every day that he'll never understand."
Four years ago, Faber went to Michigan for hockey, and considered college in Indiana, but the pull of family brought him home to Minnesota. Two years ago he was drafted by a California hockey team, but ended up with a chance to play for the hometown Wild someday. It's easy to see why the Fabers think that something more than luck might be at work.
"Something is pulling him back here, that's for sure," Karri said, with a smile. "His sister has some kind of power."