UND tries new goalie, but the same issues return in 7-6 loss to Western Michigan
The Fighting Hawks blew a three-goal lead for the second time in seven games.
GRAND FORKS — On Saturday morning, UND coach Brad Berry decided to give Kaleb Johnson the start in goal.
The Grand Forks native hadn't started a game in 600 days, since he was playing for the Minnesota Wilderness in the 2021 North American Hockey League playoffs.
"First of all, he was playing well in practice," Berry said. "Second of all, when you look at the analytics side of it, when we give up the sixth-least shots in the nation — 24 shots a game — and we're last in save percentage, you want to try something, and he deserved an opportunity tonight."
But that didn't work either.
Everything that has plagued UND this season re-occurred Saturday night in a wild 7-6 loss to Western Michigan in Ralph Engelstad Arena.
It spoiled a 4-for-6 night on the power play and an offensive explosion behind goals from Cooper Moore, Jackson Kunz, Riese Gaber, Chris Jandric, Luke Bast and Ethan Frisch.
UND, again, gave up way too many Grade-A chances. Playing without top-pair defenseman Tyler Kleven, who was serving a one-game suspension for a major penalty Friday night, the Broncos scored seven times. Five of them were from below the dots in the slot or the top of the crease.
It marked the fifth time this season UND has allowed six-plus goals. That's the most since the 2001-02 team, which did it nine times.
"We know our structure," Frisch said. "We play it well most the game. Once we get on our heels, we don't have confidence in ourselves. It creeps back in our game where we're not being responsible. We're not being mentally tough enough. We know what we have to do. We're just not executing in those critical situations. It's something we're going to have to address. It's mental toughness and overall mentality of our group."
Johnson didn't fare any better than the other goalies, Drew DeRidder or Jakob Hellsten. After stopping 14 of 16 shots through the first 34 minutes of the game, the former Grand Forks Central star allowed four of the final 19 shots.
UND's team save percentage is now .867, dead last in the country. That's five points below second-to-last Air Force (.872) and a whopping 15 points behind third-to-last Dartmouth (.882).
"I thought early he was good, he was sharp, he made some saves for us at key times," Berry said. "But I'm not putting all this on Kaleb. At the end of the day, we stopped playing."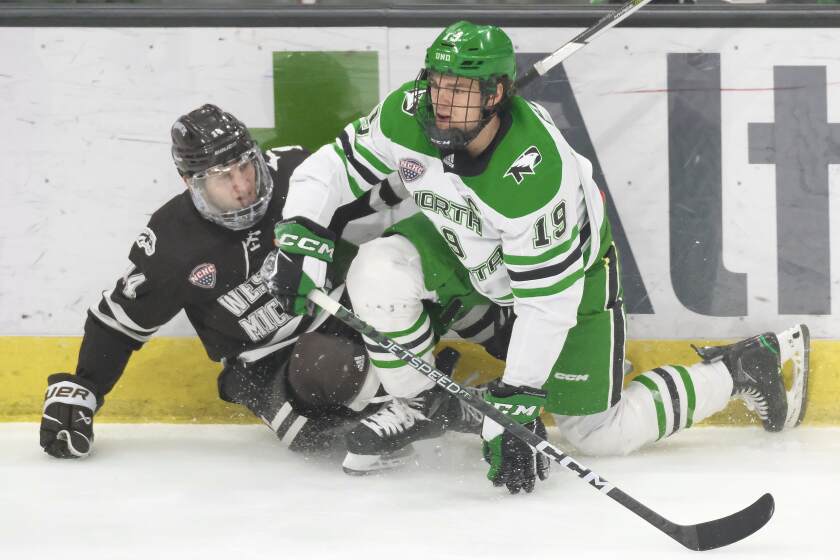 UND, again, couldn't hold a lead. The Fighting Hawks were up 5-2 and allowed the Broncos to rally with two goals in the final six minutes of the second period and three in the final six minutes of the third.
It's the second time in seven games that UND has blown a three-goal lead and lost.
It's the third time this season the Fighting Hawks have lost a game when leading after two periods. UND has lost more games when leading after two periods this season (7-3-1) than it did in the previous four years combined (71-2-2).
"There has to be some mental toughness and some grit when you go through adversity," Berry said. "Same thing last night. We took a major penalty, they scored one, and we backed off again. There's got to be a way in the second half of the season here where we're more resilient in our group — coaches and players together — as far as making sure when there are times in games where there's adversity, you get back on the horse again."
The Fighting Hawks, again, lost a one-goal game. They're 2-5 in games decided by a goal this season. A year ago, when they made a run to the Penrose Cup, the Fighting Hawks were 11-4 in one-goal games.
"We don't have time to just keep trying to find it in games," Frisch said. "We've just got to find it during the week and have that confidence that we can execute, because we can be a good team. We have really good practices. We have really good flashes in games, and then we get on our heels when stuff starts going wrong. No great team does that. They find a way to battle through that stuff. We have to address that and get better at dealing with adversity mid-game."
Western Michigan has the NCAA's top-scoring line with Ryan McAllister (NCAA points leader), Jason Polin (NCAA goals leader) and Max Sasson. That trio had zero points Saturday.
Instead, it was Luke Grainger who did the damage. Grainger finished with six points — two goals, four assists — to lead the way. He became the first player to tally six points in a game against UND since Minnesota's Casey Hankinson did it on Nov. 9, 1996.
With the loss, UND dropped below .500 again to 9-10-4 overall and remains in seventh place in the NCHC standings. The Fighting Hawks also dropped from No. 16 to No. 24 in the Pairwise Rankings with the two losses to the Broncos.
Next weekend, the Fighting Hawks host Minnesota Duluth, which got swept by Omaha this weekend.
"We know what we need to do," UND captain Mark Senden said. "We talk about all the right things. We just have to go out there and execute."