Riese Gaber's hat trick propels UND to rout of Miami
Gaber became the first Fighting Hawk to score three goals in a game since Rhett Gardner on Nov. 2, 2018.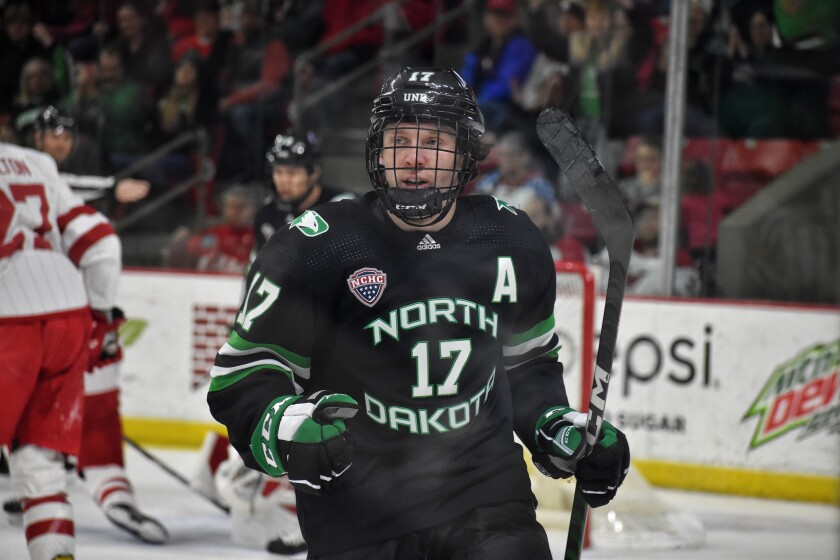 OXFORD, Ohio — There wasn't a full moon Saturday night in Oxford, so it can't be attributed to that.
None of the UND men's hockey players were seen slipping into Skyline Chili next to the team hotel for extra carbs over the weekend, so it can't be attributed to that, either.
But everything seemed to happen for the UND men's hockey team during its 8-0 rout of Miami University in Goggin Ice Center.
The bizarre four-and-a-half-year wait for a hat trick? Gone.
Riese Gaber fired home three goals en route to a four-point night, marking UND's first hat trick since Rhett Gardner on Nov. 2, 2018, against Wisconsin.
The only teams who had longer active hat trick droughts than UND: Alaska Anchorage, Union, Ferris State, Vermont, Union and Yale. Half of those teams went on hiatus for at least a full year during that span.
Gaber scored a power-play goal in the first period, an even-strength goal in the second and another power-play goal in the third, prompting a few UND fans in attendance to send their hats onto the ice.
"I know Gards is the last guy to have it," Gaber said. "I had some good opportunities. I just felt like I was going to get it and obviously, I just kind of stuck with it. Credit KG (power play coach Karl Goehring) for putting us back out there and obviously my teammates for making some good plays. It's not possible without them."
Owen McLaughlin's 36-game goal drought going back to last season? That's gone, too.
McLaughlin hammered a power-play goal — his first at the college level — on a one-timer during the second period.
The Philadelphia Flyers draft pick's last goal was April 16, 2022, when he was playing for Sioux City in the United States Hockey League. His drought lasted the final 12 games of his USHL career and the first 24 of his college career.
"I was getting chances," McLaughlin said. "But at the end of the day, it was a really good game by us overall."
Oh, and a UND team that's been maligned defensively and in net posted a shutout, too.
Drew DeRidder stopped all 23 Miami shots he faced Saturday. He saved 50 of 51 on the weekend and has stopped 97 of 102 in the past four games (.951). His save percentage has now climbed to .900.
The Fighting Hawks have held their opponent under three goals in four consecutive games.
"Drew DeRidder, I tell you what, this was a night we needed some really good goaltending," UND coach Brad Berry said. "And he's put back-to-back efforts together."
UND (12-11-4) entered the game significantly undermanned.
Three UND players were forced to miss the series finale due to injuries sustained Friday.
Forwards Jake Schmaltz and Gavin Hain, who both left Friday's game with apparent upper-body injuries, were held out. So was defenseman Luke Bast, who had a lower-body injury.
UND also found out at 1:30 p.m. Saturday that top-pair defenseman Tyler Kleven would be forced to miss the game due to a suspension. The National Collegiate Hockey Conference added a game misconduct to his cross-checking major penalty in the series opener — the first time the league has done so. Because it was Kleven's third game misconduct of the year, it triggered an automatic one-game suspension.
The Fighting Hawks played with 17 skaters — two under the limit.
"Sometimes, when your back is against the wall with lower numbers, it brings you closer," Berry said. "Obviously, we didn't want to play under the limit, but when we do, I think a big part of our culture is playing for the guy next to you. There were a lot of times tonight where guys had to put their bodies in front of shots and do whatever it takes to play for the team."
UND is now 13-2 in the last 15 games it was forced to play with 17 or fewer skaters — a stretch spanning back to the 2011-12 team.
"We knew it was going to be a team game tonight and it was going to take everybody," UND defenseman Ty Farmer said. "I'm really excited that we all came together."
A lot of players got on the scoresheet.
All four freshmen scored. Jackson Blake had a goal and three points, while McLaughlin, Ben Strinden and Dylan James each had a goal.
Judd Caulfield chipped in a goal. Captain Mark Senden had three assists, while defenders Ethan Frisch and Farmer each had two-assist nights.
But it was Gaber with the big game.
"It's a big relief, I think, honestly just for overall confidence," Gaber said. "Having that one feels good. I've been waiting for a game for me to break out, so that was a lot of relief. We're going to get back to work here and look forward to make that push to get back into the picture."