Bulldogs power play, once given a chance, strikes twice in victory over Bemidji State
The Beavers went four-plus periods without being called for a penalty in the series. UMD made BSU pay once the Beavers were sent to the penalty box.
DULUTH — Minnesota Duluth went four-plus periods without a power play this weekend against Bemidji State, failing to draw a call from the CCHA crew during Friday's 1-1 overtime time in Bemidji.
Meanwhile, the NCHC crew working the series finale seemed uninterested in getting involved during the first period Saturday back at Amsoil Arena.
When the Bulldogs finally did get a pair of man advantages in the second period Saturday, they cashed in on both to pull away from the Beavers for a 5-2 victory in what was UMD's final nonconference game of the 2022-23 season.
The Bulldogs, who claim the Blue Ox Trophy and finish 5-4-1 outside league play, are at Omaha next weekend to resume NCHC play.
"Coach always says this is a really tough series, and we always want to play against them because it's a good indicator of where you're at," Mylymok said. "Yesterday was a 1-1 game. We're looking at the Blue Ox Trophy, and we're looking at the scores, and it's 2-1,1-1, 0-0. That's just what the series is. Today, it was a different style. We were just putting chances away. You don't usually see a game like that against Bemidji."
Mylymok and fifth-year senior center Jesse Jacques of Hermantown scored the Bulldogs' two power play goals in the second. Jacques at the top of the BSU crease buried a pass by Mylymok, who got the second power play goal by deflecting a puck sent in by junior defenseman Wyatt Kaiser.
There were just three penalties called Saturday, with UMD going 2-for-2 on the power play and killing the lone Beavers' advantage in the third period.
"Power play is a big deal. We didn't get one the first game in Bemidji. Getting two in tonight was a big deal," Jacques said. "Mylymok made a great play to me, and he got the other one. We definitely need to start scoring on the power play and today was a step in the right direction."
The Bulldogs bounced back from an early deficit by scoring a pair of goals 44 seconds apart to take a 2-1 lead into the first intermission. Junior defenseman Darian Gotz of Hermantown stepped up on the attack to snipe from the slot 11:02 into the first while freshman wing Kyle Bettens put UMD ahead by picking up a loose puck that BSU junior goaltender Gavin Enright thought he had, but didn't.
The Beavers scored 1:15 into Saturday's series finale as sophomore wing Jere Vaisanen beat UMD junior goaltender Zach Stejskal of Cohasset with a shot to the near post on the rush. BSU picked up another goal with 14.4 seconds left in the second period to cut UMD's lead to two goals at the second intermission.
Senior wing Luke Loheit added an empty net goal for UMD late in regulation after blocking a shot to give UMD five goals from five different players.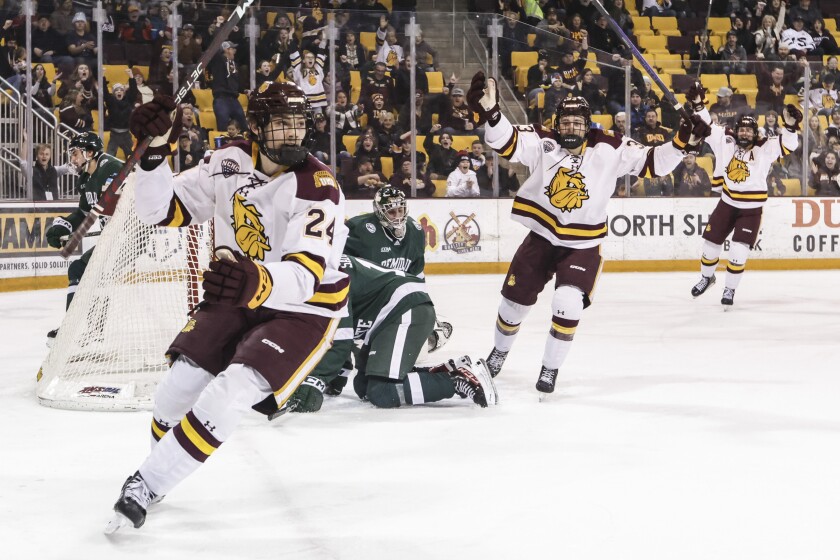 "I said before the game, it'd be nice to score five or six for a change and have some different guys score," Bulldogs coach Scott Sandelin said. "We had five goals and we had five different guys score. I joked with Luke at the end, "I would probably hog that one, too, after a great block."
It took 43:40 for anyone to score in Friday's 1-1 overtime draw in Bemidji with the Beavers taking a 1-0 lead in that game as well. UMD didn't get on the scoreboard until there was just 1:55 left in regulation and the goalie pulled, scoring on a shot from the blue line by Kaiser.
Stejskal, making back-to-back starts for the first time since the Oct. 28-29 series against Cornell, finished with 22 saves Saturday. BSU junior goalie Gavin Enright had 24 saves.
Prior to Saturday's game, the press box at Amsoil Arena was named in honor of former UMD sports information director Bob Nygaard, who worked for the university for 37 years. Nygaard was an integral part of the promotion of the UMD men's hockey team's record six Hobey Baker Memorial Award winners and he helped found the athletic department's Shjon Podein Community Service Award.
Former UMD sports information director Bob Nygaard helped the Bulldogs win six Hobey Baker Memorial Awards during his 35-plus years with the Bulldogs.
3. UMD junior defenseman Wyatt Kaiser — Kaiser had two assists Saturday, assisting on both power play goals in the second. He finishes the series with three points.
2. UMD senior wing Luke Loheit — The Beavers challenged Loheit's empty net goal for offside, as he elected to shoot instead of pass to freshman Ben Steeves, who was just ahead of him. Steeves was onside, Loheit's goal counted and he finished with a goal and an assist Saturday.
1. UMD junior wing Luke Mylymok — A goal and an assist, both came on the power play, like Kaiser. His line (which includes Jacques and freshman Luke Johnson) matched up well against Bemidji State this weekend.
Bemidji State 1-1-0—2
Minnesota Duluth 2-2-1—5
First period
1. BSU, Jere Vaisanen (Lleyton Roed, Carter Jones), 1:15
2. UMD, Darian Gotz (Dominic James, Luke Loheit), 11:02
3. UMD, Kyle Bettens (Joey Pierce, Quinn Olson), 11:46
Second period
4. UMD, Jesse Jacques (Luke Mylymok, Wyatt Kaiser), 8:07 (pp)
5. UMD, Mylymok (Kaiser, Owen Gallatin), 17:57 (pp)
6. BSU, Jones (Roed, Vaisanen), 19:46
Third period
7. UMD, Loheit, 17:44 (en)
Saves — Gavin Enright, BSU, 24; Zach Stejskal, UMD, 22.
Power play — BSU 0-1; UMD 2-2. Penalties — BSU 2-4; UMD 1-2.