Size, speed help St. Thomas standout Josh Eernisse insert himself into CCHA rookie of the year consideration
Playing with some of college hockey's current stars at the junior level helped Josh Eernisse make a smooth transition to the CCHA, where he has played an immediate impact role for the Tommies.
MENDOTA HEIGHTS, Minn. – In case you were looking for further proof that hockey is everywhere in Minnesota, we present the case of St. Thomas rookie forward Josh Eernisse. From parents with no background in this silly game with the ice and the blades and the puck, Eernisse is having a breakout rookie season in the CCHA, as one of the leading scorers on a Tommies squad that heads into the playoffs this weekend on a 9-9-2 run.
The journey to the rink started way back in the days when Josh's parents, Michele and Mark, sent him to an in-home daycare near their Apple Valley, Minn., home. The childcare facility happened to be run by a sibling of Tom Kurvers, the late 1984 Hobey Baker Award winner who starred at Minnesota Duluth and with more than a half-dozen teams in the NHL. Like so many suburban homes in Minnesota, it had a backyard rink.
"Their son played hockey in high school and he would be out there shooting pucks when I was a little kid," Eernisse said. "I was just so intrigued that they got me out there skating. That was the start of my hockey journey and I haven't looked back since."
These days, if Eernisse looks back, it's to see if his tipped puck made it to the back of the net. And more often than not in his first season with the Tommies, the answer has been yes. After 34 college games, Eernisse heads into St. Thomas' first round CCHA playoff series at Michigan Tech with 14 goals and seven assists, placing him second on the Tommies' scoring sheet, and inserting his name into the conference's rookie of the year conversation.
According to his coach, Eernisse embodies exactly the kind of player the Tommies like to build around as their program grows through fits and starts.
"When we recruited Josh, we recruited to our identity of what we want to be and certainly he's fit that mold for us," said Tommies coach Rico Blasi. "Play hard, finish checks, get dirty. That's the way we want to play. Relentless work ethic that our program has, and Josh is at the top of the list when it comes to that."
And off the ice, St. Thomas has thus far been a perfect fit for a kid who made a master's degree a life goal on equal footing alongside any hockey-related hopes. He has made graduating with a finance degree in three years, then diving right into grad school around the time the Tommies should be moving into their new rink, his plan for college.
"I work on being well-rounded," Eerinsee said. "Hockey can only take you so far, so you need some other options to fall back on if something were to happen sooner than expected."
Following a good prep career at Eastview, Eernisse's game went south to the prairies of central Nebraska where he spent two seasons with the USHL's Tri-City Storm, and found a way to make scouts take notice, even while playing alongside future college standouts like Carter Mazur (Denver), Matthew Knies (Minnesota) and Cole McWard (Ohio State).
"We had a really great group, and Josh is a really nice kid. Off the ice, he's wonderful to be around and a hard worker," Knies recalled of their time together in Kearney, Neb. "He's a bigger, stronger player, so below the goal line is where he can do the most damage. He creates chaos for his teammates. You have to have those players on your team."
As well as winning games and attracting the attention of college scouts, Eernisse used his Tri-City team as a kind of early college course, learning everything he could from his teammates.
"Being around those guys was huge, being able to see the work ethic they had and the things off the ice like leadership traits and attributes," he said. "Being able to pick their brains, because I think the transition from high school to juniors is a little bit harder for me than the transition from juniors to college, so having those guys to lean on in my first year was huge."
During the 2020-21 season when he was a USHL rookie and the pandemic was still affecting every aspect of American life, Eernisse did a few virtual college visits via Zoom, but was determined to take his time and find the right fit. At the start of his second USHL season, at the league's preseason showcase in Pittsburgh, he first heard from Blasi's staff, and the opportunity to play close to home at a college known for business and master's degree programs was an offer he had no inclination to refuse.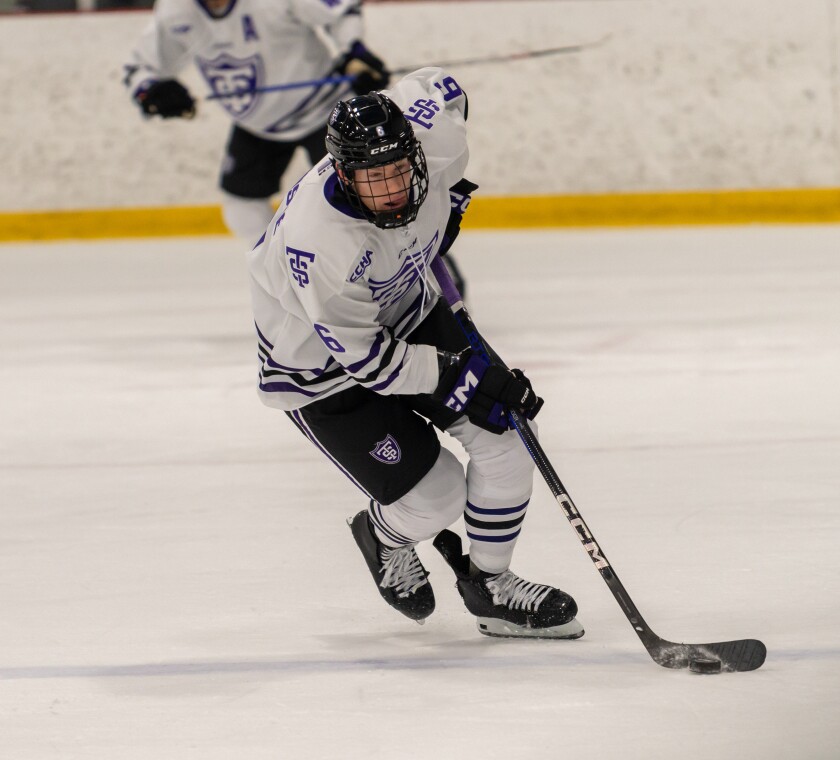 Using his 6-foot-2 frame and his speed, Eernisse said the transition from the USHL to the CCHA has gone more smoothly than the jump up from high school to juniors, and that territory below the goal line has become a home for his offensive game.
"When he's moving and he's doing his thing, not only does he create space for himself, he also gets our team on the right page," Blasi said.
The Tommies head to Michigan Tech this weekend, with 11 wins – more than triple their success rate a year ago. And having beaten the Huskies on the road once this season already, there's a quiet confidence that they have a chance to make this series a nail-biter, even facing one of college hockey's top goalies. Eernisse saw a change in his team following the holiday break, and said the growing confidence on a roster that is young and hungry is fun to be a part of.
"We've kind of gained confidence that when we're tied going into the third, up by one, down by one, whatever, we're not out of these games," Eernisse said. "There are games to be won and if we stick to our process, we normally end up with a good outcome. That's been building as this season has gone on, and we've taken a good step."