Fifth-year forward Kaden Pickering settling in after sight-unseen arrival to Bemidji State
Pickering's whirlwind welcome to Bemidji underscores how rapid the transition to Minnesota has been for the forward, who grew up in and played all four of his previous collegiate seasons within the borders of New York state.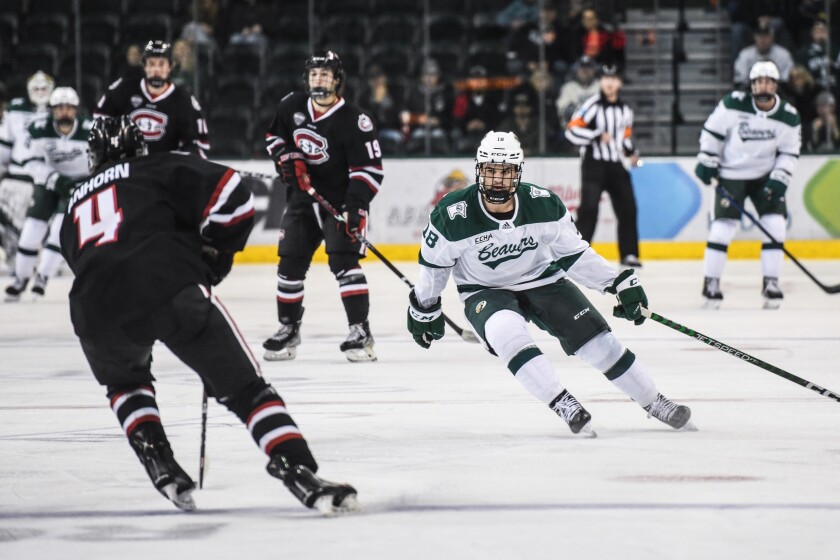 BEMIDJI – Kaden Pickering misses his dishwasher.
It's a small component of a significant change for the Madrid, N.Y., native, who transferred to Bemidji State from St. Lawrence this season to play out his fifth career of college hockey. But it nevertheless underscores how rapid the transition to Minnesota has been for the forward, who had grown up in and played all four of his collegiate seasons within the borders of New York state.
"I learned how to use the sponges and the rags and all that," Pickering said.
He's also been learning his way around the BSU program, picking up the habits that head coach Tom Serratore looks for in his players. It's a process that's taken weeks to perfect, but Pickering is starting to procure more success.
"All I knew was St. Lawrence," Pickering said. "All I knew was that team, and I figured out quickly that that's not all there is to Division I and college hockey in general. Everyone does things a little bit different, and it's been an adjustment for sure. But I finally feel like I'm settling in, I'm getting comfortable. And the guys on the team are great, and they've been accepting the whole time."
Pickering has worked with the coaching staff in recent weeks to refine his play, and it's paid off. He picked up his third assist of the season last Friday against Ferris State and had a season-high four shots on goal.
"They've got to acclimate to us," Serratore said of transfer players. "I'm not changing. This is how we do things. They're bringing a ton of experience to it, and nothing's new for these guys. It's not like we're doing so much where it's way different than St. Lawrence. Yeah, there's certain parts of things that we do that'll be a little different, or certain things they do are a little different. But hockey's still hockey."
That may be, but Pickering has found meeting with the coaches to be critical in his understanding of what it takes to play winning hockey for the Beavers.
"After the ASU weekend (to start the season), the coaching staff and I had a conversation," Pickering said. "I wanted to get on the same page, and so did they. And that was kind of when we got on the same page. We had a conversation about where I am and where I want to be and what I need to do to be there. So an open line of communication (to) the coaching staff really made me feel at home."
The ability to hash things out with his coaches has increased Pickering's comfort in his new home and validated the chance he took by leaving the Empire State.
"Being able to go talk to them about whatever I'm feeling, and they can come talk to me about whatever they are feeling as well (is key)," Pickering said. "It's a slow process. It's hard to get used to a new team, new guys, new chemistry being created between your linemates. But it's a process, and it's going well."
Pickering drove 20 hours over three days in August to arrive in Bemidji, terminating his journey at "a little red house on Bemidji Ave.," as he put it. Now, that house is becoming a home for him – as is the Sanford Center.
"Coaches helped me out with that a lot," Pickering said of his housing situation. "I had never met any of the guys that I live with currently, and I had never even seen a picture of the house that I moved into before I got here. It was kind of a shot in the dark. It was a leap of faith, and it all ended up OK."
As a team, Bemidji State (4-2-2, 2-0-2 CCHA) continues conference competition against Northern Michigan (7-5, 3-1 CCHA) at 6:07 p.m. on Friday, Nov. 11, and 5:07 on Saturday, Nov. 12, in Marquette, Mich.