Boston University holds off Cornell to earn Frozen Four trip
The Big Red made it interesting late with an extra attacker, but the Terriers advanced out of regionals for the first time since a national runner-up finish in 2015.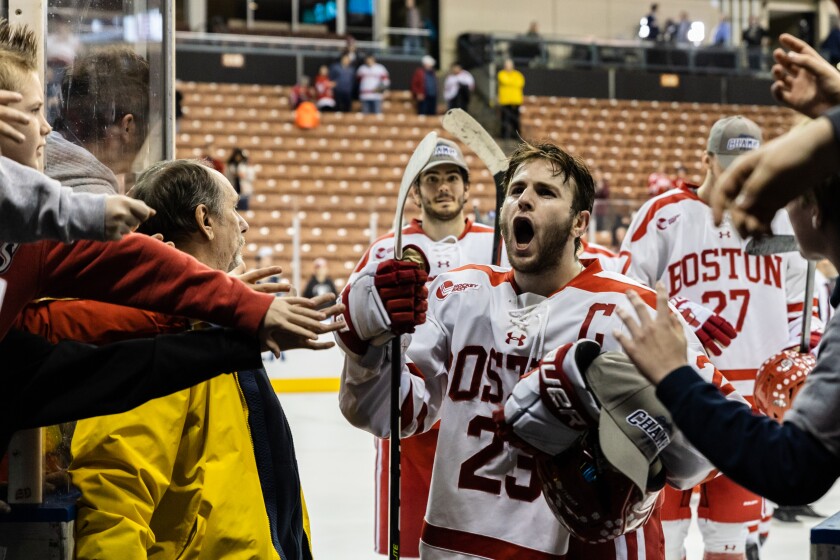 MANCHESTER, N.H. — Boston University is heading to the Frozen Four for the first time since finishing as the national runner-up in 2015 after a 2-1 win over fourth-seeded Cornell in the Manchester Regional on Saturday, March 25.
The Terriers are 6-0 in Manchester regionals and remained a perfect 21-0-0 when scoring the first goal this season.
"I am just really proud of this group. All year long they have been a resilient group, especially in the last month, month and a half," Terriers first-year head coach Jay Pandolfo said. "We struggled around Beanpot time, lost four in a row, but we have come out the other side and I give them a lot of credit.
"One of our goals was to get to the Frozen Four and we accomplished that today, so I am really proud of these guys, so good moment for them."
The Terriers (29-10-0) were brilliant defensively, allowing goaltender Drew Commesso to face only 13 shots until Cornell pulled its goalie for the extra-attacker with 2:35 to play.
Then it became a game.
Cornell senior forward Matt Steinberg scored in a flurry out front with 28.4 seconds remaining. The Big Red caught Commesso out of the net and a shot by freshman Dalton Bancroft slid past junior BU defenseman Cade Webber, who found himself all alone in the goalmouth.
Pandolfo challenged for a possible high-stick, but the goal stood.
The Big Red wasn't done yet, making one last rush in the Terriers zone with a Bancroft shot from the right circle sailing just wide.
The Terriers went up 2-0 when senior forward Ethan Phillips knocked in his own rebound at 7:26 of the third period.
Senior forward Wilmer Skoog, who was suspended for the Hockey East championship after he was called for boarding in the conference semifinal, got Boston University on the board in the second period. He took a behind-the-net feed from freshman Jeremy Wilmer and stuffed it past Cornell goaltender Ian Shane early in the second period.
The Terriers will be seeking their first championship since 2009, when they beat Miami 4-3 on Colby Cohen's overtime goal. In 2015, they surrendered a third-period lead to Providence and lost 4-3 in the national title game.
For Commesso and the Terriers, who survived a pair of overtime games in the Hockey East tournament before blowing Western Michigan away 5-1 in Thursday's regional semifinal, the Tampa trip is special.
"Honestly just spending more time with the guys. That's the best part of this team is we're so close and to get another two weeks to spend with them is so special," Commesso said. "Obviously looking forward to the games and putting together our best effort, but just spending more time with the guys off the ice. They're my best friends; I love spending every second with them."
Cornell 0-0-1—1
BU 0-1-1—2
First period — no scoring. Penalties: 1, C, Winter Wallace (tripping), 15:41. 1, BU, Luke Tuch (roughing), 17:40.
Second period — 1, BU, Wilmer Skoog (Jeremy Wilmer), 2:13. Penalties: 2, Zach Tupker (cross checking), 4:12. 2, BU, Bench (too many players), 6:37.
Third period — 2, Ethan Phillips (Matt Brown), 7:26. 1, C, Dalton Bancroft (Travis Mitchell, Gabriel Seger), 19:32 (ea). Penalties: 3, BU, Dylan Peterson (holding), 8:53. 3, BU, Zach Tupker (interference), 14:55.
Shots on goal — C, 4-7-3--14; BU 4-9-8--21. Goalies -- C, Shane (21 shots, 19 saves); BU, Commesso (14 shots, 13 saves) Power plays -- Cornell 0 of 3, BU 0 of 3. Referees -- Colin Kronforst, Jonathan Sitarski. Linesmen -- Pat Richardson, Sam Shikowsky. Att. 7,143.
This page tracks the movement of Division I men's players in the NCAA transfer portal.