Smorgasbord of scenarios in play as Big Ten regular season concludes this weekend
The top (Minnesota) and the bottom (Wisconsin) are settled, but there are myriad things that could happen to places two through six in the Big Ten table with just six regular season games to play.
MINNEAPOLIS – A college hockey season is a journey, filled with challenges. For the Ohio State Buckeyes, who have all but mathematically wrapped up home ice for round one of the Big Ten playoffs, the journey might be one of their biggest challenges this week.
As of Wednesday afternoon, the travel plans for coach Steve Rohlik and company were still pending. While the forecast for Columbus on Thursday showed sunshine and temperatures above 70, the Buckeyes were scheduled for a pair of games in the polar vortex of the Twin Cities on Friday and Saturday, where snow, wind and cold were making the solidity of winter's grip on the State of Hockey a factor.
"We've been communicating through text and I said 'Don't worry, you're not going to have any problem getting here.' I'm not a meteorologist, I just think there's going to be a window and they're going to be fine to get in here," Gophers coach Bob Motzko said on Wednesday of his pre-series communication with Rohlik. "That's part of being on the road too. We all have to deal with it."
With six games remaining in the Big Ten season, the races to the top and the bottom are done. Minnesota (51 Big Ten points) clinched the title last week and will be idle in round one of the playoffs, awaiting the lowest remaining seed which will come to 3M Arena at Mariucci on March 11 for a one-game semifinal.
Wisconsin (15 points) has seventh place locked down. The Badgers travel to Penn State this weekend, and will visit the eventual second-place finisher the following weekend.
The rest of the conference standings are in flux, with Notre Dame visiting Michigan, along with the other two series.
Michigan State (34 points) is idle and can finish as high as fourth place, which would mean home ice for the Spartans in round one. MSU owns the tiebreaker with both Notre Dame and Penn State, and needs both of those teams to earn three points or less this weekend to finish fourth. If either Penn State or Notre Dame gets four points or more this weekend, the Spartans are going on the road.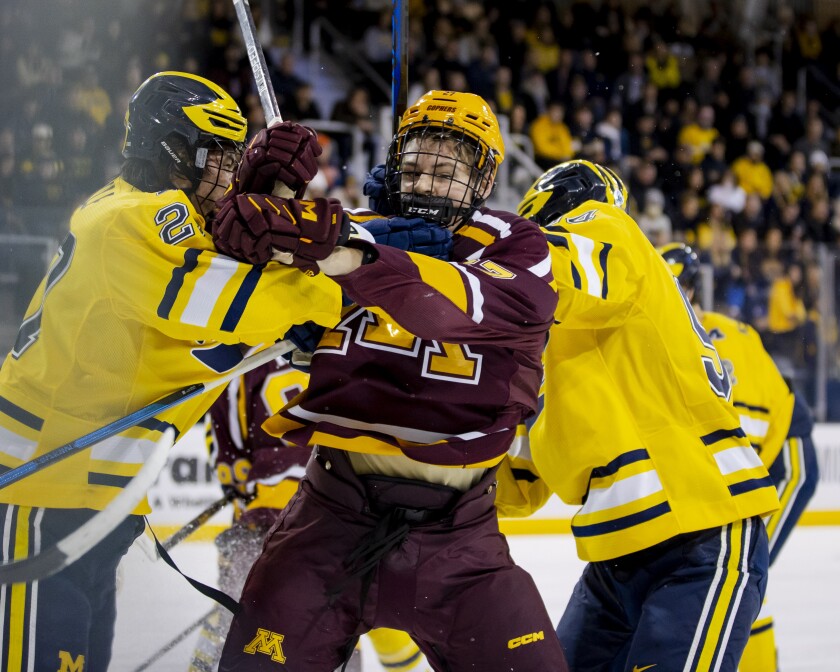 Currently tied for second place, Michigan (36 points) can clinch home ice with one point this weekend. The Wolverines were one of college hockey's hottest teams prior to one week ago, when they tied and lost versus arch rival Ohio State, and health continues to be an issue for interim head coach Brandon Naurato's team. After the boost of Frank Nazar III and Steven Holtz returning to the lineup, star defenseman Luke Hughes left last weekend's series early, and his status versus the Irish is in question.
Once Ohio State (36 points) braves the weather and gets to Minneapolis, the Buckeyes are in good shape to get to stay at home for round one of the playoffs. Even facing the nation's top-ranked Gophers, the only scenario which would have the Buckeyes finishing fifth would require them to lose twice at Minnesota, Penn State sweeps the Badgers and Notre Dame gets five or more points at Michigan. Not impossible, just unlikely. A split at Minnesota this weekend would put Ohio State in a strong position to finish as high as second and host Wisconsin in the playoffs.
Penn State (31 points) can finish as high as third if they sweep the Badgers and Ohio State gets swept in Minnesota. A more likely scenario has them finishing fourth if they can beat Wisconsin twice and Notre Dame splits or gets swept at Michigan.
Still, Notre Dame (31 points) isn't going to be counted out that easily. The Irish beat Michigan twice to close the regular season a year ago, opening the door for Minnesota to win the 2022 title, and head to Ann Arbor still able to finish as high as second if they can beat the Wolverines twice and Ohio State loses twice at Minnesota.
When all of that dust is settled on Saturday night, we will have the second-place team hosting Wisconsin, the third-place team hosting the sixth-place finisher and the fourth-place team hosting the fifth place team. All Big Ten first-round playoff series are best of three and will be played March 3-4 and 5 if necessary. The lowest-remaining seed after round one will travel to Minnesota for a one-game semifinal, with the other two advancing teams playing each other in the higher seed's building for the other semifinal.
Of the two teams remaining after the semifinals, the highest seed will host the Big Ten tournament title game on Saturday, March 18.
Wisconsin at Penn State – The Nittany Lions played a solid top-to-bottom game last Saturday versus Minnesota and emerged with just one point thanks to the late-game heroics of the Gophers' eye-popping top line. Wisconsin, in getting a pair of Saturday home wins the last two weekends, has played about as well as these Badgers can play. Hard to see them getting a win in the Lions' den. Penn State sweeps.
Notre Dame at Michigan – The Wolverines have shown that when they are clicking, they are one of college hockey's top teams. But early leads have led to mid-game lulls lately, and that has been troublesome. Add to that the questions about Michigan's health, and we can see the Fighting Irish stealing one on Friday, before the Wolverines rally for a big win at home on senior night to close the series. A split at Yost.
Ohio State at Minnesota – The Buckeyes were responsible for Minnesota's most lifeless loss of the season, way back in October when the Gophers were coming off an emotional series with North Dakota and were an emotional no-show for their series opener in Columbus. But these Buckeyes are playing great hockey late, and we can see them forcing overtime in Minneapolis in this series opener. Can we see them winning on Saturday? No chance. Gophers with their second consecutive "OT win, regulation win" sweep.
If all of that comes to pass, the first round of the Big Ten playoffs looks like this:

Wisconsin at Michigan
Notre Dame at Ohio State
Michigan State at Penn State
Stay tuned.