Motzko says team will 'roll on' without Gophers key defensemen Brock Faber, Ryan Chesley this weekend
The injury bug was lurking near the visitors' locker room at Wisconsin last weekend, leaving the Minnesota Gophers without the services of blueliners Brock Faber and Ryan Chesley for a time.
MINNEAPOLIS — All season, as the Minnesota Gophers charged to the top of the national rankings and moved within a point of clinching the Big Ten title, their talented blue line corps has been a non-secret to their success.
With four games left in the regular season, their defensive depth will likely become as much a factor as their overall talent level. For the upcoming series at Penn State on Friday and Saturday, the Gophers will be without two of their mainstays on the blue line. Junior captain Brock Faber and freshman Ryan Chesley are expected to miss the games versus the Nittany Lions, both with upper body injuries suffered in last Saturday's 3-1 loss at Wisconsin.
Gophers coach Bob Motzko indicated that Faber could return to the lineup sooner, while Chesley will not play until March, at the earliest.
"(Chesley) will come back in the playoffs sometime. Brock, we're going week-to-week," Motzko said following Wednesday's practice. Neither defenseman participated. "Injuries are part of sports. They happen, you've just got to roll on."
Faber, who is property of the Minnesota Wild and is widely expected to sign a professional contract at the conclusion of this college season, has three goals and 17 assists through 30 games this season. Chesley, a second-round draft pick of the Washington Capitals in the 2022 draft, has two goals and 5 assists in his first 30 games. Faber is one of the Gophers' three nominees for the Hobey Baker Award.
"That's why we're so deep back there, for times like this," Gophers defenseman Mike Koster said. "We'll be missing those guys, but we've had a good week of practice."
Motzko noted that they have played without Faber in the past, most notably last season when he skated for Team USA in the World Junior Championships and in the Winter Olympics.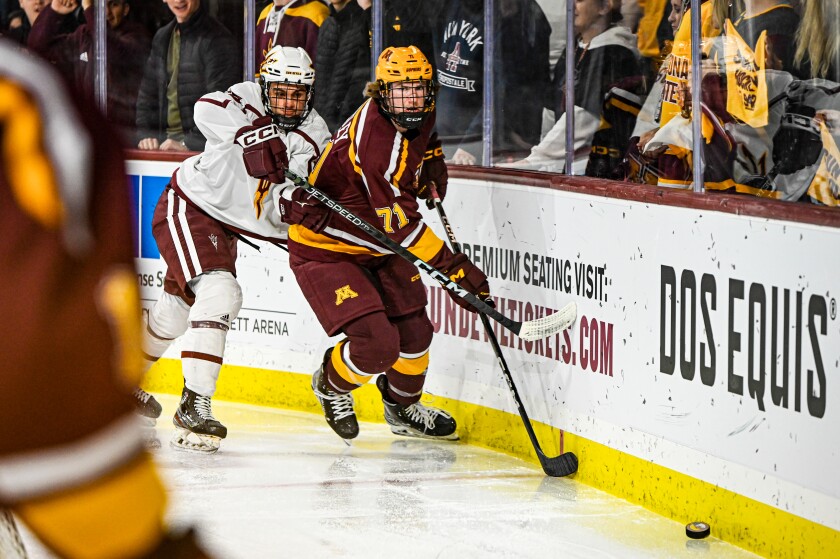 "We've lost him to World Juniors and to the Olympics, and he's been pretty durable," Motzko said. "Hopefully it's pretty short that he's going to be out."
Motzko has played seven defensemen most of the season. He indicated that junior Carl Fish, who has played two games this season, will see action this weekend.
"Fish gets an opportunity. He's been in there before for us and he's done a real good job," Motzko said. "He'll be an important player for us this week."
Senior defenseman Matt Staudacher, who was a regular in the lineup his first three seasons, has been redshirted this season and Motzko said they do not plan to play him.
The Gophers need one win, or one Michigan loss, in the final two weekends of the regular season to clinch their second consecutive conference title.