Big Ten recognizes Gophers' Knies and Cooley, Buckeyes' Wise as players of the week
The Minnesota Gophers linemates played the starring roles in a sweep of Penn State on the road, while an Ohio State senior did his best work on the biggest stage for the Buckeyes.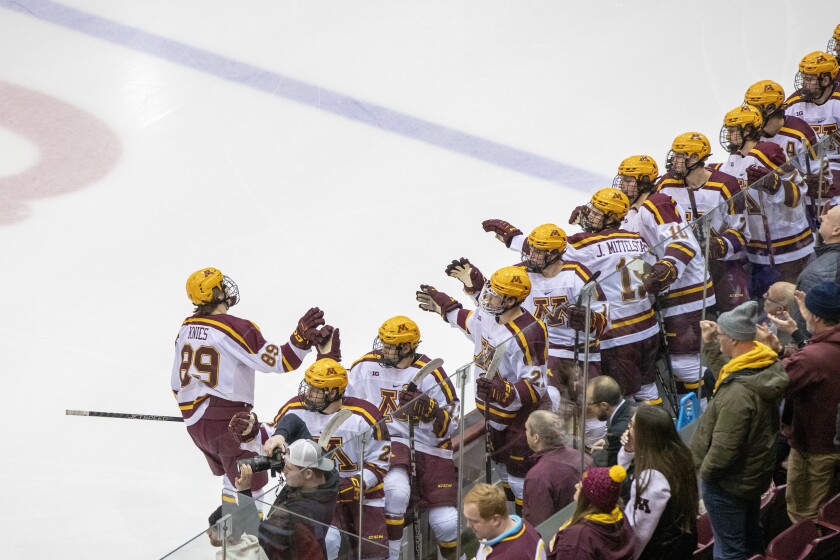 MINNEAPOLIS – After a "slam on the brakes and turn" move that only a player of his talent could make, Minnesota Gophers forward Logan Cooley had shed a pair of Penn State defenders and had an unobstructed route to the Nittany Lions net. His team was deadlocked 2-2 with Penn State in overtime, and Cooley – playing his first weekend of college hockey in his home state – could have played the hero and ended things right then and there.
But the incredible hockey sense that, among other things, prompted the Arizona Coyotes to pick him third overall in the 2022 NHL Draft, told Cooley there was a better way. Instead of trying to find a route through talented Nittany Lions goalie Liam Souliere, who was hugging the left post, Cooley zipped a pass across the slot to linemate Matthew Knies at the last second.
The puck moved notably faster than the goalie could react to get to the right post, and Knies had lots of net to shoot at, ending the game and lifting the Big Ten champion Gophers to a road sweep. On Tuesday the conference recognized that pair as their first (Knies) and second (Cooley) stars of the week. The third star went to Ohio State forward Jake Wise.
Knies, a Gophers sophomore from Phoenix, scored the game-winner both nights at Penn State and notched the tying goal for the Gophers with 41 seconds left in Saturday's game. In all the Hobey Baker Award nominee had three goals and two assists for the weekend and now has 20 goals for the season.
In earning the second star, Cooley became the first play in the Big Ten to record a five-point game this season. Amazingly, all five points were posted in the second period of Friday's 7-2 win at Penn State, when he had a goal and set up four others. A freshman from Pittsburgh, Cooley leads the Gophers in points with 44 and has been recognized by the conference five times this season.
Wise, who is a senior and transferred to Ohio State from Boston University, enjoyed the big stage on Saturday, notching a goal and two assists in the Buckeyes' 4-2 over archrival Michigan, played with a crowd of 45,000 on hand at the Cleveland Browns football stadium. Two days earlier he had celebrated Ohio State's senior night in Columbus by scoring the lone goal in a shootout that gave the Buckeyes an important extra point over the Wolverines in their 3-3 overtime tie.