Waterloo goaltender Jack Spicer 'pumped' to become an Omaha Maverick
USHL wins leader Jack Spicer continues strong rookie season and announces commitment to Nebraska-Omaha
OMAHA, Neb. — Jack Spicer was one of two kids at the BioSteel All-American Game without a college listed next to his name.
Two weeks later, the Waterloo goaltender has remedied that. Spicer announced his commitment to the University of Nebraska-Omaha this past Sunday, a program he calls the "perfect fit."
"I had a lot of great conversations and it's a place that feels like the perfect fit," Spicer told The Rink Live Tuesday afternoon. "I want to play somewhere where I think I can win a championship and I'm confident I can do that there. And the coaching staff has been unbelievable to me."
I am proud and honored to announce my commitment to play division 1 college hockey at the University of Nebraska Omaha! I would like to thank all of my friends, family, and coaches who have helped me get to this point. pic.twitter.com/dk3jYqviqL

— Jack Spicer (@JackSpicer32) January 29, 2023
Spicer started talking to schools in November and received interest from multiple programs around the country, especially over the past month.
However, Omaha was one that stood out from the start. The Maryland native toured the city and got to check out Baxter Arena right before the Christmas break.
Spicer admits he didn't know too much about the program or the area beforehand. At the same time, Mike Gabinet's program "checked a lot of boxes" and Spicer is looking forward to competing in the NCHC.
"That was something that was really appealing," Spicer said. "I know they're in a really strong conference and they've had a pretty good team the last few years. So I'm looking forward to joining that and I'm pumped to join the program."
Spicer will have plenty of time to research his future home too as he'll spend at least one more season in the USHL. It's been a stellar rookie season in northeast Iowa, something he wants to continue building on moving forward.
Through 23 games this season, Spicer (17-5-0-0) has a USHL-leading 17 wins and has won 10 of his last 11 starts. As a team, the Black Hawks are 9-1-0-0 in their last 10 and currently sit second in the Western Conference, just four points behind Fargo.
His play between the pipes is a big reason why.
"He's done a tremendous job for us throughout the course of this season," Waterloo head coach Matt Smaby said. "He didn't see a ton of playing time to begin the season and once he got an opportunity he grabbed it by the horns and ran with it.
"I wasn't surprised that things were heating up for him (on the recruiting trail) and I'm happy that he made his decision. It's a really big moment and we're proud of the work Jack has put in this year to put himself in a spot where it could happen."
Going back to the start of this season, Spicer has been an interesting story. To use the words of Waterloo goalie coach PD Melgoza, he wasn't even expected to make Waterloo's roster coming into this season.
Spicer then found himself behind third-year USHL goaltender and Montreal Canadiens sixth-round pick Emmett Croteau. Spicer watched the first month from the bench and started just six of Waterloo's first 17 games from the Fall Classic to the end of November.
However, the crease has seemingly been his since the calendar flipped to December. Spicer has gotten the nod in 16 of Waterloo's last 18 games and doesn't look to be giving it up any time soon.
"I can't speak enough about the amount of growth Jack has shown this season," Melgoza said. "To go from a kid who wasn't supposed to make the team this year to leading the league in wins right now, it's impressive. He's really bought into everything and just put his head down and gone to work this season.
"He's earned everything he's gotten this year and I couldn't be more proud of him."
Sure he's far from a finished product. Spicer has a .898 save percentage this season — something he said himself he wants to improve — and has allowed four or more goals in seven of his starts.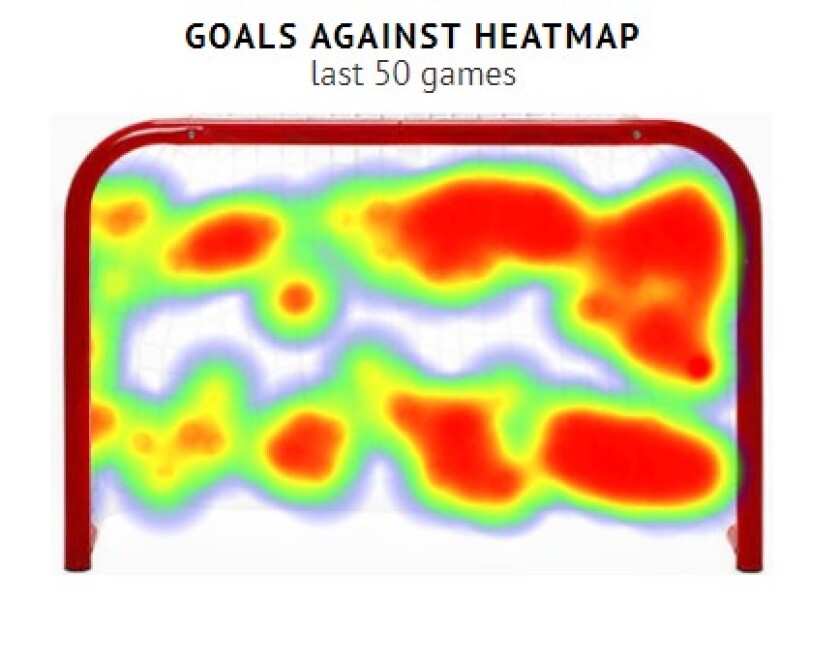 The 6-foot-1, 175-pound goaltender has also tried to focus on specific areas of his game over the past few months. Puck handling, post play and positioning in the crease being a few of them.
"I think my growth this season has been great and my game has gotten a lot better since I got here," Spicer said. "PD (Melgoza) told me at the start of this season we've got a lot to work on and to just be patient. So I've really tried to just stick with the process and keep working one day at a time and keep improving."
So far the results are showing.
If you ask anyone around Spicer two parts of his game jump out right away — his athleticism and his competitiveness. Two traits Black Hawks and Mavericks fans look forward to seeing moving forward.
"He never stops competing," Melgoza said. "Technique can always be taught but you can't teach compete. And that's one thing you never have to worry about with Jack. You know you're always going to get Jack's best and he'll give it his all."
"Looking ahead at the rest of this season and next year, Jack has the talent, the mindset, the competitiveness and the ability to become a shutdown goaltender," Smaby added. "We want to see him continue taking steps and he has a bright future ahead of him."