USHL Roundup: National Signing Day, U.S. Junior Select Team coaches steal headlines this week
Players from all USHL teams around the league made their college commitments official this week as they signed their National Letter of Intent. Aside from National Signing Day, the U.S. Junior Select Team coaches and staff have been announced with the rosters expected to come out late November.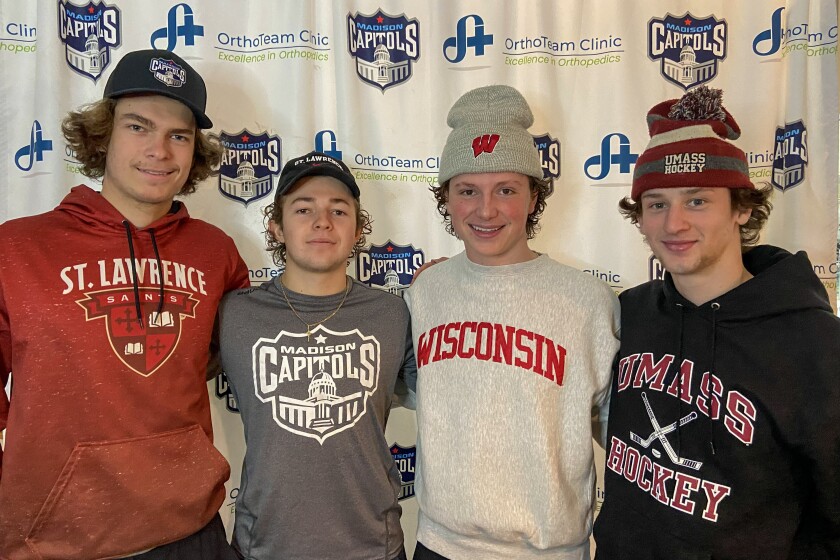 CHICAGO — As we get ready to head into Week 8 of the USHL season, there are a lot of headlines from all across the league. From National Signing Day to the U.S. Junior Select Team coaches and staff being announced, there is a lot of ground to cover.
November is formally known as "No-Shave November" around hockey, and the Stars players are taking part to raise money for the cause.

USHL players put pen to paper this week as they signed their national letters of intent for college hockey.
Happy National Signing Day!⚔️🔥

Matt Romer - Arizona State
Tanner Rowe - University of Michigan
Adam Cardona - UMASS-Lowell
Logan Morrell - Michigan Tech
Max Wattvil - Merrimack
Aleksi Kivioja - Providence
Marcus Broberg - University of Nebraska-Omaha
Chris Romaine - Providence pic.twitter.com/AWRXWhetjj

— Omaha Lancers (@OmahaLancers) November 9, 2022
Several players in Youngstown have made their commitments official this week.

Braiden Clark — Providence College
Will Whitelaw — University of Wisconsin
Justin Varner — Michigan State University
Nick Williams — Michigan Tech
Hunter Bischoff — Augustana College
Andrew Strathmann — University of North Dakota
James Fischer — Northeastern University
Muskegon Lumberjacks signings

Ethan Whitcomb — University of Nebraska Omaha
Owen Melenbacher — University of Wisconsin
Jacob Terpstra — Northern Michigan University
Nathan McBrayer — Ohio State University
Gavin McCarthy — Boston University
Jake Richard — University of Connecticut
Luke Buss — Quinnipiac
Jack Reimann — St. Cloud State University
Cody Croal — University of North Dakota
The Green Bay Gamblers announced they have traded forward Carter Batchelder to the Des Moines Buccaneers in exchange for 10th round 2023 Phase II draft pick. Batchelder played 18 games with Waterloo last season before being traded to Green Bay where he played 32 games and put up two goals and three assists for the Gamblers. This season he played in six games.
U.S. Junior Select Team staff
The coaching staff for the 2022 U.S. Junior Select Team has been announced, and Sioux Falls Stampede head coach Eric Rud will be the head coach for the tournament. Joining him as assistant coaches are Evan Dixon (associate head coach, Dubuque Fighting Saints), Mike Leone (head coach Green Bay Gamblers), and Matt Smaby (head coach Waterloo Black Hawks). The tournament will take place Dec. 11-18 in Cornwall, Ontario. The roster will comprise of USHL players and is expected to be announced late November.
The Lincoln Stars athletic trainer and equipment manager Corey Courtney will serve in the same role for the U.S. Junior Select Team next month. Courtney has spent 28 years working in the USHL, spending four seasons with the Dubuque Fighting Saints and 24 seasons with the Stars.
"Any time that you are selected to represent your country is an honor. It is also a privilege to represent the USHL," Courtney said in the Lincoln Stars release. "It's always fun to go to different countries to meet different players and work with a new coaching staff. I've been around a long time and it's probably one of those deals where the oldest guy gets it. I'm grateful to once again be asked to represent Team USA and thankful that I'm in a position to do so. It's great to get into these tournaments and watch the other countries play and mingle with their staffs. The best part is to keep track of the players in these tournaments and watch them advance further in their careers."
Dupaco Cowbell Cup standings
The battle for the Dupaco Cowbell Cup rages on, and this week we are getting an update on where things stand from the Cedar Rapids Rough Riders, who are currently leading with three wins and six points. The Cup is awarded to the top USHL team among the Rough Riders, Dubuque, Waterloo and newcomer Des Moines.