Bruins' Brassard brothers bring energy on, off the ice as Austin pushes for an NAHL championship
The Austin Bruins are are two wins away from reaching the NAHL championship tournament. The team's fourth line -- center Jackson Luther and brothers Isaak and Matys Brassard -- have played a key role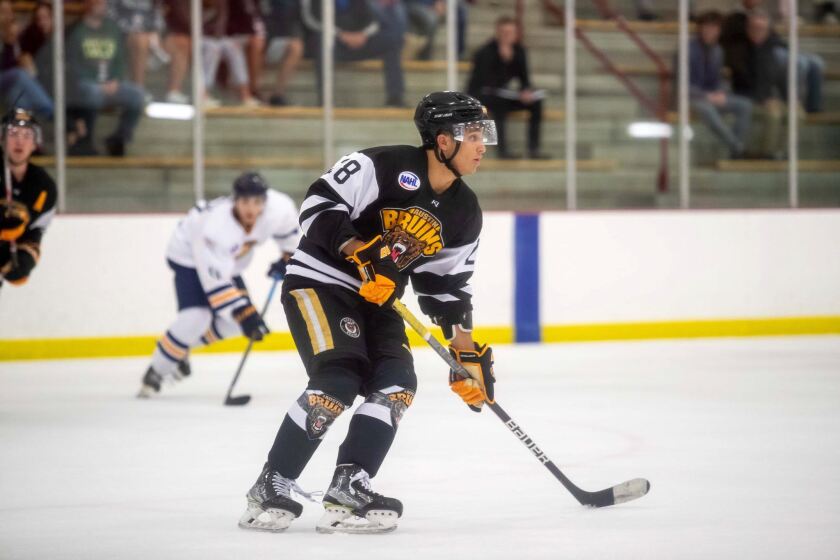 AUSTIN, Minn. — Steve Howard needs just one word to describe Isaak and Matys Brassard: Energy.
"They bring that energy that you want," Howard, the sixth-year head coach of the Austin Bruins, said. "They're always like that, on and off the ice, constantly going a million miles a minute."
The Brassards, identical twins from Montreal, are also two of the more charismatic characters to ever wear a Bruins uniform. But the 5-foot-11, 180-pound 20-year-old forwards are as serious on the ice as they are gregarious off of it.
They've also found a home throughout the North American Hockey League postseason, playing on either side of Bruins center Jackson Luther. That trio is listed as the team's fourth line, but its actual role has been much larger than what its position on a line chart might indicate.
Howard has put that line on the ice to start every home game the team has played in the postseason.
It's worked well. Austin is 3-1 at Riverside Arena in the NAHL Central Division playoffs, and it has scored the first goal in all five of its postseason games to date. A lot of that success can be attributed to the emotional boost the Brassards and Luther give the team on a nightly basis.
"We want to have a good start every time out, throw that energy out there right away," Howard said. "The other team had better be ready to go because those three will be flying, getting pucks deep and hitting whatever moves."
The Luther line will likely play a key role again at 7 p.m. tonight, when the Bruins play at the St. Cloud Norsemen in Game 3 of the best-of-5 NAHL Central Division Finals. The series is tied 1-1 after the teams split the first two games at Riverside Arena last weekend.
Game 4 is set for 7 p.m. Saturday in St. Cloud. If necessary, a decisive Game 5 will be played in Austin at 5:05 p.m. Sunday.
The Luther line has combined for a goal and three assists through the first two games of the division finals, and they have totaled seven points through five postseason games. Luther scored one of the bigger goals of Austin's playoff run thus far, the overtime game winner in Game 1 of the division semifinals against Minot.
"All three guys are just hard to play against," Howard said. "Honestly, we've kept the twins away from each other at times this season. They've played together their whole lives, but we've kept them away from each other because they both play with so much emotion.
"They're back together and they've accepted the fact that it's playoff time now and they can't go running into a play when someone hits their brother. Mix in Jackson Luther and they've all done a great job of being on the right side of plays and playing the right way together."
Hats off to the 'D' corps
Through five postseason games, the Bruins have allowed a total of 10 goals.
In a sense, none of them have come at 5-on-5:
• Six of the 10 have been power-play goals — three by Minot in the semifinals, three so far by St. Cloud in the division finals.
• Two of the other four were scored by Minot with the goalie pulled for an extra attacker.
• St. Cloud scored one of the remaining two just six seconds after a power play expired in Game 1 of the division finals.
• The remaining goal was scored by St. Cloud in overtime in Game 1, when Austin's Isaak Brassard was knocked to the ice by a high stick and the Norsemen turned the play the other way, essentially scoring a 5-on-4 goal.
Austin's defensive corps as a whole has been excellent at even-strength, and rookie goalie Trent Wiemken — who was named this week to the NAHL All-Central Division Team — has also been outstanding. He has stopped 121 of 131 shots in the playoffs, a .924 save percentage.
"It's obviously a team thing," Howard said of the Bruins' stellar defensive play. "I don't know how many sports we hear it in, that defense wins championships. That's what we've been preaching as a staff, that we have to keep playing the right way. It's not because we've been doing (anything differently), we're just playing the right way.
"We can't afford to miss assignments or can't cheat the game because we want offense. If we do that, it'll end up in the back of our net."
From the get-go this season, one of Austin's best attributes as a team has been its cohesiveness. Howard has said as much in recent weeks, noting that this team is as tight on and off the ice as any he's ever been around.
It has certainly shown on the ice in the playoffs.
Through five games, 17 players have recorded a point, while nine have scored at least one goal. The team's four game-winning goals have come from a first-line forward (Walter Zacher), a second-line forward (Austin Salani), a fourth-line forward (Jackson Luther) and a defenseman (Jimmy Goffredo).
Austin's leading scorer in the regular season, forward Gavin Morrissey, hasn't scored a goal yet in the playoffs, but his seven assists lead the entire NAHL in the postseason.
"It's obviously huge," Howard said of the team's depth. "We've kept this group together all year long, haven't had a lot of (roster) turnover. We haven't brought a lot of guys in from the outside and we take pride in that. We're proud of the fact that our guys have been here since Day 1. They've earned the right and opportunity to play in this spot."
When the Bruins have brought in new players, it has generally been due to injuries depleting the roster or to give affiliate players a chance to play a game or two at the NAHL level, to prepare them for next season.
And, most importantly, the Bruins have seen everyone in the lineup contribute in some significant way in the playoffs.
"Some of those gusy you consider third- or fourth-line guys, they're showing up at the right moments," Howard said. "You need that to happen to win a playoff series or a championship. It's not always the superstars who are scoring at the key moments. You have to have some of those guys who are grinders, those playoff-style hockey players."
Game 1 (Friday, May 5): St. Cloud 4, Austin 3 (OT)
Game 2 (Saturday, May 6): Austin 6, St. Cloud 1
Game 3 (Friday, May 12): Austin Bruins at St. Cloud Norsemen, 7 p.m. ( HockeyTV.com )
Game 4 (Saturday, May 13): Austin Bruins at St. Cloud Norsemen, 7 p.m. ( HockeyTV.com )
x-Game 5 (Sunday, May 14): St. Cloud Norsemen at Austin Bruins, 5:05 p.m. ( HockeyTV.com )
x — If necessary