In college hockey's transfer portal era, moves are made for multiple reasons
Blaming players for a lack of loyalty to their teams when they enter the transfer portal is an outdated idea that does not take the many potential reasons for a player to shop around under consideration.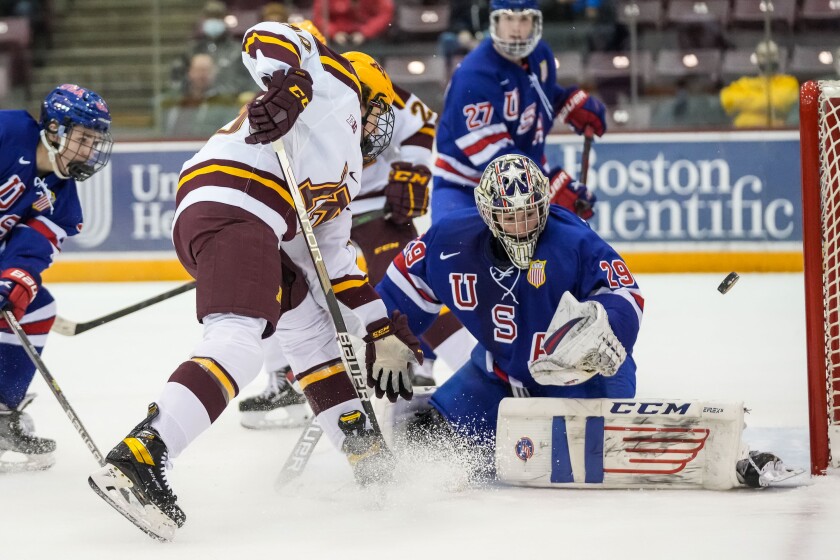 "Why don't kids have any loyalty to their teams anymore?"
MINNEAPOLIS — That was the inevitable, expected, and uninformed question we saw again and again on social media in April as more than 100 college hockey players entered the NCAA transfer portal, seeking a new place to attend college and play hockey during their remaining year or more of eligibility.
That "loyalty to their teams" idea stems from the romantic vision of a player committing to a college, playing four years there, earning their degree and then wearing the college letter jacket the rest of their life. It is a beautiful idea, and one that is not grounded in the modern reality of college sports. And when the term "modern" is used, in this case it means "since about 1980."
Brett Hull, to use one example, is a proud Minnesota Duluth Bulldog with his number 29 hanging from the rafters of Amsoil Arena. But he played just two seasons of college hockey, signing with the Calgary Flames in 1986, after his sophomore season with the Bulldogs.
Today, like Hull did 36 years ago, some players are looking out for their best interests in deciding whether to stay with the college where they started their career as a freshman, or to explore their options. Many enter the transfer portal by choice. Others are urged to do so, and their decision has nothing to do with loyalty to a team or a lack thereof.
NCAA rules allow them to return to their current team after entering the portal, if they choose not to leave, but once a player enters the portal, their original school can take away their scholarship money and other team perks. One player told us that he put his name in the portal in the morning and when he went to the student dining center at noon that day for lunch, his access card had already been shut off.
With the 2022 transfer portal deadline behind us (at least one Big Ten player entered the portal in March and was playing for his team in the playoffs, before their season was over) and dozens of players bound for new teams in the fall, here is a look at some of the reasons players are making the move. In no particular order:
Seeking more playing time
This one happens more often with goalies, but it can apply to any position. A player who was a star in juniors – top line, running the power play, every night starter in goal, etc. – finds themselves buried on a college depth chart. One option is to wait it out. Work hard, gain some experience, get used to the college game, gain the coaches' confidence. The other option is to jump, and find a team where you are likely to have an increased role.
No place for them next season
Check out The Rink Live's transfer portal page and look for a junior who played 10 or fewer games with 10 or fewer points. If/when a player with those numbers enters the transfer portal, it was more than likely done with their current coach's blessing and encouragement. In effect, they were cut by a coach saying, "We don't see your playing time increasing next year, and we don't have scholarship money for you." With new players that committed a few years ago itching to start their college careers, and the extra year of eligibility awarded due to COVID complicating things, some coaches face a logjam of players and the portal is a tool to free up roster space for the next generation.
Prepping for a pro career
These situations apply to the promising player who was drafted by a NHL team in the first three rounds while playing juniors, then played sparingly early in their college career, or did not see their team role evolve in their first two years of college. Reps from the NHL team and/or the player's agent, can advise them to transfer or at minimum, shop themselves around to see if another program offers more on-ice opportunities where they can grow their skills in anticipation of signing a pro contract down the road. Stories abound of agents calling coaches to "shop around" a player before they make a transfer portal move. Welcome to college sports in 2022.
John Doe spent all of his childhood cheering for the Fighting Purple Elephants of State Tech and playing for coach Jim Jameson. After a good year in juniors, Doe's dream came true and Coach Jameson offered a scholarship and a chance to skate for the Fighting Elephants. But the freshman season was brutal on the ice, and the coaching staff was fired in early April. Doe came to State Tech to play for Jameson. With him gone and the future uncertain, he wonders what else is out there and puts his name in the transfer portal.
Look at 100 names in the transfer portal and you will find 100 different reasons they got there. This is the modern world of college sports, where players are looking out for their best interests and so are the coaches. Players entering the transfer portal due to a "lack of loyalty" to their teams is sometimes – but rarely – the case.
Murphy grew up in an Illinois family with two brothers who have played college sports, a mother who played college softball and a dad who was a Marine. She won gold last month with Team USA
The Rink Live reporters discusses a big week in junior hockey, which includes the USHL draft, USHL conference finals and NAHL playoffs and makes some predictions on The Rink Live podcast.