Comeback kids: West Fargo United scores 2 third period goals to top Mandan in state girls quarterfinal
The goals from Morgan Bents and Mia Gervais came 3:50 apart as United overcame an 0-1 deficit
FARGO — Get goals when they matter the most.
That's exactly what the West Fargo United girls hockey team did in its quarterfinal contest with Mandan at the North Dakota state girls high school hockey tournament Thursday afternoon at Farmers Union Insurance Center inside Scheels Arena.
Despite the No. 5 seed Braves holding a one-goal lead for much of the contest, it was No. 4 seed United coming up in the clutch. Two third-period goals coming 3 minutes and 50 seconds apart from senior forward Morgan Bents and junior defenseman Mia Gervais suddenly gave United a 2-1 lead, a score that would hold up for the final 3:27 of regulation and send United into the semifinals.
With the win, United improves to 15-8-1 and will face No. 1 seed and defending state champion Fargo Davies (23-1) Friday at Scheels Arena with puck drop slated for noon.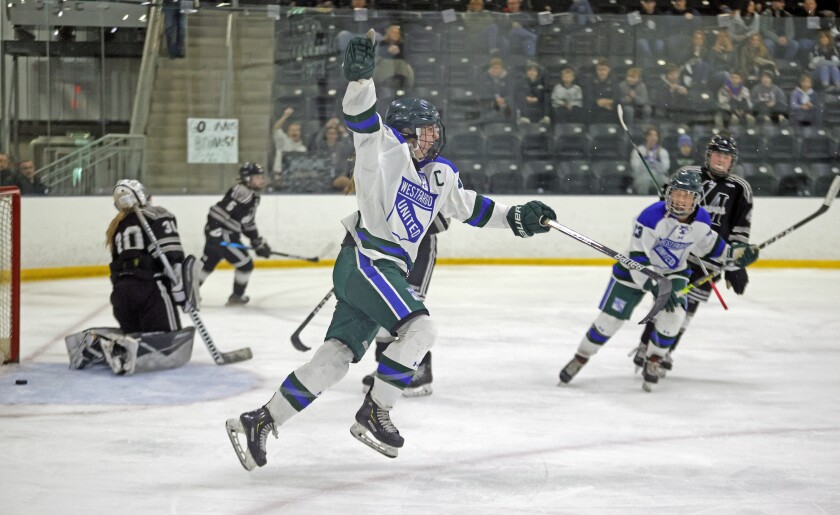 The go-ahead and eventual game-winning goal was Gervais' fifth of the season, and it was a timely one at that, giving United its first win at the state tournament since the 2018-19 season.
"It was so much relief that went over my body," Gervais said of the unassisted tally. "And I was just so excited, but I was also really scared because we had (roughly) 2 minutes left and it was just like, 'Guys, we have to keep going.' It's just so exciting."
Mandan pulled senior goaltender Jayli Wandler out of a timeout with 2:10 remaining as it looked for the equalizer.
Despite a flurry of chances in the 6-on-5 attack, United ultimately survived, in part behind a strong performance from sophomore goaltender Maggie Seeley, who made 24 saves in the contest.
Mandan freshman forward McKenzie Yantzer drew first blood in the contest, putting the Braves on the scoreboard 3:30 into the second period. The goal was assisted by sophomore forward Mikayla Fleck.
United had its chances from that point on, but the 1-0 score held up until there was 7:17 remaining in the third period. Shortly after killing off a Mandan power play, United junior defenseman Erin Nowacki found Bents calling for the puck up the right wing. Nowacki waited for Bents to create space in front of the net, then fed a pass over to Bents who beat Wandler glove side to strike even.
It was just under four minutes later when Gervais snuck the second goal by Wandler to suddenly give her team a late 2-1 lead and send the United bench and crowd into ecstasy.
United head coach Pat Johnson said the win was like escaping the jaws of defeat.
"That's a good way to put it," he said. "We had a tough time scoring on (Wandler) all year, so she's been a pretty good goalie against us. I just told the kids we've just got to keep working and keep hustling and good things happen when you keep putting pucks on net, and thank goodness it did, and we had three or four open nets (before that), but that happens."
When scoring appears to be hard to come by, Johnson said the mentality doesn't change.
"In this case, we were putting pressure on them, and we've just got to keep pressuring, pressuring, pressuring and things happen," he said. "So you really don't change. That's kind of how we're trying to play our game, is to pressure everything and see if that works, and that's kind of how we work."
Final shots were 36-25 in favor of United. Wandler stopped 34 United attempts to Seeley's 24 saves.
Each team had four power-play opportunities, with both going 0 for 4.
Davies took both regular season contests against United by scores of 4-2 and 3-0.
"We're going to give it a shot," Johnson said of the Eagles. "They're the best team for a reason. Maybe they'll overlook us a bit, I doubt it, but we're going to give it our best shot, go out there and see what we can do."
Gervais said she and her teammates will be ready to go as much as Davies is ready for them.
"They better come prepared, because we're not ready to give up that championship game," she said.
FIRST PERIOD: No scoring plays
SECOND PERIOD: 1, MAN, Yantzer (Fleck), 3:30.
THIRD PERIOD: 2, WFU, M. Bents (Nowacki), 9:43. 3, WFU, M. Gervais (unassisted), 13:33.
SAVES: MAN, Wandler 13-14-7—34. WFU, Seeley 8-6-10—24.