Davies offense breaks through in third period to top Minot in state boys quarterfinals
The second-seeded Eagles rattled off three third-period goals as they picked up a 3-1 win over West No. 3 seed Minot
FARGO — Barron Stibbe predicted that one goal was all his team needed to get rolling.
Stibbe and Fargo Davies were in a scoreless deadlock with Minot entering the third period of the North Dakota boys hockey state quarterfinal matchup on Thursday, until Stibbe broke the game open.
It took 35 minutes and 31 shots for the Eagles to get on the board, but once they did, two goals followed. Stibbe picked off a Minot defenseman behind the Magicians net and cut out front to tuck the game's first goal a minute into the third period.
The second-seeded Eagles rattled off three third-period goals as they picked up a 3-1 win over West No. 3 seed Minot. Davies (22-3) will play fourth-seeded West Fargo Sheyenne (13-12) in the semifinals at 5:30 p.m. Friday.
"It was a really grindy win," said Stibbe, a senior forward. "I'm glad we came out in the third and played hard. Just glad to get onto the next one."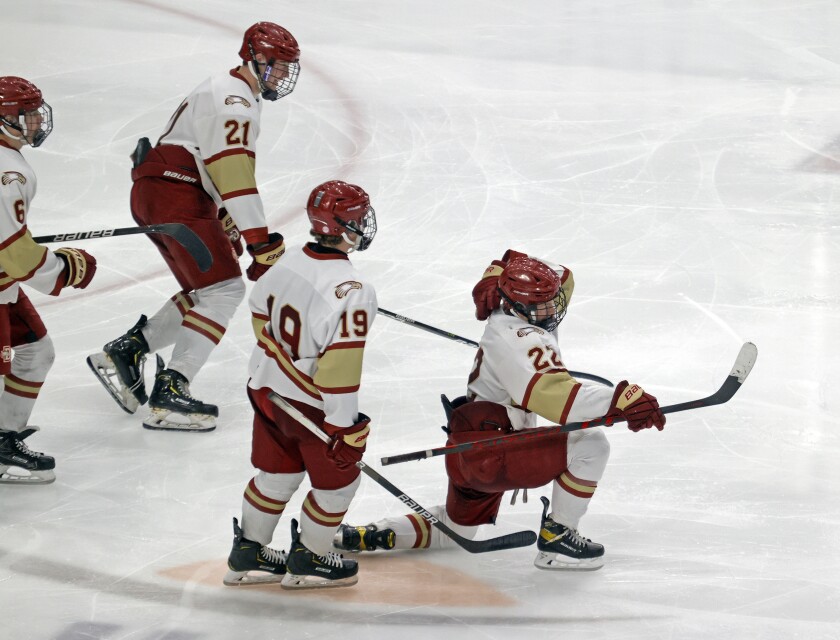 The Eagles set the tone of what was to come early, getting four shots on net in the first three minutes. Davies peppered Minot goalie Noah Conklin with 16 first-period shots, but none found the back of the net.
The second period was a similar story. Davies had a decisive 27-6 advantage in shots late in the frame, but couldn't get on the board. It took time for both offenses to get going.
"We knew we had to come out hungry," Stibbe said of the second period. "We knew some were gonna fall. We were getting shots on net, we were getting our fair share of chances. We had to get into the dirty areas and get pucks on net, so that's what we ended up doing and we got a couple there late."
Christian Kankelfritz pushed Davies' lead to 2-0 with a power-play goal at the 8:57 mark of the third period. The Magicians (16-7-2) were stuck in their own zone for much of the final frame, but got some momentum on a late power play. Minot was limited to seven shots on net in the first two periods.
Minot erased a Davies shutout with 27.3 seconds remaining when Luke Gillmore put home a rebound. The Eagles responded with an empty-net goal by Cam Bullinger to set up the game-clinching score.
"It feels great to be back here, and I'm just glad we got the win today," Stibbe said.
Davies is back in the state tournament after missing a year, and will face a familiar foe in Sheyenne in the semifinals. The teams squared off twice in the regular season, with Davies winning both matchups by scores of 6-2 and 2-1.
"They're a very good team. We need to come out hot," Stibbe said of Sheyenne. "If we play like we did today I don't know how that one is gonna go. But if we put the puck in the net I think we'll be just fine."
FIRST PERIOD: No scoring.
SECOND PERIOD: No scoring.
THIRD PERIOD: 1, FD, Stibbe, 1:00. 2, FD, Kankelfritz (Bullinger), 8:54pp. 3, M, Gillmore (Luck, Eslinger), 16:33 pp. 4, FD, Bullinger Empty Net, 16:49.
SAVES: FD, Wiemken 3-4-2—9. M, Conklin 16-13-9—38.