Senior Spotlight: Apple Valley captain and St. Cloud State commit Marie Moran
The two-year captain for Apple Valley is closing in on 150 career points over her five varsity seasons.
APPLE VALLEY, Minn. — Apple Valley senior captain Marie Moran grew up playing hockey alongside her two sisters.
Marie has an older sister, Mandy, and a younger sister, Makayla, and they were all able to play one season of varsity hockey together for the Eagles in 2019-20. That season, the three sisters were the top-three leading scorers on the team.
"We're really competitive with each other, especially me and Makayla — she's the most feisty person I know," said Marie on her relationship with her sisters. "Makayla will correct you on anything that happens and Mandy will try to neutralize the situation and then I'm in the middle of everything."
Senior Marie and sophomore Makayla compete on the varsity team together, while Mandy is a sophomore playing Division III hockey for St. Olaf College. The Morans also have a brother, Jonathan, who is the youngest in the family.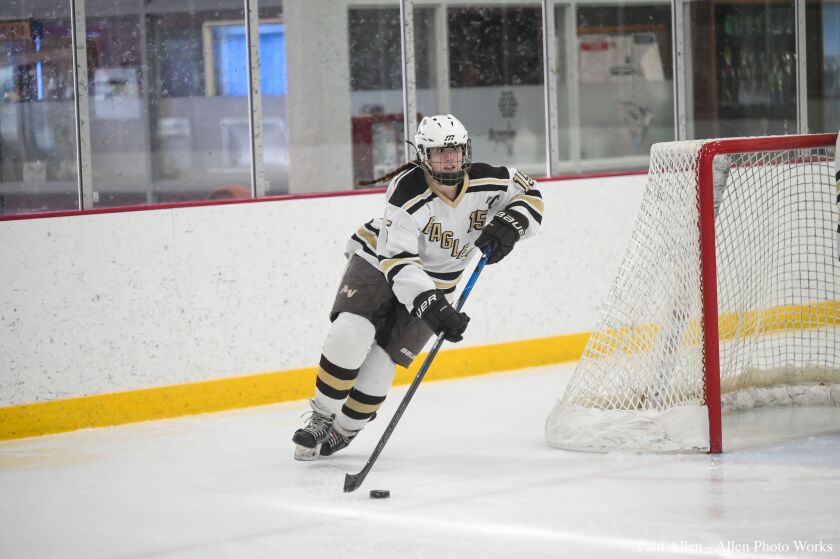 Marie, 18, is in her fifth season of varsity hockey and is only six points away from tallying 150 career points.
The 5-foot-8 forward is also a two-time captain for the Eagles.
"My coach will swear by this, I didn't talk at all my eighth grade year, but as I have grown up and got more connected with the team I've become more vocal, but I'm more of a leader by example," said Moran on her leadership qualities and growth from her first ever varsity season.
"I really do like being a captain, I appreciate my other teammates supporting me and I've been able to make connections with everyone, it feels like family," she added.
Not only is the senior forward a leader out on the ice, she also happens to be a captain for Apple Valley's soccer and lacrosse teams as well.
Junior Marie Moran tallied her 100th Varsity point on a 2nd period goal, her 3rd point of the game, but she wasn't done there. Captain #15 added another goal and an assist to force OT and setup the game winner for 6-5 Eagles win! Finished with 3G-3A-6pts.
93GP) 45G-57A-102pts pic.twitter.com/7ilKx0ethq

— Apple Valley Women's Hockey (@AVHSWHockey) January 29, 2022
After posting over a point-per-game every season after eighth grade, Moran started to garner interest from collegiate hockey programs.
Moran competed in the Upper Midwest Elite League this fall and was contacted by St. Cloud State assistant coach Mira Jalosuo after one of her games. The senior captain then visited the school's campus and officially committed to the Division I program in early November.
"I fell in love with St. Cloud. I really like their rink and how connected they are as a team," said the 18-year-old on her decision.
It also just happened to be the perfect distance from home. Moran didn't want to go to college too close, or too far, from her family. St. Cloud is about a 90-minute drive from the Apple Valley area.
The Apple Valley Eagles are currently 12-4-1 this season and Moran is averaging two-points per game with 17 goals and 17 assists after 17 games. She also happens to be a dangerous skater on special teams, with a team-high nine points (5G, 4A) on the power play.
"I have an 'eagle-eye' view where I can see everything on the ice," said the captain on her strengths as a player. "I'm able to make cross-ice passes really far and I'm able to connect them. I know where everyone is."
Moran acknowledges that the team has had some ups and downs so far this season, but the squad has recently found their groove. The Eagles recently tied Eastview, but were on a seven-game win streak before that.
The 5-foot-8 skater will finish out the season with Apple Valley before heading out to St. Cloud to play for the Huskies this fall.
Brueske, a junior center who posted 34 points in 31 games this season, announced her commitment to play at the Division I level