New generation of Dodge County players to get shot at a section title game
The Dodge County girls hockey team will play in a section title game this week for the fourth time in 10 years. This year's Wildcats are determined to be the first Dodge County team to win one.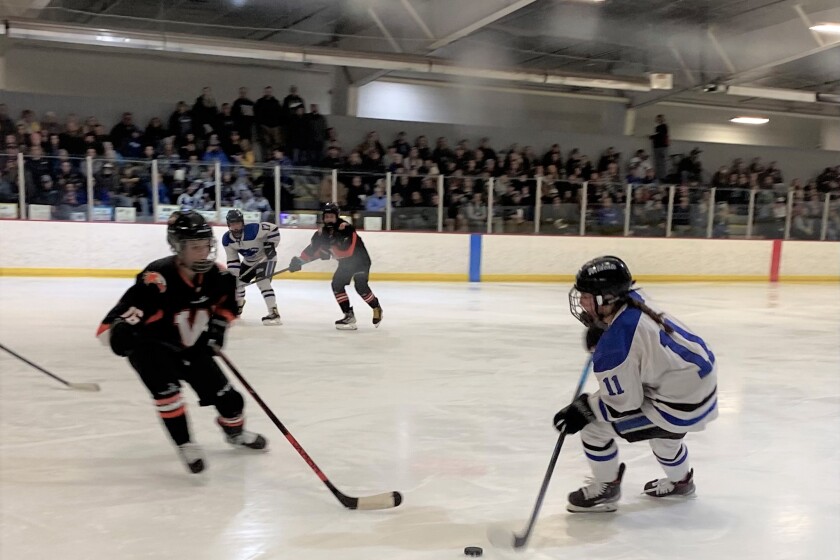 KASSON, Minn. — Abby Zeitler has been through section championship games before.
She knows about the nerves, the pressure, the reward hanging in the balance.
She'll play in her third section championship game on Thursday, only this time, the game will be played on ice.
Zeitler, a senior at Byron High School, has been a key member of the Bears' girls soccer team that has played in the past two Section 1AA championship games. Back in October, Byron fell by the thinnest of margins, 2-1 against Winona High. The previous year, in the fall of 2021, the Bears edged rival Kasson-Mantorville by that same margin — 1-0 — to earn a trip to state.
Zeitler and her teammates on the top-seeded and No. 12-ranked Dodge County girls hockey team hope for that same outcome at 7:30 p.m. Thursday, when they face No. 2-seeded and No. 14-ranked Albert Lea in the Section 1A championship game at Four Seasons Centre in Owatonna.
"I know how intense it is to get there and play in those (section title) games," Zeitler said, "and when you win it feels great.
"We've had a great season, and it's just a great feeling to have a chance to get to state and make our impact there as a small-town team."
First things first, though, Zeitler said. Dodge County has to figure out a way to get past Albert Lea for a second time this season. The Wildcats won the first matchup 4-2, but that was way back on Dec. 10, the eighth game of the season for Dodge County (16-8-2 overall), and the last in an eight-game winning streak to open the season.
"I think it's going to be a good competitive game," Zeitler said. "Albert Lea is a great team, but I think we work great together as a team, too. We have a lot of positive energy and I think we'll pull through, score some goals and hopefully make it to 'The X.'"
"The X" is the Xcel Energy Center, the home of the NHL's Minnesota Wild and the site of the Class A state tournament, which begins Wednesday, Feb. 22. Dodge County has never been there. Albert Lea was there a year ago, when it beat rival Austin in the section title game.
Dodge County, until this season, has played in Class AA. The elimination of some schools from its co-op prior to this season meant the Wildcats now meet the enrollment requirements to move down to Class A. And they have instantly become the top team in Section One, Class A.
Thursday will mark the fourth time in the past decade that Dodge County will play in a section championship game. They lost two of the other three by one goal, including in 2016, when a questionable penalty in overtime led to a Lakeville South goal and a 3-2 win.
Wildcats coach Jeremy Gunderson couldn't help but think of those previous section runner-up teams (Dodge County finished second in Section 1AA in 2013, 2014 and 2016) after the 9-0 section semifinal win against Winona on Saturday night in Kasson.
"It's kind of a … it goes two ways for me," he said. "I'm happy for this group, but I look at some of the groups we've had in the past, if they'd have had the same opportunity to play in (Class) A, there might be some state championship banners hanging in here. There were years where we'd have three or four (Division I-caliber) players and Lakeville would have seven. It's just how it went for us.
"That loss to South still kind of leaves a sour taste. We've had some great teams and I don't want to overlook what they did. This years' group is fortunate to be in a situation where we can have success at this level."
Albert Lea presents a handful of challenges. The Tigers (17-7-1) have won five straight games and are 10-1-1 in their past 12. They have two goalies who split time — junior Rachel Doppelhammer made 31 saves in the regular-season matchup against Dodge County, though Gunderson expects his team will face sophomore Jayda Moyer (9-5-1, 1.84 goals-against average, .927 save percentage) this time around.
Albert Lea has four players with 30-plus points, led by sophomore defender Mika Cichosz (29-11—40). Eighth-grader Morgan Goskeson (21-14—35), freshman Hanna Austinson (17-15—32) and seventh-grader Haley Austinson (14-17—31) lead the forward group.
"They skate really well; they're young and tenacious like we are," Gunderson said. "They have four really good defensemen and two good goaltenders.
"(Cichosz) is a unique 'D.' She's physical, fast and strong, so we can't give her a lot of space. Not too many teams have a 'D' as their leading scorer, and their other 'D' are good at moving the puck. We have to take away their lanes, stay out of the box and play smart hockey."
Special teams could be a difference in the matchup. Albert Lea has the state's sixth-best penalty kill, at 92.1%, while Dodge County counters with the state's sixth-best power play (32.1%). The Wildcats were 2-for-4 on the power play in their first game against the Tigers this year.
"Albert Lea's experience (winning the section last year) is huge," Gunderson said. "That been-there, done-that mentality can make a difference, but it's an advantage for us that we played (at Owatonna), on that ice, this year. We had a chance to look at it.
"Our power play and penalty kill will have to be good. We need to play fast, smart hockey like we did (Saturday against Winona)."
Who: No. 1 seed Dodge County (16-8-2) vs. No. 2 Albert Lea (17-7-1)
When: Approximately 7:30 p.m. Thursday (following completion of the Section 1AA championship game)
Where: Four Seasons Centre, Owatonna
Tickets: $10 adults, $6 students; All tickets must be purchased online (no cash sales in-person), at https://owatonna.hometownticketing.com/embed/event/194
Tale Of The Tape

STAT
ALBERT LEA
DODGE CO.
Goals/game
4.88
3.58
Goals alld./game
1.56
1.77
Power Play
16.7%
32.1%
Penalty Kill
92.1%
87.0%
Top Scorers
Mika Cichosz (So. D)
29-11 — 40
Maysie Koch (8th, F)
24-30—54
Goalies
Rachel Doppelhammer (Jr.)
8-2-0, 1.10, .936
Jayda Moyer (So.)
9-5-1, 1.84, .927
Ida Huber (Soph.)
16-8-2, 1.71, .924