Warroad headed back to state as Section 8A champs
The Warriors will take their undefeated season to St. Paul and the Xcel Energy Center.
THIEF RIVER FALLS — Jayson Shaugabay was having an excellent start to the season with the Green Bay Gamblers in the United States Hockey League.
He could have stayed there all year, but he had some unfinished business.
Shaugabay decided to head back to Warroad to try to win the school's first boys hockey state title since T.J. Oshie's senior year in 2005.
Shaugabay broke Oshie's all-time scoring mark earlier this season and now he's three wins shy of matching Oshie's team accomplishment of going undefeated and winning a state championship.
Shaugabay set up a goal on the first shift of the game Thursday night, finished with three assists and helped Warroad beat East Grand Forks Senior High 5-1 in the Minnesota Section 8A final in Thief River Falls' Ralph Engelstad Arena.
Top-ranked Warroad will head to the Class A state tournament next weekend in St. Paul's Xcel Energy Center.
"It's so exciting," Shaugabay said. "This was the biggest reason I came back to high school — to come back and win the section final in front of all these people and with my best friends ever. I'm so excited."
Warroad's top players led the way Thursday.
Shaugabay set up linemate Carson Pilgrim for a goal 44 seconds into the game. Pilgrim finished with two goals — both set up by Shaugabay.
Top-line winger Murray Marvin-Cordes scored once. Top-pair defenseman Ryan Lund scored twice.
"We've played them three times in three-and-a-half weeks, and that was the best version of Warroad I've seen," Senior High coach Tyler Palmiscno said. "Their top unit was at a different level than I've seen before. We had no answer for them."
Warroad scored twice in the first, once in the second and tacked on two more in the third.
That was more than enough support for Hampton Slukynsky, a contender for the Frank Brimsek Award as the state's top senior goalie. Slukynsky finished with 28 saves.
"Any time you can win a section championship, it feels good, especially in our section because it's tough every year," Warroad coach Jay Hardwick said. "It's not easy. You don't have a cakewalk like maybe some places do. You have to battle. You have to beat some really good hockey teams that probably deserved to be at the state tournament as well."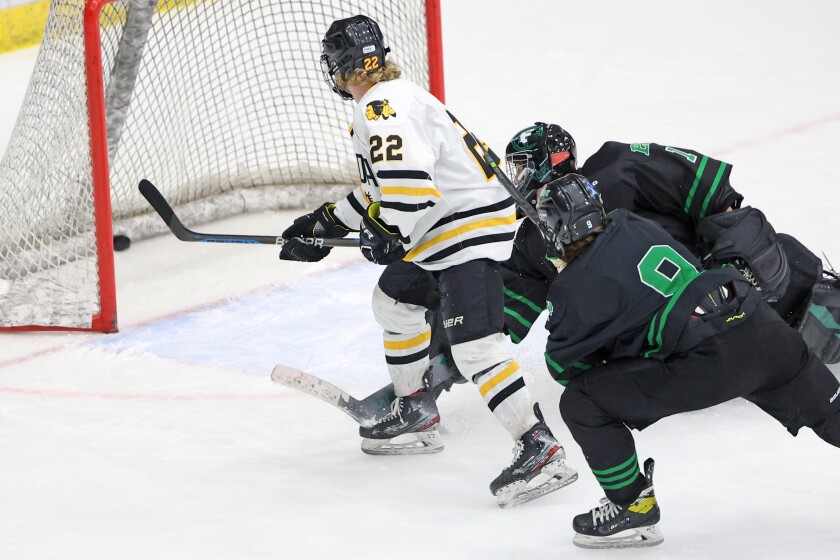 Warroad has bigger plans than winning the section title, though.
The Warriors will go to St. Paul with a 27-0-1 record. They're attempting to complete the program's first undefeated season since 2005.
"We got the first championship out of the way, but we've got one more," Shaugabay said. "This was fun. This was special to do this. But it's not the end of it. The job's not finished, so we've got three more to do."
Shaugabay has already been to state twice.
During his freshman season, Warroad lost to Mahtomedi 5-1 in the semifinals. Last season, the Warriors fell to Hermantown 3-2 in the final.
"We didn't want to look past anybody in sections, because that's when bad things happen," Hardwick said. "Now that we're down there, it's going to be the same thing. It's going to be one game at a time. Hopefully, we can go down there and take care of business."
The Green Wave, playing in the section final for the 11th time in 12 years, received a shorthanded goal from Landon Jamieson late in the third.
Senior High finished 16-12.
"From where we were Nov. 25 to where we were today, I thought we grew a lot as a group," Palmiscno said. "We got back to this championship game after not getting here last year. So there are a lot of positives to take out of the season. Unfortunately, it leaves a little sour taste in our mouth."
Warroad 5, EGF Senior High 1
First period — 1. W, Carson Pilgrim (Jayson Shaugabay) :44; 2. W, Murray Marvin-Cordes (Broden Hontvet, Shaugabay) 13:58
Second period — 3. W, Ryan Lund (Erick Comstock) 4:28 (pp)
Third period — 4. W, Lund (Peyton Sunderland) 2:20; 5. W, Pilgrim (Shaugabay) 6:03 (s); 6. EGF, Landon Jamieson (Brock Schultz) 13:43 (sh)
Goalie saves — W: Hampton Slukynsky 12-9-7 — 28; EGF: Chase Mero 17-9-13 — 39
Recent Section 8A title games
2023 — Warroad 5, East Grand Forks 1
2022 — Warroad 4, Thief River Falls 1
2021 — East Grand Forks 5, Warroad 4, 2 OT
2020 — Warroad 4, East Grand Forks 0
2019 — East Grand Forks 3, Warroad 1