Shakopee boys prepare to play with expectations
Shakopee hockey head coach Calvin Simon talks about the 2021-22 season and some of players to look out for on the Sabre roster.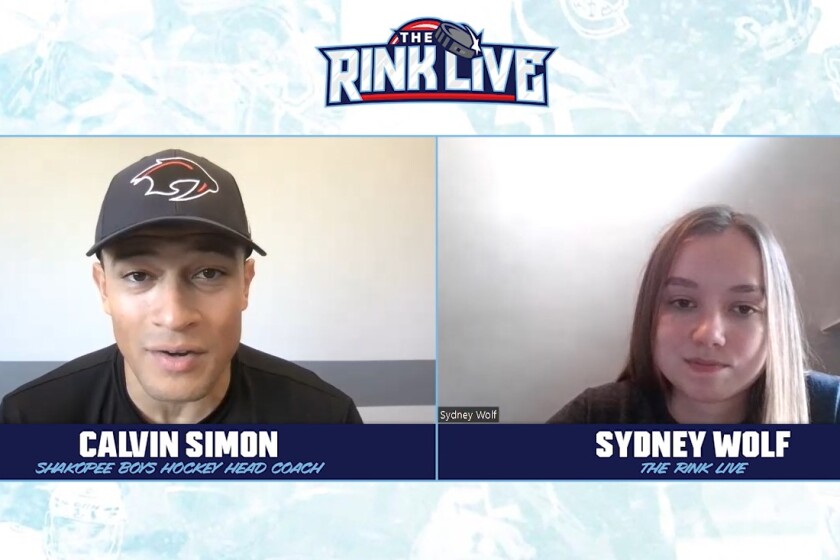 SHAKOPEE, Minn. — "For the first time in a long time, it feels like we're going to be playing with expectation," says Shakopee boys hockey head coach Calvin Simon.
"In the past it was more of trying to be the underdog and trying to steal games and sneak up on an opponent," but now the Sabres have a lot of excitement and determination about the upcoming season.
Instead of being considered an underdog, the Sabres are looking forward to moving up to a top dog.
Shakopee finished the 2021-2022 season with a 12-13 record, even after playing tough competition like Chaska, Chanhassen, Lakeville South and Prior Lake.
"We've improved the schedule in terms of strength, we've added teams like Hermantown, Gentry Academy," says Simon, noting that the team doesn't shy away from tough opponents.
Junior Jackson Vogel lead the way in points for Shakopee this past season with 40.
"Jackson is full of passion, he wears his heart on his sleeve ... he's a great skater, he's got incredible vision," Simon says.
Young players coming up through the Shakopee program are where most of the excitement about next year comes from.
Cooper Simpson, a freshman last season, put up 39 points.
"Cooper is a pure goal scorer, he's got an electric shot, he sees the game from a unique lens," Simon says.
And even younger yet, defenseman Carson Steinhoff put up 26 points of his own as only an eighth grader.
"For an eighth grader, he lead our team in minutes — which we didn't see coming," said Simon, after the Shakopee team pulled up Steinhoff from the PeeWee level before the season started.
Aleksi Huson will return in goal for the Sabres after posting a .903 save percentage this past year as a sophomore.
Eight players from the WCHA have been named to the prestigious list, including three Minnesota natives
Captains for the 2022-23 season will be seniors Sam Zovic, Linus Toward and Zane Orchard.
Although Shakopee has lots of returners, they are losing eighth grade standout Cole Bumgarner from the roster after he and his family made the decision to transfer to Benilde-St. Margaret's for 2022-23.
With all of the talent that the Sabres have coming through the program's pipeline, they are very excited for the season ahead and can't wait to see what they can accomplish in 2022-23
For more on the season that Shakopee had, Calvin Simon's coaching journey, and the young talent on the roster, make sure to watch the full interview below.