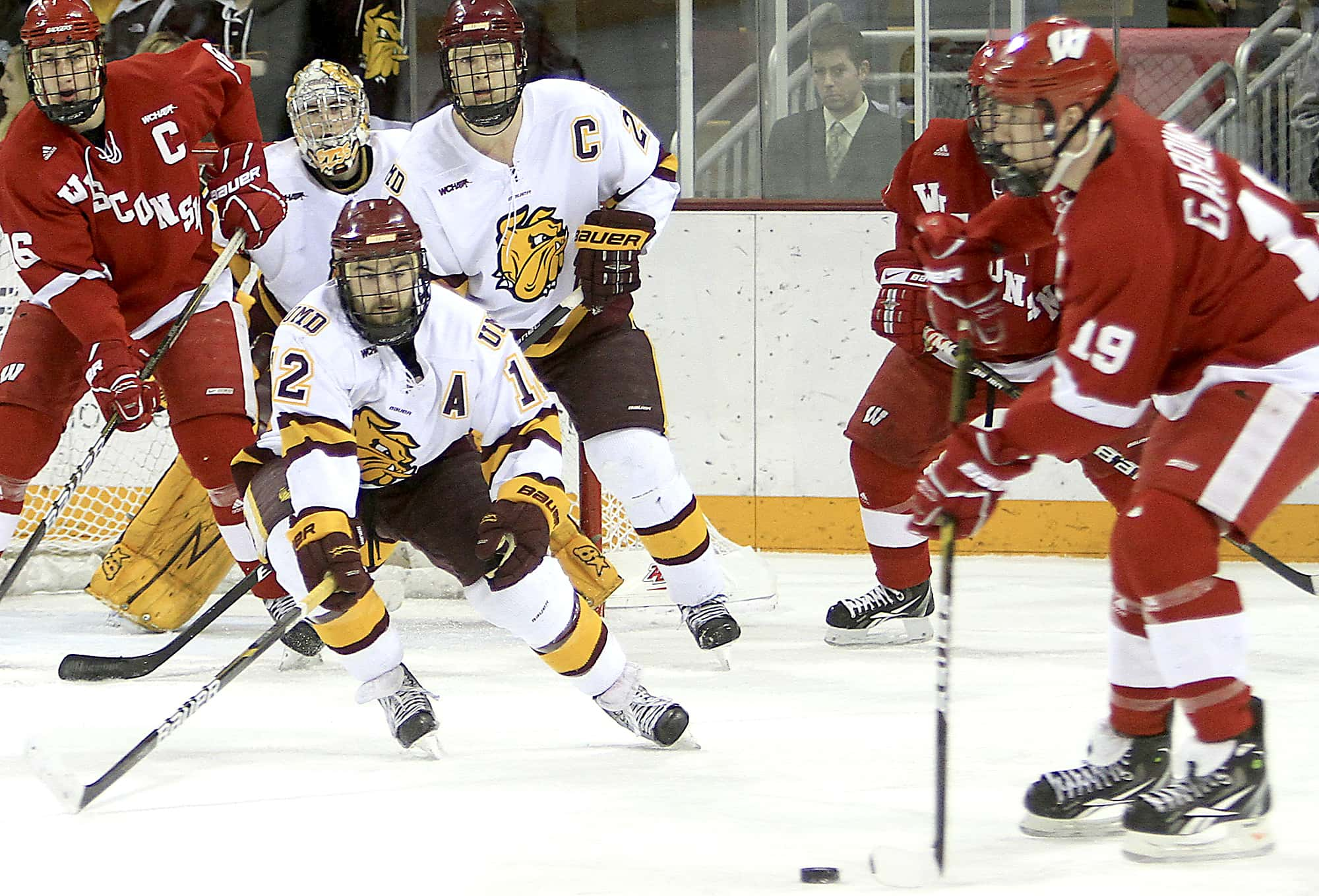 By Matt Wellens
MADISON, Wis. — The city of Duluth and the state of Wisconsin have always had a strong connection beyond the two bridges — John A. Blatnik and Richard I. Bong Memorial — that span 1.5 miles of the St. Louis Bay.
One of those links was a pair of NCAA Division I men's hockey programs who battled each other for 44 seasons as WCHA rivals until both went their separate ways in 2013 — the University of Minnesota Duluth to the NCHC and the University of Wisconsin to the Big 10.
That rivalry will be restored after a six-season hiatus this weekend when the third-ranked Bulldogs travel 300-plus miles down U.S. Highway 53 and Interstate 94 to play the No. 17 Badgers at 7 p.m. on Friday and Saturday at the Kohl Center in Madison.
Wisconsin will make the return trip over the St. Louis Bay to play UMD at Amsoil Arena in 2020-21.
"It's good. I think everyone was excited, a lot of fans were excited to get them back, not only us going there, but them coming here," Bulldogs coach Scott Sandelin said. "It's been a long time, so it'll be fun to go in there. It's never an easy place to win, but it's exciting to get them back and play them."
UMD and Wisconsin last met in an opening round WCHA playoff series March 15-16, 2013 at the Kohl Center, with the Badgers sweeping the series 4-1 and 3-1 en route to winning the Final Five and Broadmoor Trophy. The Bulldogs lost 2-0 and tied 2-2 in their only regular season series that season Oct. 26-27 in Duluth.
Changes
Since then, a lot has changed between the two programs besides their conference affiliations.
The Bulldogs, after a sub-.500 season in 2012-13 and .500 season in 2013-14, have made five-straight NCAA tournament appearances, three-straight trips to the Frozen Four and NCAA title game, and are the back-to-back defending national champions.
Meanwhile the Badgers are rebuilding, having posted one winning record in the past five seasons.
Wisconsin won 12 games combined between the 2014-15 and 15-16 seasons, resulting in the firing of coach Mike Eaves, who led the program to a national championship in 2006 and took them back to the NCAA title game in 2010.
Tony Granato — the former Colorado Avalanche head coach and assistant with the Avs, Pittsburgh Penguins and Detroit Red Wings — took over from Eaves in 2016 and immediately led the Badgers to 20 wins in his first season.
Granato took classes at Wisconsin that first season to finish the bachelor's degree he first started as a student-athlete with the Badgers from 1983-87. He said most of his memories of playing the Bulldogs back then "weren't good" as UMD was playing in Frozen Fours and Wisconsin wasn't yet in the early years under Jeff Sauer.
"Brett Hull, Norm Maciver, Tom Kurvers, Matt Christensen, Billy Watson — UMD had a phenomenal program at that time," Granato said. "(Guy) Gosselin, (Jim) Johnson, it was just a phenomenal team. We had some great games. Generally speaking, they were high scoring.
"I remember Brett Hull scoring three in our building on Mike Richter one night. Lots of great players and big games during that span."
Granato enters his fourth season at Wisconsin with 14 wins in each of the last two seasons, but the program could be in a position to get back to the NCAA tournament for the first time since 2014 with a roster that includes 12 NHL draft picks.
Four Badgers total were taken in the 2019 draft, including freshman forward Ryder Donovan of Duluth, Minn., who went in the fourth round to the Vegas Golden Knights.
Two went in the first round of the 2019 draft in freshmen forwards Alex Turcotte (Los Angeles Kings, fifth overall) and Cole Caufield (Montreal Canadiens, 15th), and both started the season on the same line together last weekend.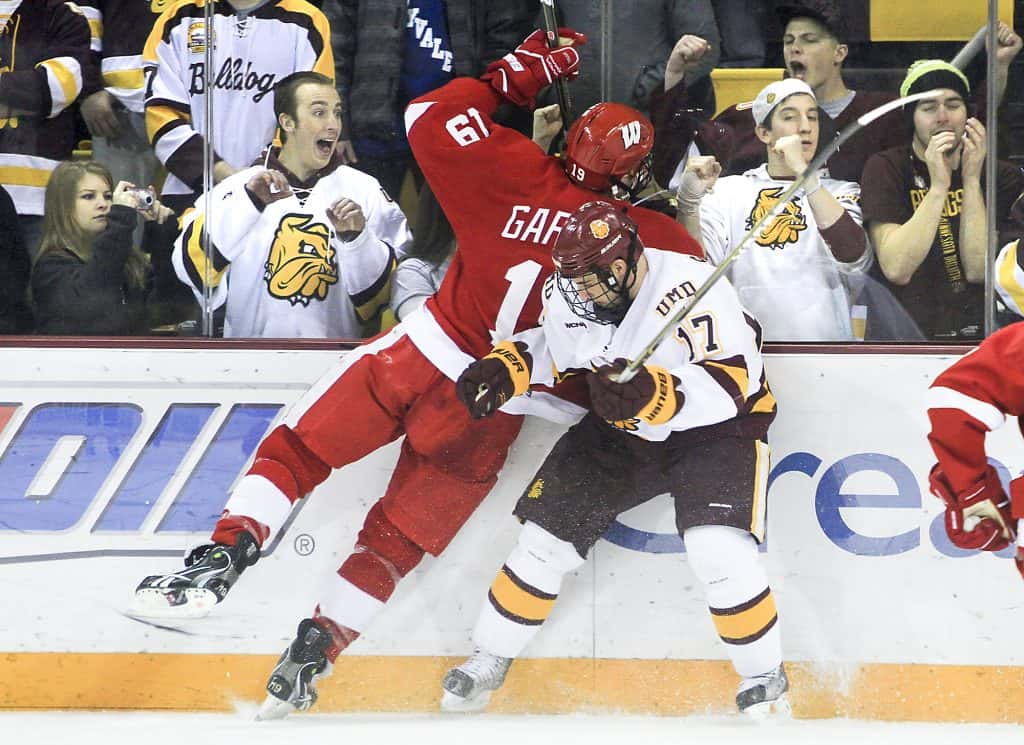 Sophomore defenseman K'Andre Miller (22nd, New York Rangers) went in the first round in 2018 and freshman forward Dylan Holloway, the 2018-19 Canadian Junior Hockey League Player of the Year with the Okotoks Oilers, is projected to be a first rounder in 2020.
Caufield is coming off a four-goal weekend in Massachusetts to start his college career, tallying two in a 5-3 loss at Boston College and two more in an 11-5 rout of Merrimack. Turcotte and Miller also scored twice in the win over the Warriors.
Team USA exposure
Sandelin, head coach of the U.S. National Junior Team for the 2020 World Junior Championship in the Czech Republic, is already pretty familiar with Turcotte, Caufield and Miller having coached all three over the summer at the 2019 World Junior Summer Showcase in Plymouth, Mich. Badgers sophomore defenseman Ty Emberson and freshman forward Owen Lindmark were also at the camp.
Sandelin, then an assistant for Team USA, also coached Miller last year at the World Juniors. The Bulldogs coach said Wednesday he joked to Granato and company that they waited until the Badgers had a really good team again to rekindle the rivalry with the Bulldogs.
"K'Andre, obviously a big athletic defenseman who can really skate. He's got a really good length to him and he's not afraid to get up the rink," Sandelin said. "The two freshmen, Turcotte and Caufield, they are special players. They're very talented. … They were fun to be around. They're very smart players. They work very well together.
"(Wisconsin) has a lot of good depth through their lineup. It's a good young team that is going to continue to get better and it'll be a great test for us."