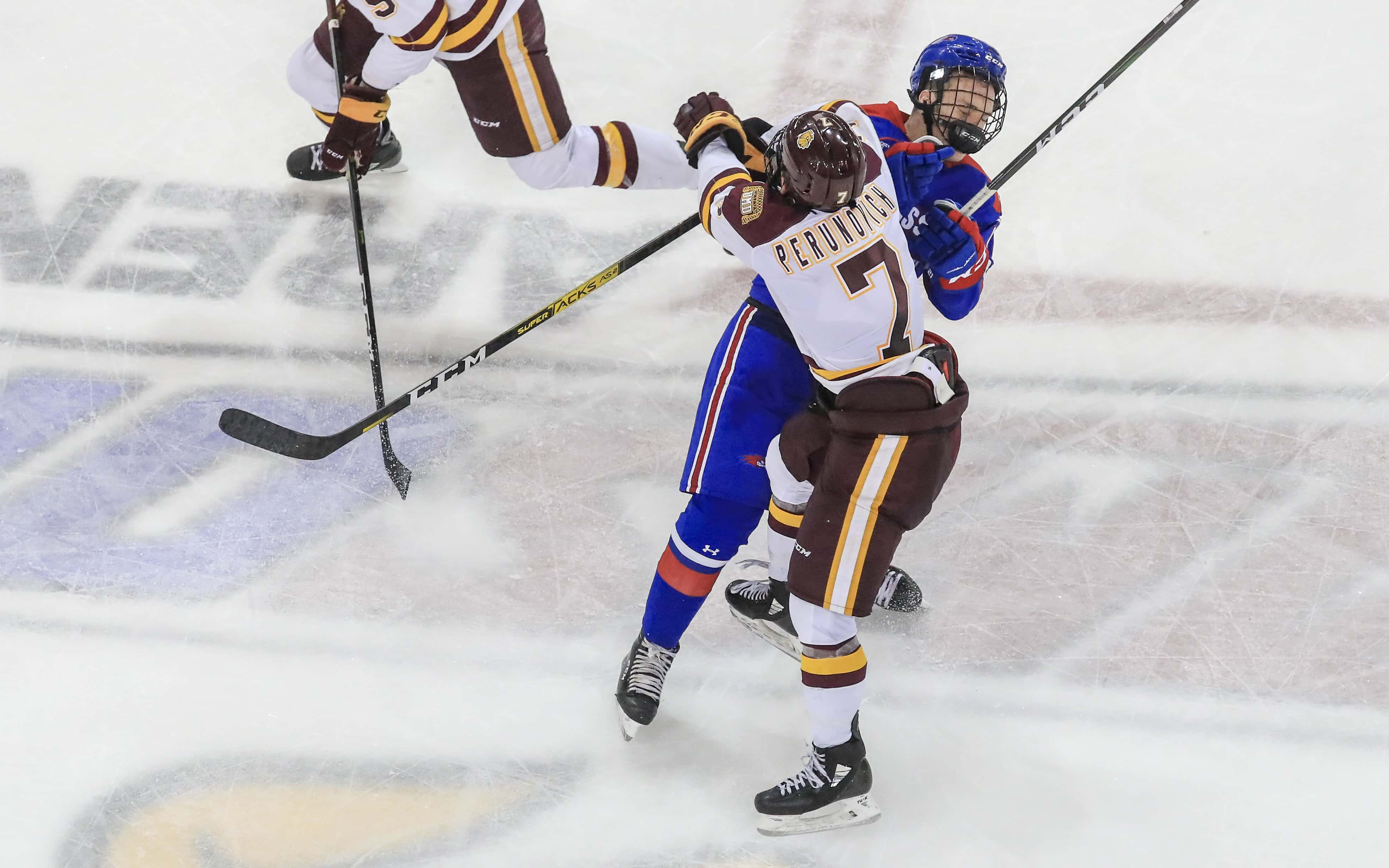 By Matt Wellens
DULUTH, Minn. — Sunday, Oct. 13, was a sit-on-the-couch-and-do-homework type day for Minnesota Duluth junior defenseman Scott Perunovich.
The Hibbing, Minn., native admitted Wednesday he was pretty sore and didn't move much Sunday, but the pain he felt had nothing to do with the back injury he battled late last season. Any aches he experienced Sunday stemmed from his attempt at impersonating his 6-foot-5, 230-pound senior defensive partner Nick Wolff during the third period of Saturday's 2-1 victory over UMass-Lowell at Amsoil Arena.
The speedy 5-10, 175-pound St. Louis Blues 2018 second-round draft pick is typically known for evading the opposition, but late Saturday with the Bulldogs up by a goal, Perunovich decided to skate right through the River Hawks.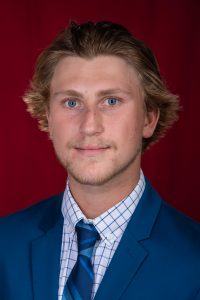 "It used to be I was more the offensive-minded guy and he's the more physical guy, but after Saturday, I think I might be the one getting more physical now," Perunovich said. "I'm going to have to talk to Wolffie about that because it definitely takes a toll on your body when you're throwing those hits. I give him a lot more respect now, knowing what it takes and kind of what happens to your body when you try and lay someone out, open ice."
Perunovich remained his offensive self Saturday, sending a puck into the slot that junior wing Nick Swaney tipped through to make it 2-1 with 15:02 to play.
A minute and a half later, Perunovich decked 6-0, 185-pound Lowell junior defenseman Anthony Baxter in the corner of the Hawks' zone, resulting in a two-minute minor for elbowing. The hit was reviewed by the officials, but not deemed a major.
The near ejection didn't deter Perunovich. With about seven minutes to play, he blasted Baxter again. This time the neutral zone hit that forced a turnover was deemed clean.
Perunovich's first big hit of the night came with 9:15 to go in the second when he slammed 6-1, 180-pound Lowell wing Brian Chambers at center ice.
So is Scott Perunovich an enforcer now? Don't count on it.
"I definitely felt more sore," Perunovich said of Sunday. "I think Wolff, he knew that too, so I told him I don't know how much longer we will keep that up. He's going to have to take his role back."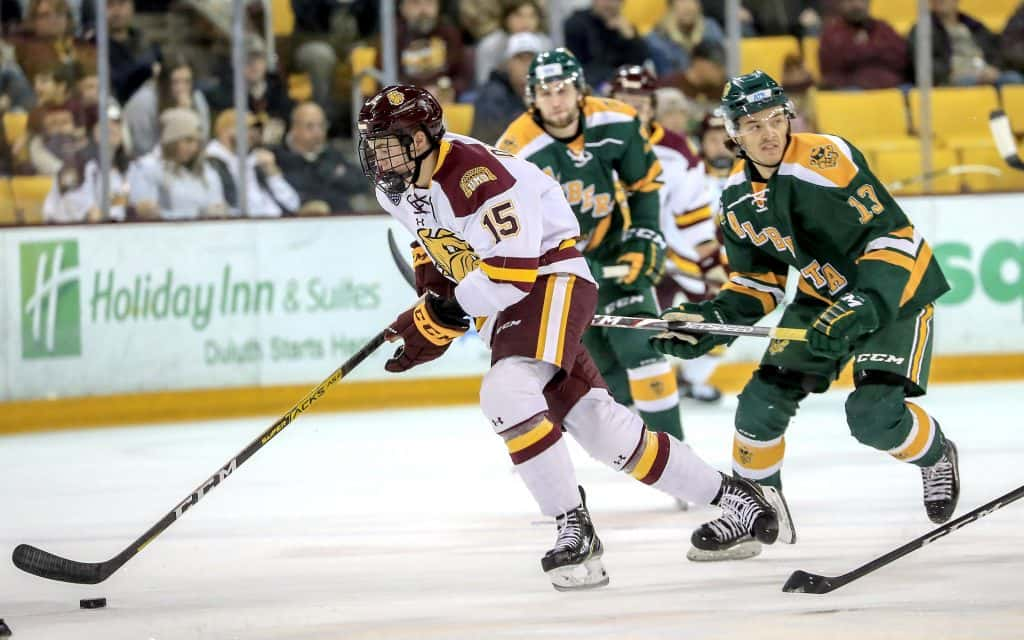 Olson out this weekend
Bulldogs freshman wing Quinn Olson has been ruled out for this weekend's nonconference series against Wisconsin at the Kohl Center in Madison.
UMD coach Scott Sandelin said Olson — picked in the third round by the Boston Bruins in the 2019 NHL Draft — will miss the 7 p.m. games on Friday and Saturday against the Badgers with an upper body injury. However, junior forward Koby Bender may be available.
Bender suffered an upper body injury during the exhibition against Alberta on Oct. 5 at Amsoil Arena. His original prognosis was to be out 3-4 weeks, but the Cloquet native is close to getting back, Sandelin said.
Olson left Friday's game against Lowell midway through the third period after going hard into the boards off a check. He didn't return and missed Saturday in the series finale against the River Hawks.
UMD was down to just 12 healthy forwards on Saturday against Lowell, and would be in the same situation again minus Olson and Bender.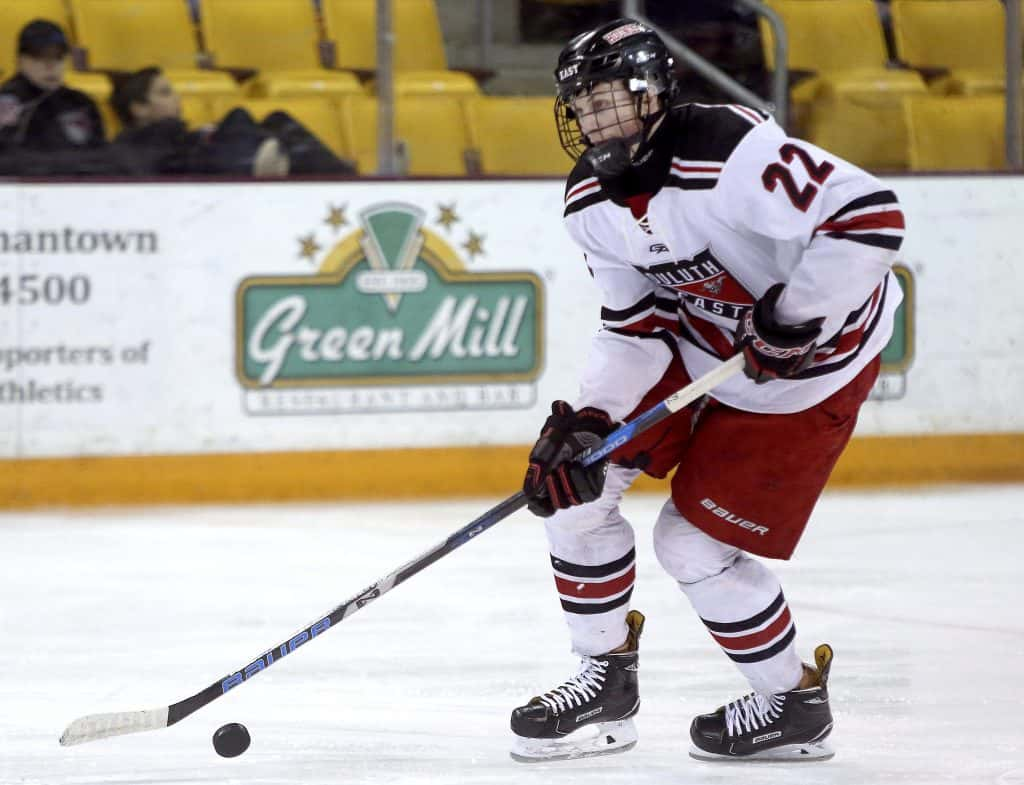 Donovan ready for 'Dogs
The No. 3-ranked Bulldogs and No. 17 Badgers play this weekend for the first time since the former WCHA rivals left the league after the 2012-13 season.
It will also be the first time Duluth native Ryder Donovan goes head-to-head with his hometown 'Dogs. The Badgers freshman forward out of Duluth East told the Wisconsin State Journal this week that this series is "everything" to him.
"Ever since June, I've been thinking about this game, as soon as (coach) said we were playing them," Donovan said. "So I'm excited. It's going to be tough to keep it under control, going into it with so much energy and a lot of motivation in this game."
The 19-year-old, who led the Greyhounds to the Class AA state tournament last year as a senior, was a healthy scratch for the Badgers last Friday in the 5-3 loss at Boston College. He was the 13th forward the next night in an 11-5 rout at Merrimack, getting called for two minor penalties — cross checking midway through the first and unsportsmanlike conduct late in the third.
A fourth-round pick of the Vegas Golden Knights in the 2019 NHL Draft, Donovan was originally committed to North Dakota before finally settling on the Badgers.
While some schools wanted Donovan to play a season of juniors before playing in the NCAA, Badgers coach Tony Granato said he'd rather have Donovan in Madison for three years than a year in juniors and two with the Badgers, considering many NHL draft picks sign three years after being selected.
"It's a big jump from high school hockey to college hockey. He's got tremendous skill and a tremendous work ethic. It's a learning process and a growing process," Granato said. "His development will accelerate here being on the ice."