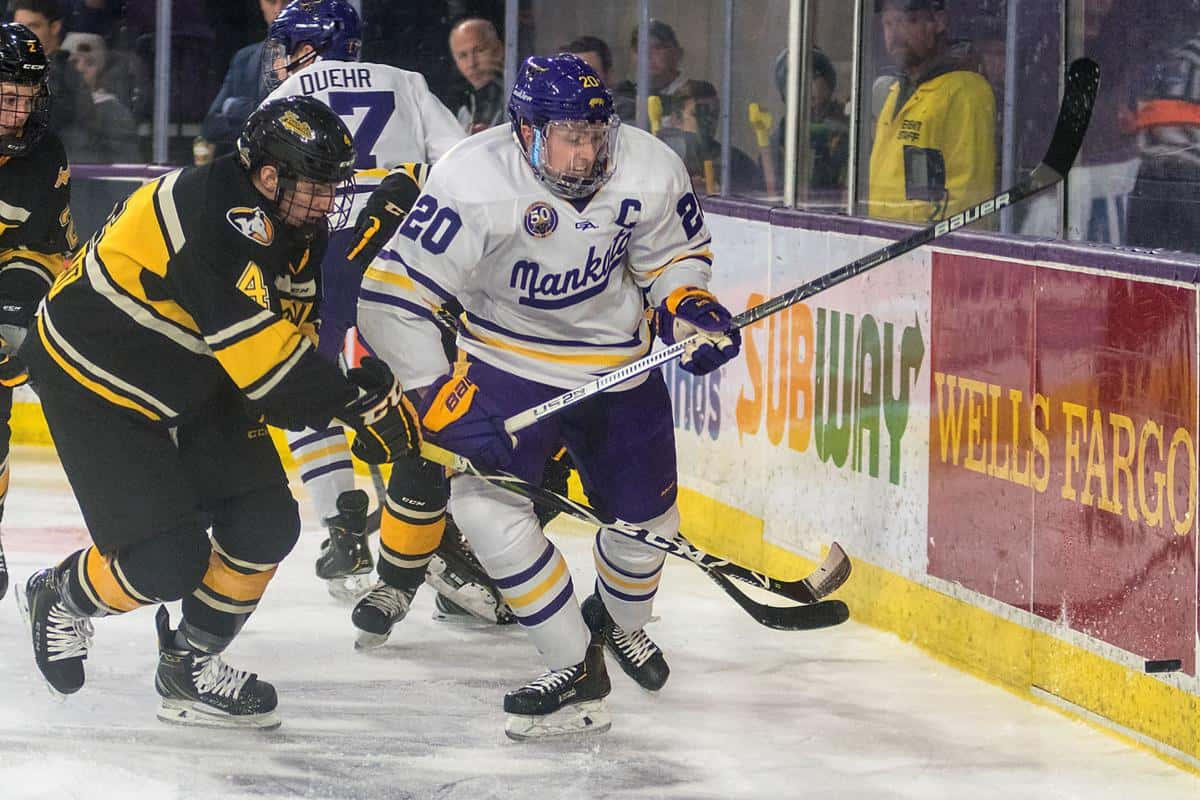 By Jason Feldman
MANKATO, Minn. — Marc Michaelis quickly flipped a question about why he decided to return for his senior season with the Minnesota State University men's hockey team.
"You should ask, 'why did I not go pro?'" the Mavericks leading returning scorer and team captain said. "If I'd have gone pro, I'd have had to give up college hockey."
Michaelis was quick to admit that there's more to it than just a love of the college game, but it didn't take him long after a tremendous junior season — one that made him a free-agent target of multiple NHL teams — to decide that he wanted to spend one more season in Mankato.
"I'd be lying if I said I didn't consider leaving," the Mavericks' 5-foot-10, 180-pound top-line center said, "but in the end it was a pretty easy decision to come back. To make the step to pro hockey, I need to be better all-around in order to be able to play and have an impact.
"I've taken good steps in my three years here, but another year of college hockey is another year of improvements."
There's also a matter of the rafters at the Mankato Civic Center.
The 24-year-old Michaelis, a three-time All-WCHA selection, doesn't want his MSU career to end without putting a national championship banner in those rafters. The Mavericks felt they had the team to do it last year — a 32-8-2 season ended with a jarring first-round NCAA tournament loss to Providence — and they feel they have the team to do it again this season.
"One hundred percent, that's a huge factor in me coming back," he said. "We have business to take care of. I've heard people say my class is one of the best classes to ever come to MSU and I feel like we've kind of underachieved."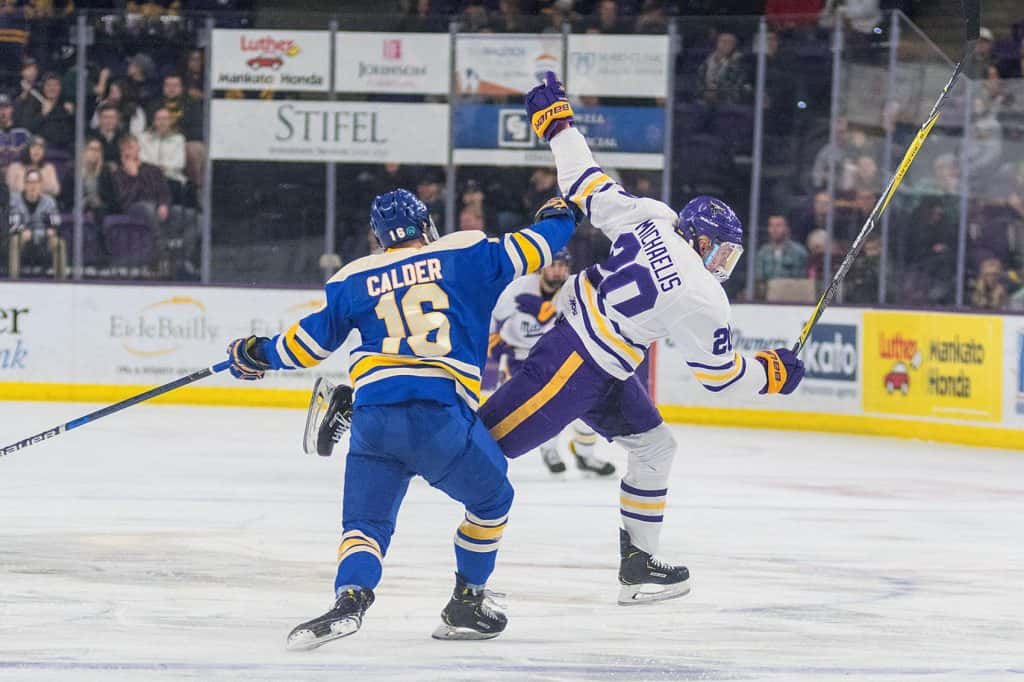 The senior class
That history books will tell a different story for Michaelis and his class. He's one of seven seniors on the Mavericks' roster this season, along with forwards Parker Tuomie, Charlie Gerard, Nick Rivera and Josh French, and defensemen Ian Scheid and Edwin Hookenson.
That group has been a part of two consecutive WCHA regular-season championships and a league postseason championship last spring — one that took a dramatic 3-2 overtime victory against Bowling Green to accomplish. Jake Jaremko and Connor Mackey scored in the final 1:44 of regulation to force OT, then Rivera won it 1:37 into the extra period.
Michaelis said the Mavericks used the memory of that game — as well as the memory of the season-ending loss to Providence — as motivation throughout the summer. They'll continue to let it serve as motivation, he said, as a new season begins. No. 3-ranked MSU opens the regular season on Friday and Saturday against No. 20 Arizona State, in Mankato.
"Who knows where we'd have ended up if we'd have won that game against Providence," said Michaelis, a native of Mannheim, Germany. "We know what we expect of ourselves and that game still bothers every single guy in the locker room. It's motivation."
Michaelis' role in helping the Mavericks get back to the NCAA Tournament next spring is simple: Keep producing. He has 51 career goals and 118 career points. He has played in 117 games, second only among active Mavericks to Scheid (121). And he said he knows that if he continues to grow as a player, the team success will come, and the professional offers will still be there next spring.
"Marc has grown dramatically on and off the ice as a leader," MSU coach Mike Hastings said. "He's been a part of two World Junior Championship teams in Germany that have provided him with the experience and a window of what it's like at the next level.
"We've leaned on him since he was a freshman and we'll turn to him this year for those leadership moments, on and off the ice."