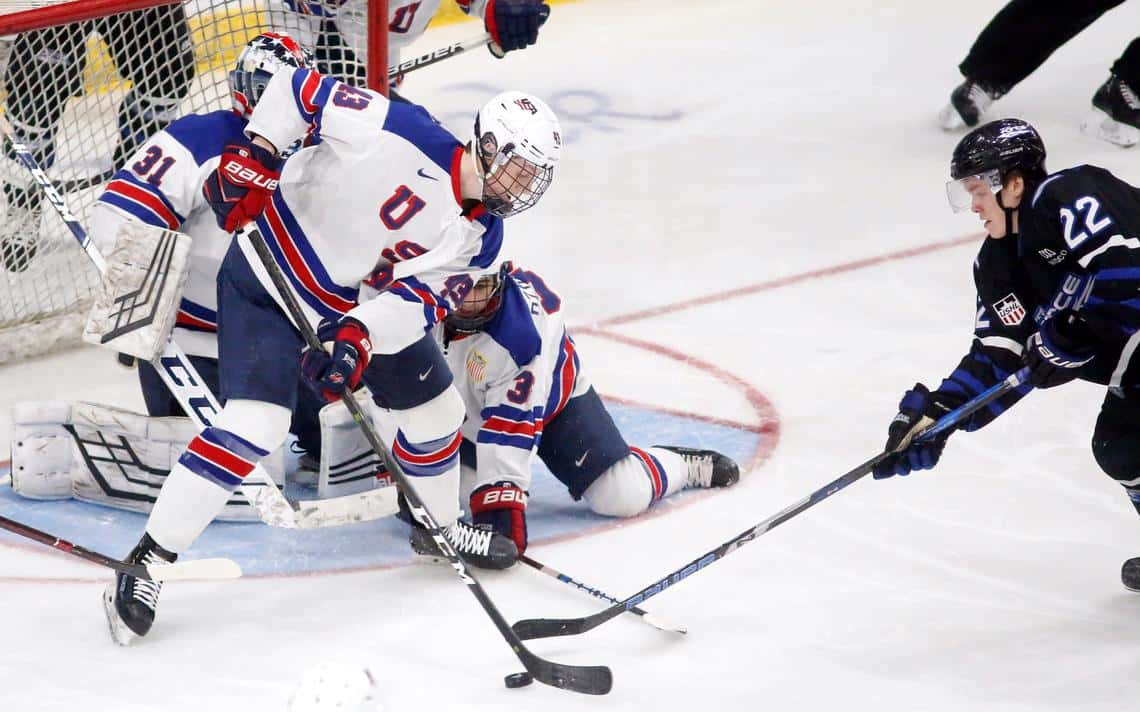 By Brad Schlossman
It's still really, really early.
Most junior and prep teams are just starting the 2019-20 season.
But the NHL's Central Scouting Bureau has already released its Watch List for the 2020 Draft, which will be held in Montreal in June.
The list features seven UND hockey recruits — defenseman Jake Sanderson of the U.S. Under-18 Team, defenseman Tyler Kleven of the U.S. Under-18 Team, defenseman Mitch Miller of the Tri-City Storm (United States Hockey League), defenseman Luke Reid of the Chicago Steel (USHL), forward Ethan Bowen of the Chilliwack Chiefs (British Columbia Hockey League), forward Stephen Halliday of the Dubuque Fighting Saints (USHL) and forward Jackson Kunz of Shattuck-St. Mary's.
Also on the list is Thief River Falls defenseman Evan Bushy, who is committed to St. Cloud State.
If all seven UND commits are picked, it would tie for the second-most prolific draft class of all time at UND. The only one with more than seven is the 1984 class, which featured nine NHL Draft picks.
This will continue a trend of an increasing number of draft picks on UND's roster after it dipped below 10 in 2017-18 and 2018-19.
UND had six players picked in the 2019 draft — forward Shane Pinto (Ottawa Senators), defenseman Cooper Moore (Detroit Red Wings), forward Harrison Blaisdell (Winnipeg Jets), forward Judd Caulfield (Pittsburgh Penguins), forward Jake Schmaltz (Boston Bruins) and forward Massimo Rizzo (Carolina Hurricanes). Moore, Schmaltz and Rizzo are currently playing junior hockey and will likely come to campus next fall.
The NHL Central Scouting Bureau assigned a grade to each of the ranked players. 'A' players are considered potential first-round picks (26 players earned that designation). It considers 'B' players to be potential second- or third-round picks and 'C' players to be potential fourth-, fifth- or sixth-round picks.
Sanderson, the son of longtime NHLer Geoff Sanderson, is an A-rated player and currently UND's top prospect.
Kleven, of Fargo, is a B-rated player, along with Miller and Reid.
Kunz, of Grand Forks, is a C-rated player along with Bowen and Halliday.
Bushy, who is playing for the Sioux Falls Stampede in the USHL, is a C-rated player, too.
Because they are early rankings, a lot can change over the year. For example, Pinto was tabbed as a C-rated prospect last November, but ended up going No. 32 overall in the draft to the Ottawa Senators.
UND commits in NHL Central Scouting Watch List
A — Jake Sanderson, D, U.S. Under-18 Team
B — Tyler Kleven, D, U.S. Under-18 Team
B — Mitch Miller, D, Tri-City Storm (USHL)
B — Luke Reid, D, Chicago Steel (USHL)
C — Jackson Kunz, F, Shattuck-St. Mary's
C — Ethan Bowen, F, Chilliwack Chiefs
C — Stephen Halliday, F, Dubuque Fighting Saints
Most UND players picked by draft
9 — 1984 (Hrkac, Norman, Brodeur, Joyce, Strome, Melrose, Forst, Steen, Brower)
7 — 2010 (Forbort, Nelson, MacMillan, Parks, O'Donnell, McIntyre, Mattson)
7 — 2005 (Lee, Oshie, Finley, Chorney, Kozek, VandeVelde, Watkins)
7 — 1982 (Sandelin, Jensen, Mishler, Ness, Krampotich, Williams, Loven)
6 — 2019 (Pinto, Moore, Blaisdell, Caulfield, Jake Schmaltz, Rizzo)
6 — 2013 (Tambellini, Thompson, TPoolman, Johnson, Ausmus, Murphy)
6 — 2008 (Kristo, DToews, Fienhage, Hextall, MacWilliam, Gleason)
6 — 2007 (Gregoire, Frattin, Malone, Bruneteau, Blood, Eidsness)
6 — 1988 (Romaniuk, Bartley, Jackson, Johnson, Ward, Geldart)
6 — 1986 (Pelawa, Bobyck, Davidson, Baron, Parent, Kidd)
6 — 1981 (Patrick, Donnelly, Archibald, Zombo, Brennan, Sherven)
6 — 1980 (Volcan, Murray, Ludwig, Huglen, Jensen, EChristian)