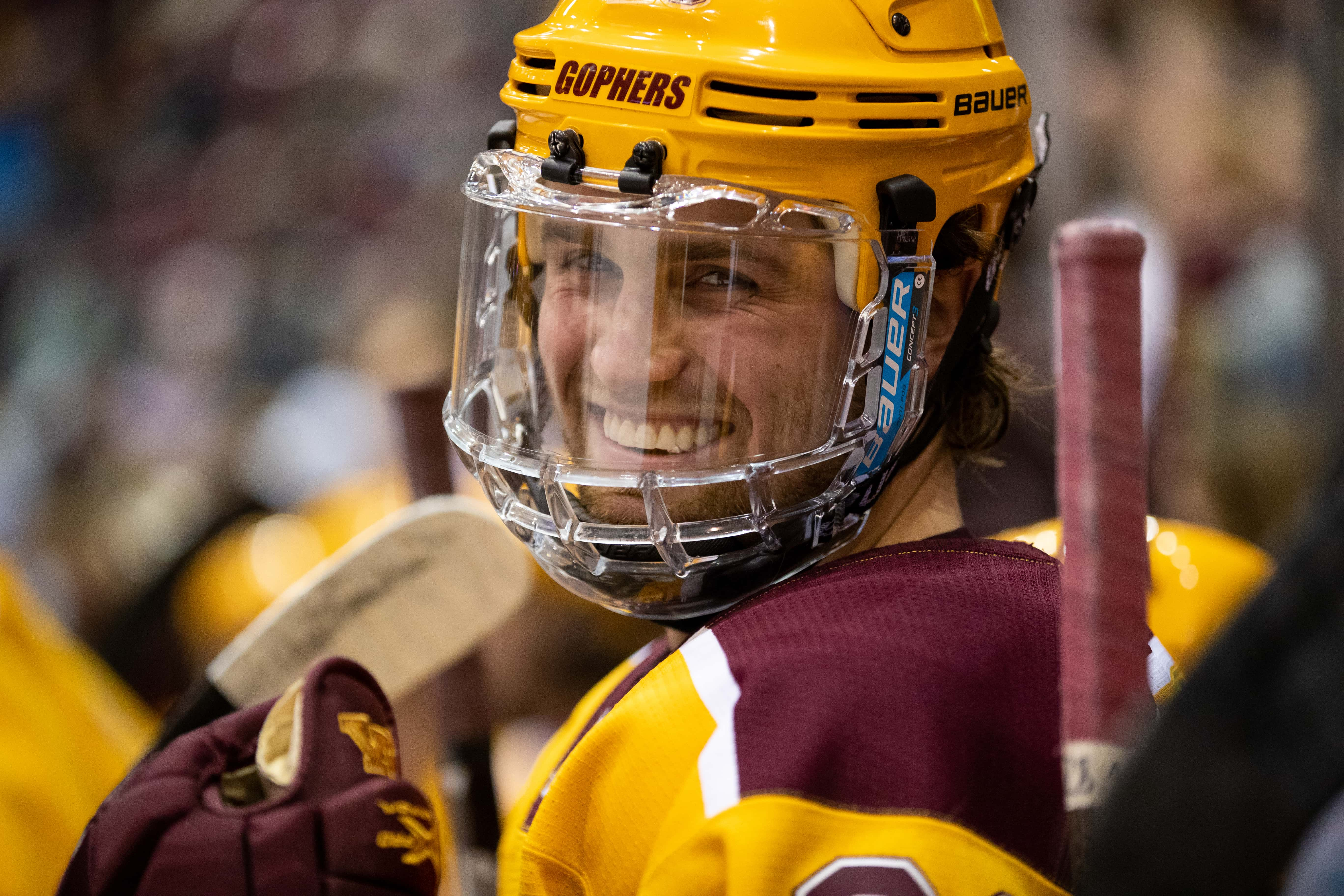 By Jess Myers
MINNEAPOLIS — Everything is more comfortable and familiar for Minnesota Gophers coach Bob Motzko as his second season running the program begins. And yet, in some ways, he's starting over.
When he answered questions at the team's annual Media Day on Tuesday, Oct. 1, Motzko used the Gophers' special teams to illustrate the fact that they lost a dozen players to graduation or early departures, and they have a dozen new players on the roster for 2019-20.
"We had a really good power play last year. They're all gone. That unit that led us, there's not one of them here," Motzko said. "We were No. 1 in the conference in penalty kill. They're all gone except for (Ryan) Zuhlsdorf and (Tyler) Nanne. We had really good goaltenders. They're not here. We have all new goaltenders. Those little things like that keep popping up in our practices."
Motzko's teams have been renowned for their effectiveness on the power play and on the penalty kill, both during his 13 seasons at St. Cloud State and last season when the Gophers led the conference in overall special teams. Their power play was second in the conference — behind Penn State — and the penalty kill was tops in the seven-team league.
Last season's top power play unit employed five forwards — all of whom either graduated or, in the case of Rem Pitlick, signed a pro contract. With two top freshman defensemen on the roster now, Motzko said Ryan Johnson and Jackson LaCombe may eventually be the puck-moving back side anchors for the power play that the Gophers defense lacked last year. But he's not going to rush freshmen into vital spots on the ice.
"You're going to see those players grow into real big roles. We have to judge not putting them in too quickly. Sometimes if you put someone in too quickly and they're not ready, then it's another setback," Motzko said. "You know they're going to put their game at a certain level as freshmen, but they're not going to do it Oct. 11. Maybe Nov. 11, and sometimes as coaches we're going to hold them back a little bit. With 11 freshmen, there's a group in there that you will see in November at a whole different level than they are now."
Still, the traits that made Johnson the 31st overall pick by the Buffalo Sabres in last summer's NHL Draft, and that caused the Anaheim Ducks to grab LaCombe eight picks later, are evident to their on-ice co-workers.
"Those two guys have a tremendous amount of talent. I think when you look at them the biggest thing that jumps out is their skating," said Nanne, the Gophers co-captain. "LaCombe is a tall guy with a beautiful stride and Johnson is smooth and just so quick on the ice. Being an older guy, you sit back and say, 'Wow, these guys have really got it.'"
So the Gophers are still green in many spots, and their coach expects they will look the part in the pre-Halloween games. He said that the answers to all of the questions about the team are "in that room" meaning the team's locker room.
"It might take four games, six games, eight games, but we're going to figure it out," Motzko said. "We're not at that point with a lot of guys, but they're going to get there."
Burke better prepared for winter this time
When he came to the U of M from his home in Arizona about this time last year, sophomore forward Nathan Burke admits he may not have had the right wardrobe for a Minnesota winter, even though he had played 65 games for a junior hockey team in South Dakota prior to donning a Gophers sweater.
Now he's part of a Sun Belt caucus on the Gophers roster, with Ryan Johnson coming to the U of M from Southern California (also with a junior hockey stop in South Dakota thrown in). Burke said on Tuesday that he hasn't yet needed to offer Johnson any cold weather tips.
"He seems pretty well prepared," Burke said. "Unlike me, he has a couple pairs of pants coming in. That was my issue, so I think he's a little bit more prepared than I was."
Having spent part of the summer in Arizona, Burke added that the addition of former Gopher star Phil Kessel to the roster of the Coyotes has sparked a renewed interest in the NHL team, which has struggled to sell tickets for better than a decade.
"It's interesting. A bunch of my friends have already bought Kessel jerseys and I've heard that ticket sales have gone up," Burke said. "It will be exciting to watch them play now that hockey season is starting."
Kessel, 31, played one season for the Gophers in 2005-06 and was the WCHA Rookie of the Year. He rejected a trade from Pittsburgh to the Wild early in the summer before agreeing to be traded to the Coyotes.
Jess Myers (@JessRMyers) can be reached at jrmyers@forumcomm.com.