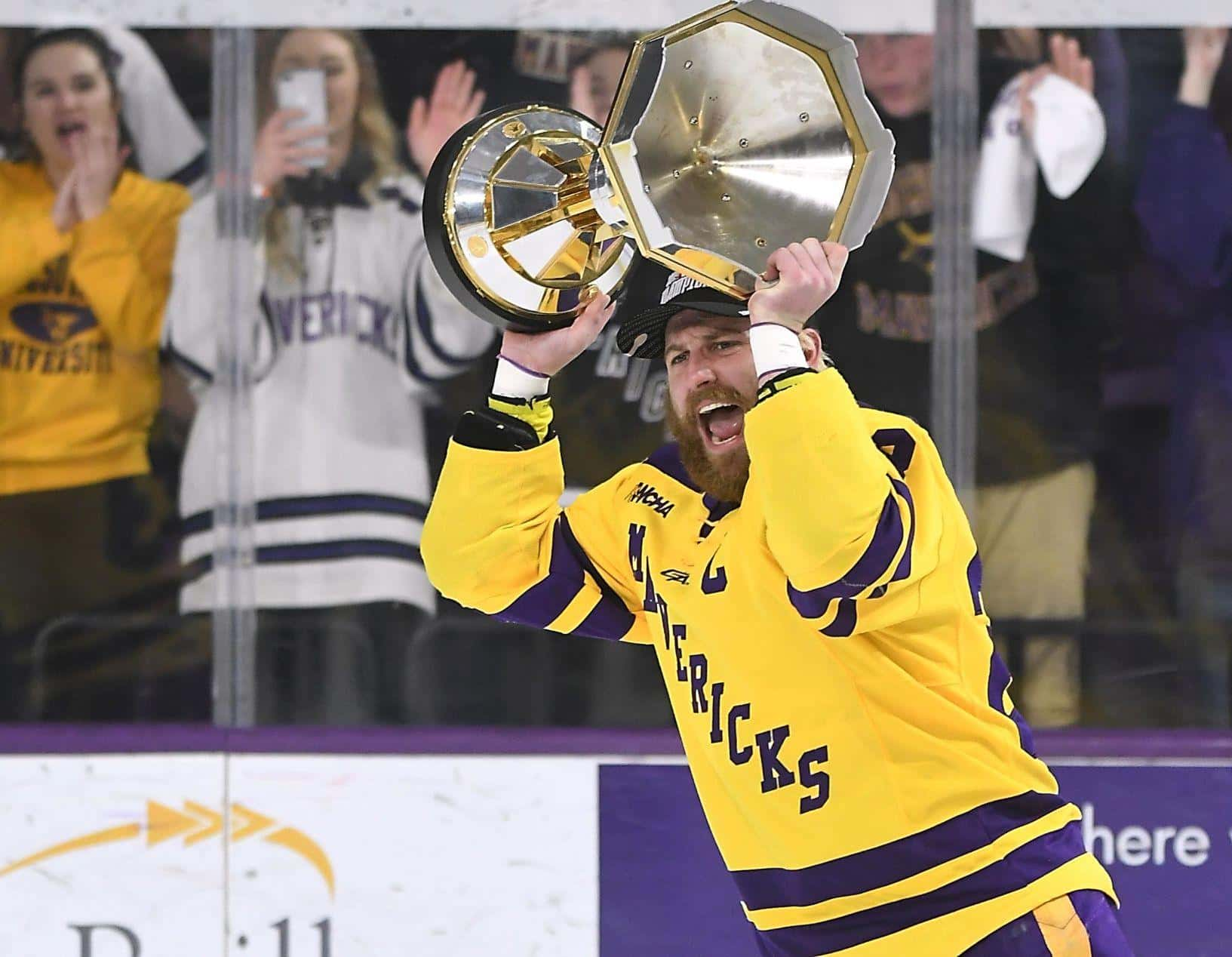 By Mick Hatten
Minnesota State-Mankato is the unanimous pick to repeat as WCHA men's hockey champions in the eighth annual Mankato Free Press WCHA Preseason Coaches' Poll. The Mavericks were also the unanimous to win the conference in the media poll.
The Mavericks, who were 22-5-1 in the WCHA and 32-8-2 overall last season, received all of the first-place votes in a poll in which coaches could not vote for their own teams.
Bowling Green was picked to finish second, followed by Bemidji State, Northern Michigan, Michigan Tech and Lake Superior State. There were five points separating third through sixth place.
Alaska was picked to finish seventh followed by Ferris State, Alabama-Huntsville and Alaska-Anchorage.
Mavericks forward Marc Michaelis (Mannheim, Germany) was named WCHA Preseason Player of the Year after receiving nine votes. He had 19 goals and 42 points in 42 games last season and is a three-time All-WCHA First Team pick.
Mankato freshman forward Nathan Smith was named the WCHA Preseason Rookie of the Year. Smith, who is from Tampa, Fla., had 53 points in 59 games last season in junior hockey, playing for the Cedar Rapids Roughriders of the United States Hockey League.
The Preseason All-WCHA team includes Michaelis, Mavericks senior forward Parker Tuomie (Bremerhaven, Germany) and sophomore goalie Dryden McKay (Downers Grove, Ill.). The rest of the Preseason All-WCHA Team includes Bowling Green junior forward Brandon Kruse (Saline, Mich.) and senior defenseman Alec Rauhauser (Bismarck, N.D.) and Northern Michigan senior defenseman Phillip Beaulieu (Duluth, Minn.). Beaulieu was an All-WCHA first team pick last season. Kruse, Rauhauser, Tuomie and McKay were All-WCHA Second Team picks last season.
2019-20 WCHA Preseason Coaches' Poll
Team (1st place votes) Points

Minnesota State Mankato (9) 90
Bowling Green (1) 82
Bemidji State 63
Northern Michigan 61
Michigan Tech 59
Lake Superior State 58
Alaska 39
Ferris Stte 38
Alabama-Huntsville 30
Alaska-Anchorage 20
2019-20 WCHA Preseason Media Poll
Team (1st place votes) Points
Minnesota State Mankato (10) 100
Bowling Green 89
Northern Michigan 72
Michigan Tech 68
Bemidji State 62
Lake Superior State 57
Ferris State 37
Alaska 27
Alabama-Huntsville 26
Alaska-Anchorage 12