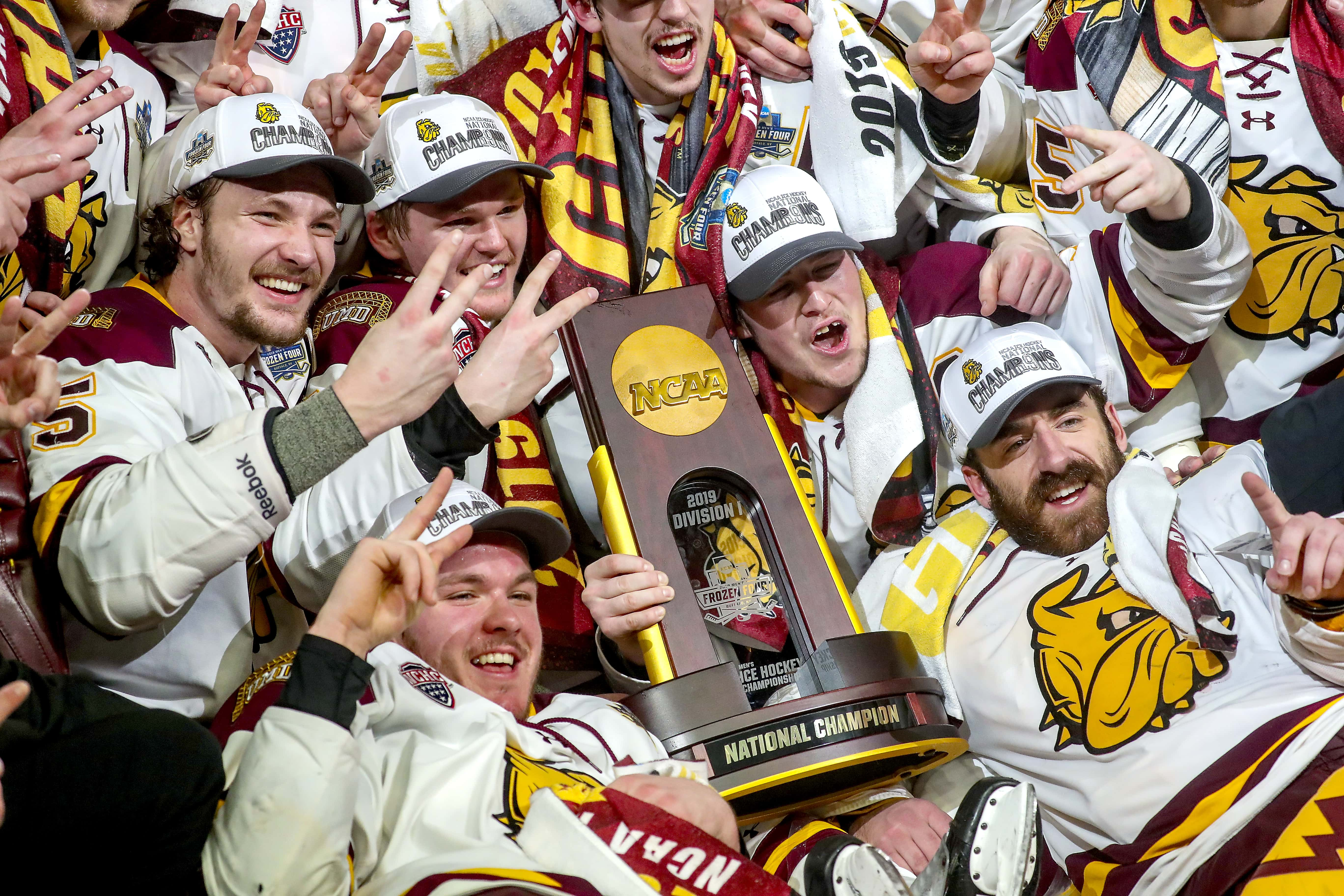 By Mick Hatten
Defending NCAA Division I men's hockey champion Minnesota Duluth has four players that have been named to the NCHC Preseason All-Conference Team, which was selected by the media that covers the conference, on Tuesday, Sept. 17.
Seven players were named to the team. The four Bulldogs selected are forwards Justin Richards (Junior, Columbus, Ohio) and Nick Swaney (Jr., Lakeville, Minn.), defenseman Scott Perunovich (Jr., Hibbing, Minn.) and goalie Hunter Shepard (Sr., Cohasset, Minn.). Shepard was the lone unanimous selection of the seven players after receiving all 27 votes and was a First-Team All-America selection. He and Perunovich were also named to the NCHC Preseason All-Conference team before last season. Perunovich is a two-time All-America selection.
Perunovich and Shepard were All-NCHC First Team selections, Richards was an All-NCHC Second Team pick and Swaney was an honorable mention pick last season. The Bulldogs finished second in the NCHC and then won the NCHC Frozen Faceoff playoff title with a double overtime win over St. Cloud State last season before going on to win their second straight NCAA title.
Two Western Michigan forwards Hugh McGing (Sr., Chicago, Ill.) and Wade Allison (Sr., Myrtle, Manitoba) were named to the preseason team. McGing was named to the All-NCHC Second Team last season and Allison was named to last season's Preseason All-Conference Team. Among returning NCHC players, McGing had the most points (20) and the most goals (11) last season in conference games.
St. Cloud State defenseman Jack Ahcan (Sr., Savage, Minn.) was the other player named to the team. Ahcan, the Huskies' captain this season, was an All-NCHC Second Team pick last season and helped St. Cloud State win its second straight Penrose Cup as NCHC regular season champions.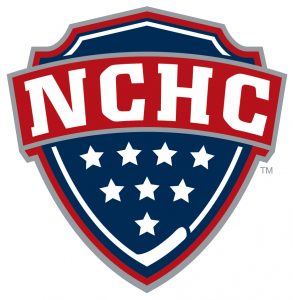 Media members voted for three forwards, two defensemen and one goaltender on their ballot and each vote was worth one point.
The NCHC Preseason Media Poll for the conference race will be released Wednesday. It will be first counted down on @TheNCHC Twitter account beginning at 2 p.m.
NCHC Media Day will be Thursday at Xcel Energy Center in St. Paul, Minn. Fans can ask questions during Twitter Takeovers (@theNCHC) and watch Facebook LIVE interviews (www.facebook.com/TheNCHC).
Follow TheRinkLive.com for extensive coverage of NCHC Media Day. We will have a live blog that will run from 9:15 a.m.-5:30 p.m., live video coverage of NCHC commissioner Josh Fenton's state of the conference speech at noon, live interviews with players and coaches and then a live reporters rectangle TheRinkLive staff reporters Brad Schlossman, Matt Wellens, Mick Hatten and Jess Myers. Thursday night, there will be stories from the event available on our website.
Preseason All-NCHC Team
(27 possible votes)
F — Hugh McGing (Western Michigan, 22 votes)
F — Justin Richards (Minnesota Duluth, 13)
F — Wade Allison (Western Michigan, 10)
F — Nick Swaney (Minnesota Duluth, 10)
D — Scott Perunovich (Minnesota Duluth, 25)
D — Jack Ahcan (St. Cloud State, 12)
G — Hunter Shepard (Minnesota Duluth, 27)