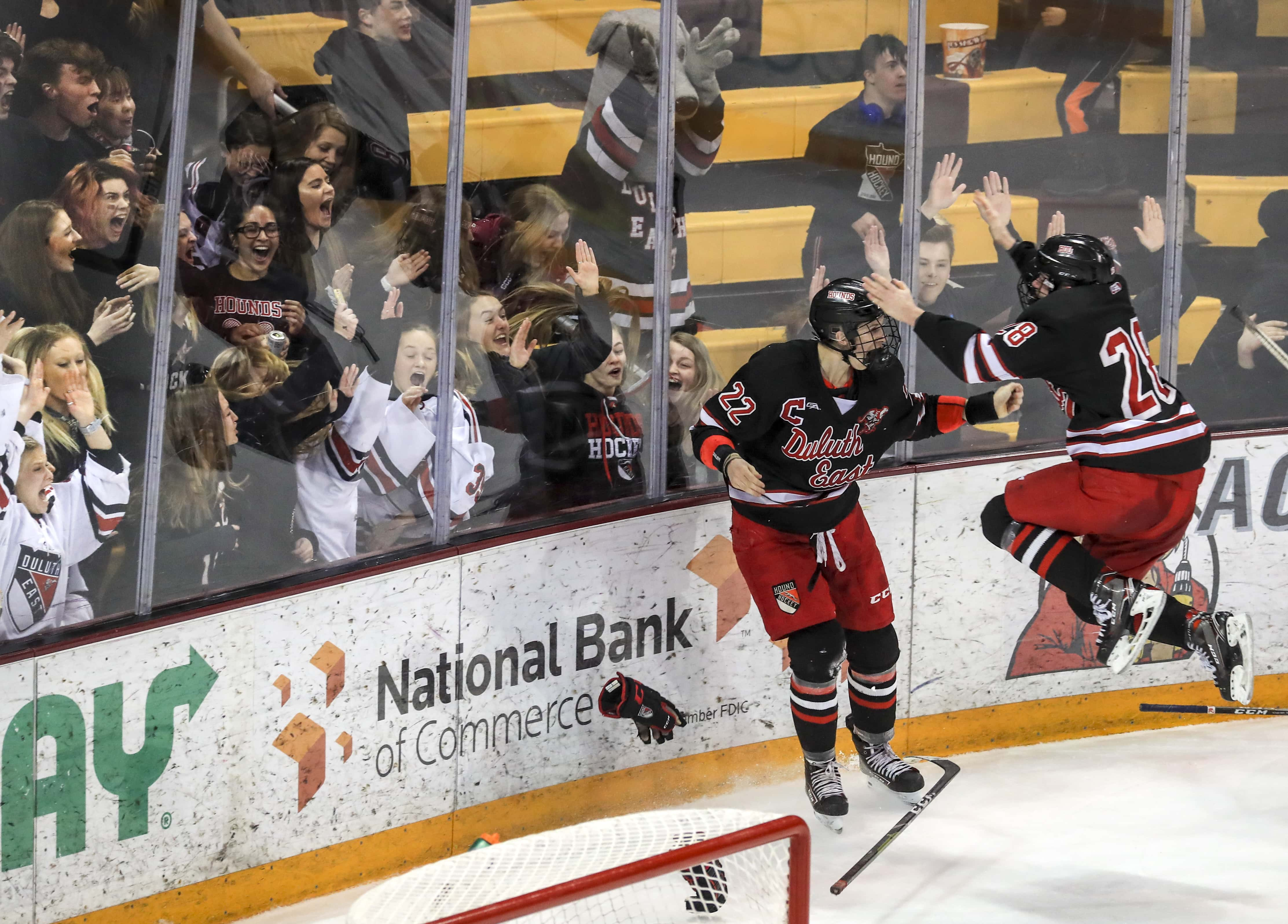 By Rick Weegman
DULUTH, Minn. — Logan Anderson scored his share of big goals for the Duluth East hockey team, but that task will have to fall to his former teammates this season.
Anderson, along with fellow Greyhounds forward Jacob Jeannette, have chosen to play junior hockey in the United States Hockey League for the 2019-20 season.
Anderson, a senior-to-be, will play for the Des Moines Buccaneers while Jeannette, a junior-to-be, will play for the Waterloo Black Hawks, according to East coach Mike Randolph.
"We only have one forward back that has any (regular) experience at the varsity level," Randolph said of senior Charlie Erickson. "So we'll have a brand new team."
Anderson agonized over the decision, but ultimately felt it was the right call.
"Not playing with my buddies is the No. 1 (drawback), but I really think it's the best for my development and I'm ready to take the next step," he said Thursday. "It will get me stronger physically and mentally because the season is 45 games longer than in high school. I think it will be the right move, and I can't wait to get started."
While the issue of high school players leaving to play juniors is nothing new in Minnesota, East has been unaffected the last several years. Standouts such as Dominic Toninato and Ryder Donovan even stayed for their senior seasons.
Randolph, whose 642 victories are third-most in Minnesota prep hockey history, has been outspoken against players leaving early.
"I don't think I will ever change those feelings, having coached all these years and seen both sides of it," he said. "Dom Toninato could have left early and he decided to finish his high school career. More recently was Ryder Donovan. I don't think it hurt either of them (to stay).
"They get a lot of pressure to leave, that's the way it is. There was pressure on my son to leave."
Randolph related a story about when his son, Jake, was playing at East and the idea of him joining the Omaha Lancers of the USHL came up.
"When (Jake) was in Omaha's camp, the coach of Omaha came up to me and asked me about Jake leaving high school (early) and coming to Omaha," Mike Randolph said. "I said, 'Why don't you go over there and ask him — not knowing what Jake's answer would be. The coach went over and asked him and he said, 'No, I want to finish high school.' "
The U.S. National Team Development Program, based in Plymouth, Mich., was interested in Donovan, who declined the offer and led the Greyhounds to the 2019 Class AA state tournament. He was taken by the Vegas Golden Knights in the fourth round of the NHL Entry Draft in June.
"Could he have been drafted higher had he gone to the U.S. development team? Who knows?" Randolph said. "That's something we won't know."
Other former Greyhounds who did leave early include current NHLers Derek Forbort (USNTDP) and Andy Welinski (Green Bay Gamblers of USHL).
Anderson excelled at overtime goals, scoring the game-winner in the second OT session against Grand Rapids in the 2018 Section 7AA title game and again vs. Cloquet-Esko-Carlton during the regular season last December. He finished with eight goals and 27 assists last season.
Those heart-stopping moments will have to come from elsewhere now.
"I've learned you just move on," Randolph said. "It provides an opportunity for other players to grab ice time. There's not too many players who are upset that they are leaving. They get a chance to take up those minutes. I've learned not to waste any energy worrying about it because it's just part of coaching high school hockey."
Anderson said he discussed the move with Randolph.
"He hates to see me leave but at the same time he respected me for it," Anderson said.
Other Northland area departures
East is not the only school in the Northland facing departures. Cloquet-Esko-Carlton is expected to lose junior Mason Langenbrunner, one of the area's top defensemen with three goals and 17 assists a year ago, to a Twin Cities-area school.
In addition, Hibbing forward Blace Tomberlin, who is entering his senior year, enrolled at Greenway to play football, said his aunt, Rhaya Tomberlin-Anderson, who is the Greenway's volleyball coach. Greenway/Nashwauk-Keewatin hockey coach Grant Clafton, who guided the Raiders to the Class A state title game in March, said he is unaware of any potential additions to his team and Greenway athletic director Dan Mell was unable to comment.
Tomberlin's father, Justin Tomberlin, is the head coach of the Hibbing/Chisholm boys hockey team.
Students have 15 days after enrolling to decide if they want to return to their former school.
Also, CEC junior forward Christian Galatz plans to play for the Minnesota Wilderness of the North American Hockey League before and after the high school season, according to Wilderness general manager Dave Boitz. The Wilderness play at Northwoods Arena, which the Lumberjacks also call home.
Rick Weegman (@rickweegman) can be reached at rweegman@duluthnews.com.