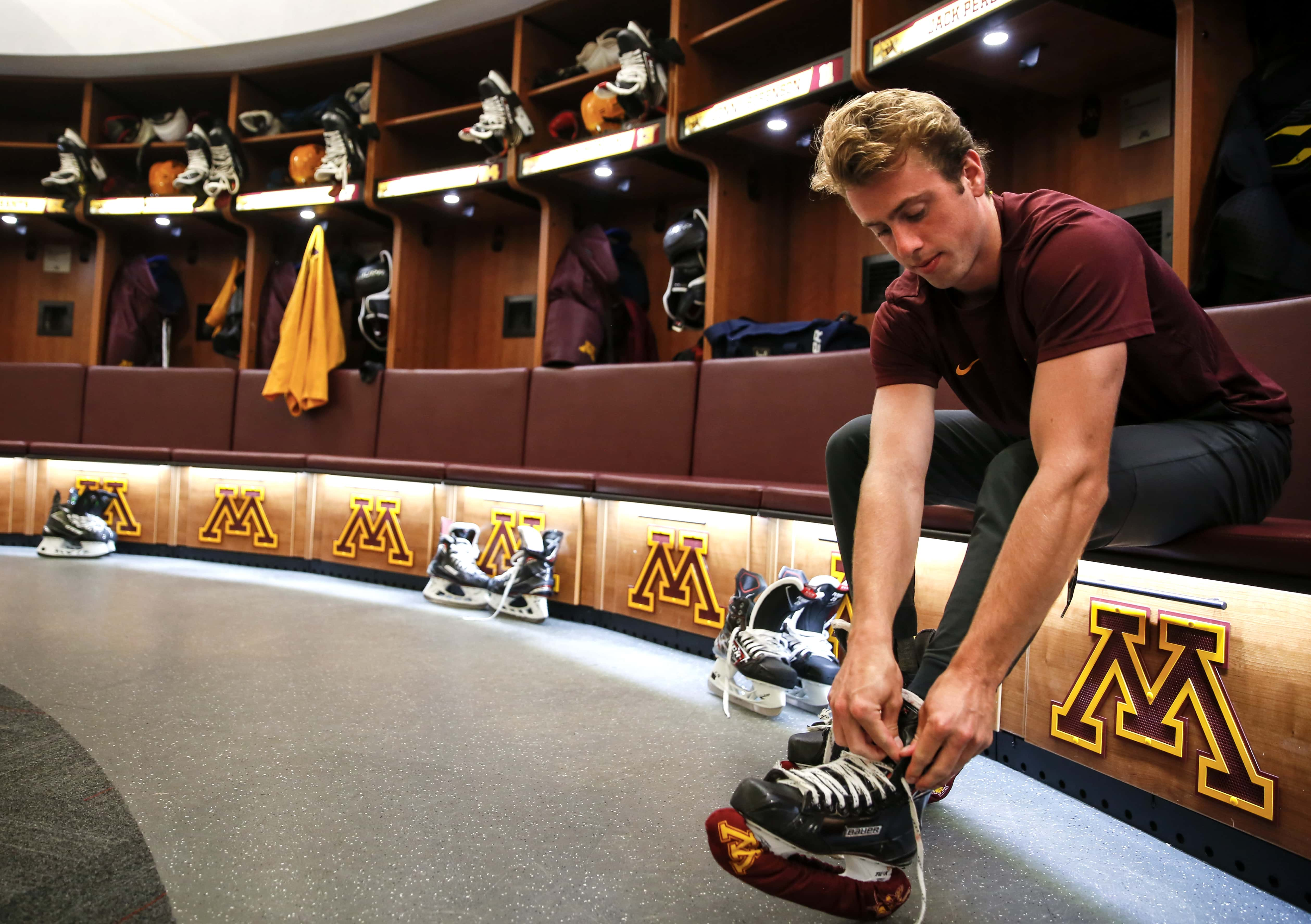 By Jess Myers
MINNEAPOLIS — For some college students, a daily trip to the coffee shop is a ritual. Others attend mass each morning without fail. For Sammy Walker, a visit to the Minnesota Gophers' weight room has been his morning rite all summer.
He has an apartment in Dinkytown, the campus community a few blocks away, which he shares with teammates Scott Reedy and Nathan Burke. But per the wishes of his coach, Bob Motzko, Walker has been working out every weekday, in an effort to add some bulk to his frame, and bring more of a physical element to the skills that earned him the Big Ten Freshman of the Year award last season for the Gophers.
In early August, The Rink Live spent 12 hours with Walker to see what a day in the life of the Gophers' top returning set-up man is like, and to get a glimpse inside the world of the modern college hockey player.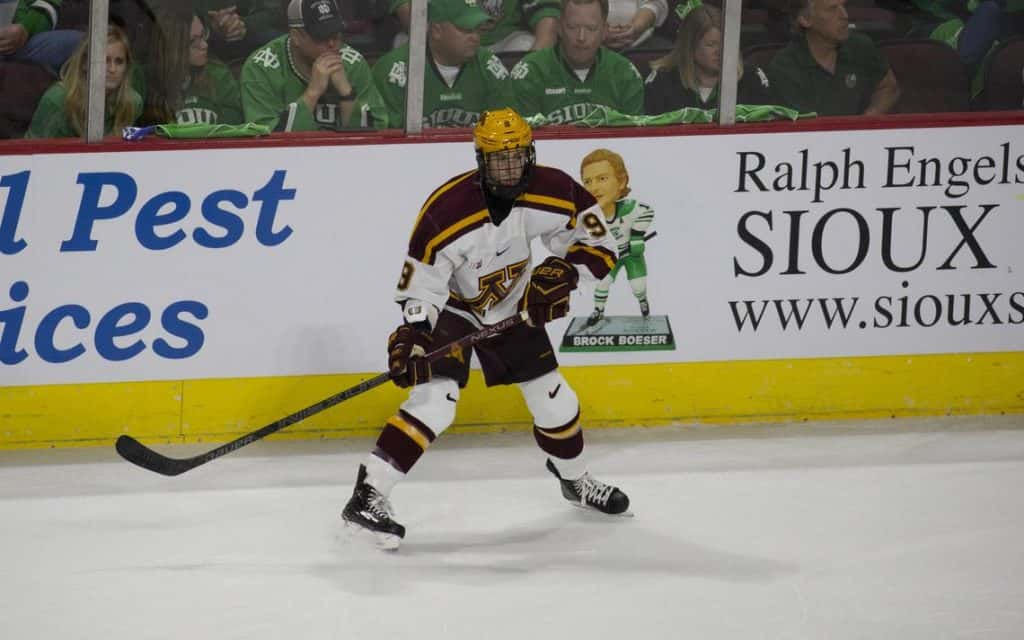 Immediate impact
Walker, who was the 2018 Mr. Hockey Award winner as a senior at Edina High School (Minn.), played 21 games of junior hockey in the United States Hockey League. But he made his to college hockey at age 19 and his abilities translated immediately.
"I was pretty nervous making the jump from high school to college, but with my speed I was able to make the jump pretty smoothly," he said. "I've just been working on getting stronger and working on my shot. But with my speed, my hands and my hockey IQ, I was able to make the jump."
He had 10 goals and 16 assists in his first 37 collegiate games, and his 26 points tie him with rising junior Brannon McManus as the team's top returning scorer. Those numbers were impressive. The numbers that concerned Gophers fans were his vitals, which have listed Walker (generously) somewhere between 144 and 160 pounds. Motzko joked last season that he wanted Walker and a few other underclassmen to "live in the weight room" over the summer, to add some size to their games.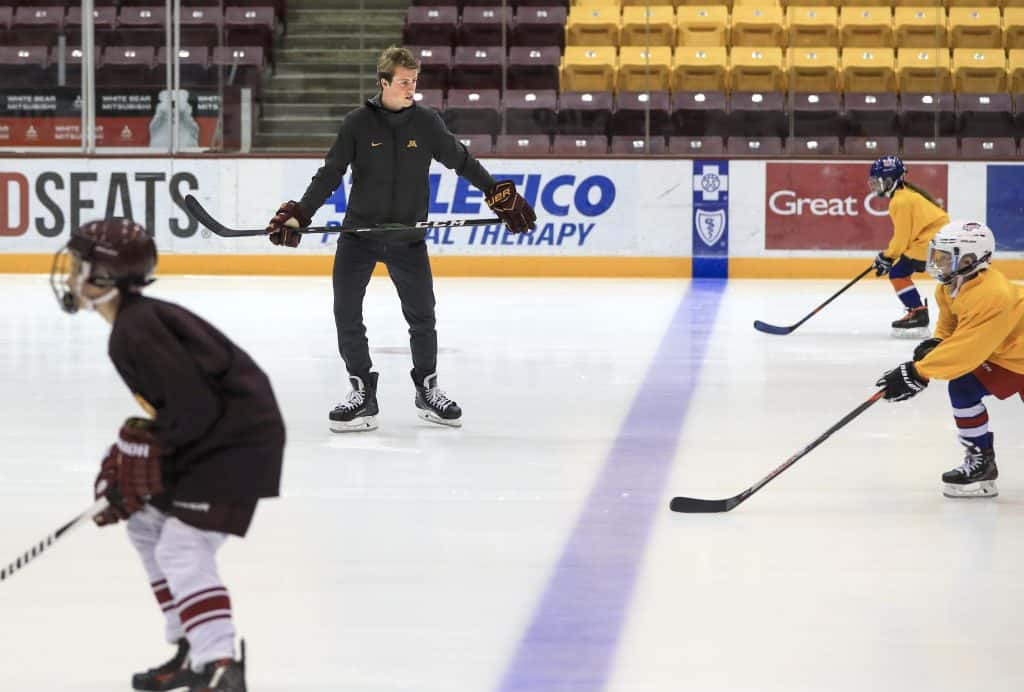 Multiply the muscle
When Walker showed up to work out before 8 a.m. on a sunny, muggy Monday, one could see that he has been taking Motzko's order seriously. NCAA rules prevent reporters, photographers and even the team's coaches from witnessing Walker's workout, but he emerged in the Gophers' team lounge 30 minutes later showing signs that he has been hard at it.
"Today was kind of a quick circuit. It usually takes an hour, or an hour-15 (minutes)," he said. "Monday and Wednesday are legs, Tuesday and Wednesday are upper body, and Friday is both. So Fridays kind of suck."
Walker said the summer has been good for him and a few teammates in their quest to become "harder to push off the puck." He has clearly added muscle since the Gophers' last game in mid March, and said he has put on close to 20 pounds in the past year since he came to the program.
"My favorite test is the eyeball test. And right now, our summer is a movie I've seen before. I'm watching guys transform and they're becoming young men. Sometimes you come in a boy and you become a young man." Motzko said later that day, citing McManus and Walker as examples. "You see the look and the excitement in their eyes. These guys were given the marching orders to get bigger, stronger, faster, and it's awesome to see that transformation. Right now the eyeball test is great, and I can't wait to see it on the ice."
After his morning workout, Walker made a quick trip back to his apartment to cook breakfast, where eggs and toast are pretty standard. Returning to the locker room 30 minutes later with a to-go container from a restaurant, Walker flashed his toothy smile and admitted he was out of eggs, so he had stopped at a Dinkytown deli for a breakfast sandwich instead.
Walker comes from an athletic family, with two older brothers who played major junior hockey in western Canada and a sister who was a college gymnast. His father, Ronald, was a soccer player at the University of Nevada, Las Vegas and now works in law enforcement.
In contrast to his brothers, Walker chose the college route, and admitted that the U of M was his focus from Day 1. He committed to play for the Gophers under former coach Don Lucia, but was a rookie for Motzko's first season. The new head coach joked that he is fortunate Walker "beat me here."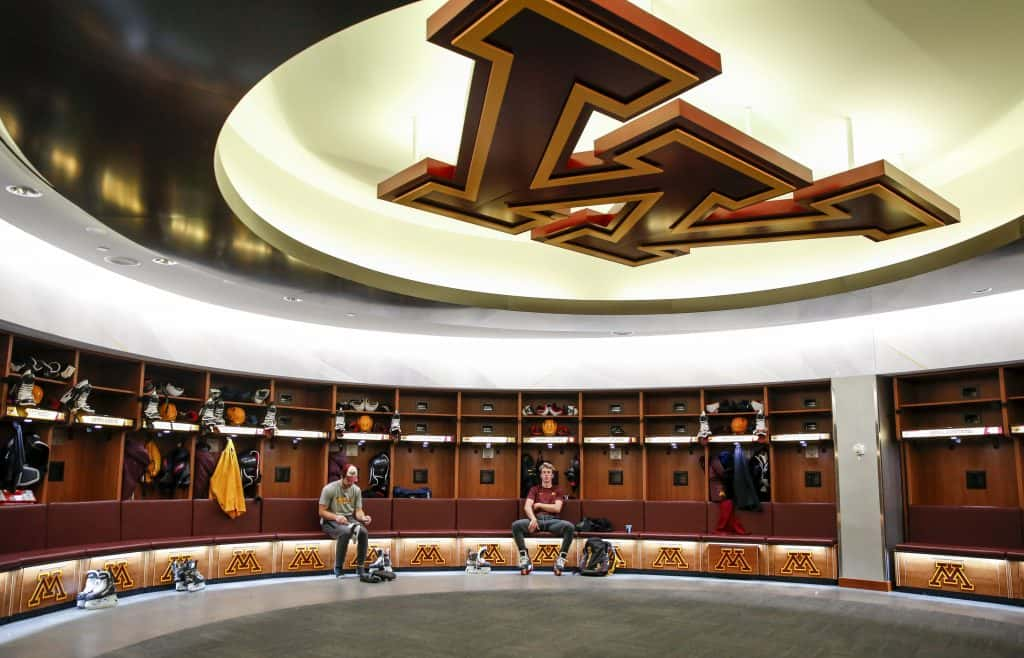 Locker room laughs
There were a half-dozen players in the team's massive oval locker room that morning, with a limited version of the normal friendly banter among teammates happening. Walker had attended the development camp for the Tampa Bay Lightning (who picked him 200th overall in the seventh round of the NHL Draft in 2017) in Florida a few weeks earlier, and had been filmed visiting a children's hospital there.
That good deed did not go unpunished among the razzing of the locker room crowd, which also offered good-natured jabs about his roots in Edina, one of the state's more affluent suburbs.
"I'm definitely not a typical Edina kid," Walker protested, noting that instead of a BMW or Lexus, he drives a Nissan Altima. "And it has four dents! But the lights still work, for now."
Monday, He was one of four Gophers who donned skates and headed out onto 3M Arena at Mariucci's massive main ice sheet. There they spent an hour working with two-dozen children attending former Gopher star forward Ryan Potulny's summer hockey camp. Walker's friendly nature makes him a natural with kids and he works at camps in the summer for fun, and for a little extra money.
On the Olympic-sized ice sheet, he not only provided on-ice instruction, but played games of tag and other non-hockey fun.
Back in the locker room, while McManus packed skates, sticks and a gold Gophers helmet for a trip to his native Southern California later that day, Walker was greeted by three representatives of CCM, the Gophers' new supplier of skates, sticks and protective gear. He has used other sticks and skates most of his career, but the CCM crew said they would be happy to work with him to customize sticks to Walker's specifications. Ideally, he would prefer a stick that is slightly heavier than those CCM is offering the Gophers.
"I've used Bauer my whole life, so it's a little different switching to CCM. With sticks, they can match what I'm used to and make a similar stick by CCM," Walker said, while making the short walk across campus to Chipotle for lunch.
He goes there so often that Walker claims at least one person behind the counter knows his order by sight. When he's not getting a chicken burrito, Walker will often cook chicken or steak for lunch at his apartment. He said he likes to put on some music — country star Luke Combs, ideally — while he works in the kitchen. He is also taking one online class in the summer. While Walker's major is undeclared, he is leaning toward business marketing.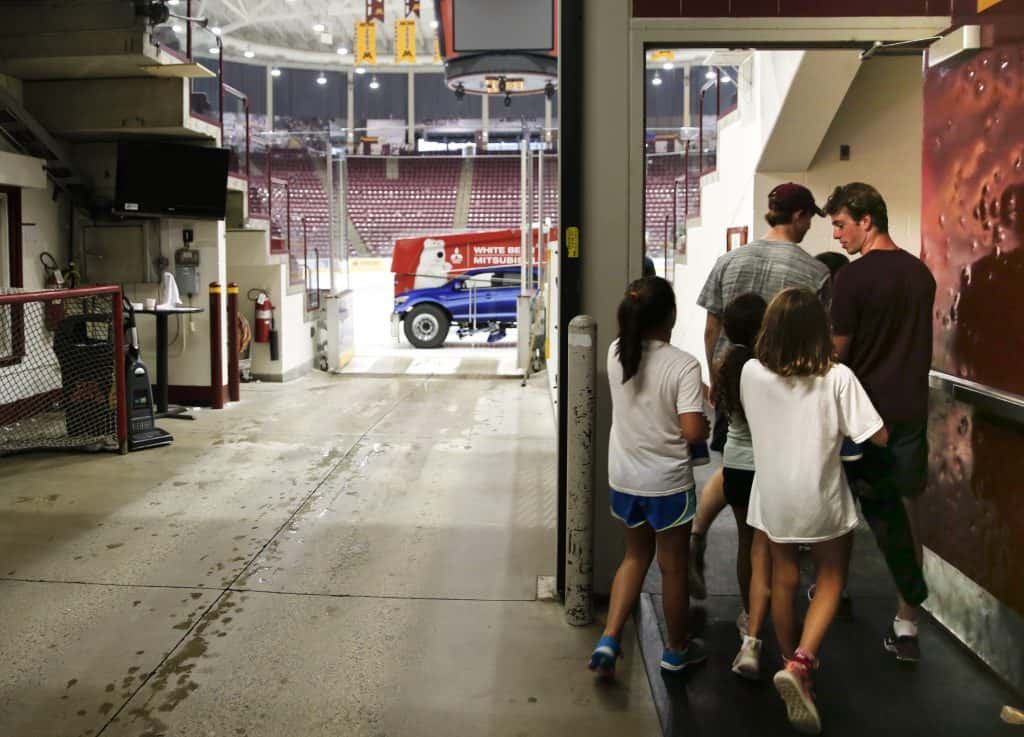 Comrades on campus
With a handful of players from Edina on the Gophers' roster, and even more of his high school classmates at the U of M, it's not uncommon for Walker to see familiar faces among the 50,000-plus undergrads on the Twin Cities campus. He said that playing alongside former youth hockey and high school rivals is even more interesting.
"It is kind of weird. Blake McLaughlin and I hated each other in bantams and in high school. Then we met at camp and I realized he wasn't such a bad guy," Walker said, after spending much of last season playing center between McLaughlin, the former Grand Rapids star, and Burke. "Now we're on a line together and we're best friends. It's funny how that works. In bantams we wanted to rip each other's heads off."
Back at the hockey camp, Walker and the kids moved outside for an intense game of kickball, before August lighting and thunderstorms forced them back into the rink. At 2 p.m. Walker headed back to his apartment for some Netflix — reruns of "The Office" are his current go-to — and a nap.
As rush hour started heating up, he pointed the dented Nissan toward his old home rink, arriving at Braemar Arena in Edina 40 minutes early for a 5:30 p.m. game in Da Beauty League, where he plays for Team BIC in wide-open, defense-optional 4-on-4 summer hockey.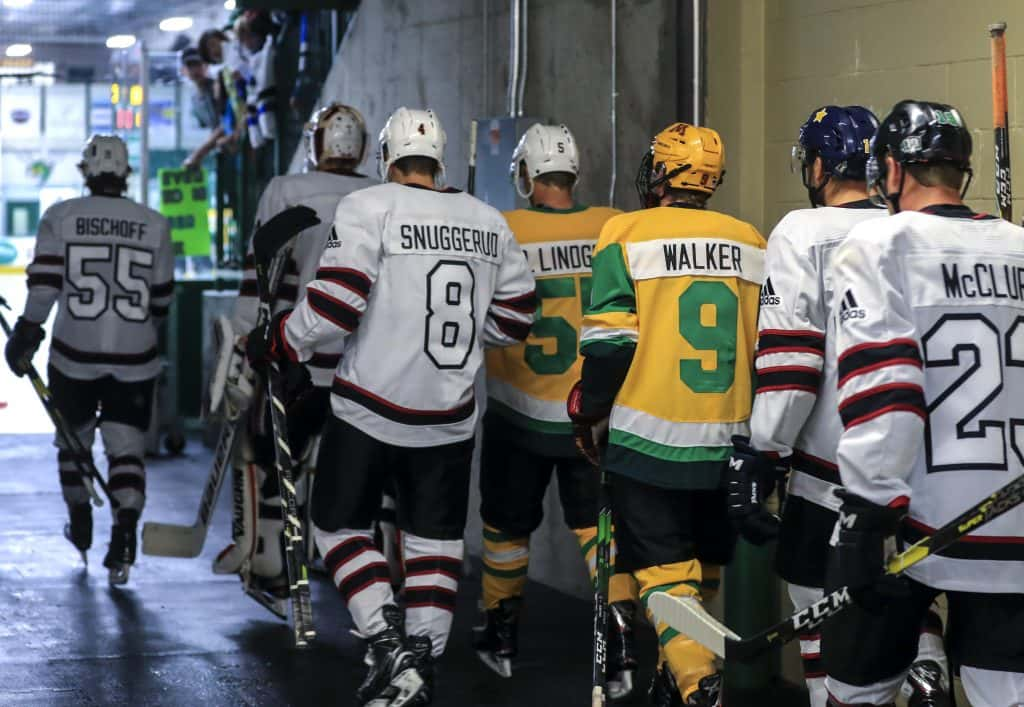 Dabbling in Da Beauty
Inside Edina's JV locker room, he looked comfortable putting on green and gold again, but Walker was notably quieter than he was in the Gophers' room. Seated between Arizona Coyotes star Derek Stepan and Vancouver Canucks star Brock Boeser, Walker was clearly a normal-sized fish in a very large pond. But he stood out on the ice, and not just for his gold Gophers helmet and full cage facemask.
"Sammy's a young kid, and there are a lot of NHL guys out here," said BIC coach Keith Ballard, a former Gophers defenseman who spent a decade in the NHL. "Being his age, going into his sophomore year of college, and he's playing against a guy who's been in the NHL for 10 years, so seeing him show his skill in this setting is awesome."
On the game's third shift, with a crowd of more than 1,000 on hand at 5:30 p.m. on a rainy Monday night, Walker won the faceoff, then took a pass at the far blue line and turned on the jets, streaking up the right side of the ice (on his forehand side) and threading a pass to a teammate at the goalmouth.
Jared Moe, the goalie for Team Tradition, made the save on that rush, but Walker would finish the night with two goals and an assist.
While Walker craves room to work, others see his best game in crowded places on the ice, when things like hard work and vision are primary assets.
"I think in open ice, you see that speed. But I think what he does in traffic — his compete level and how he fights for pucks — is as important," Motzko said. "We've all seen players with speed that sometimes stay on the perimeter. When he gets in traffic, he's a hockey player.
"The bottom line is you make hay inside the dots. His speed is electrifying and makes him dangerous, but what makes him superb is what he does in traffic."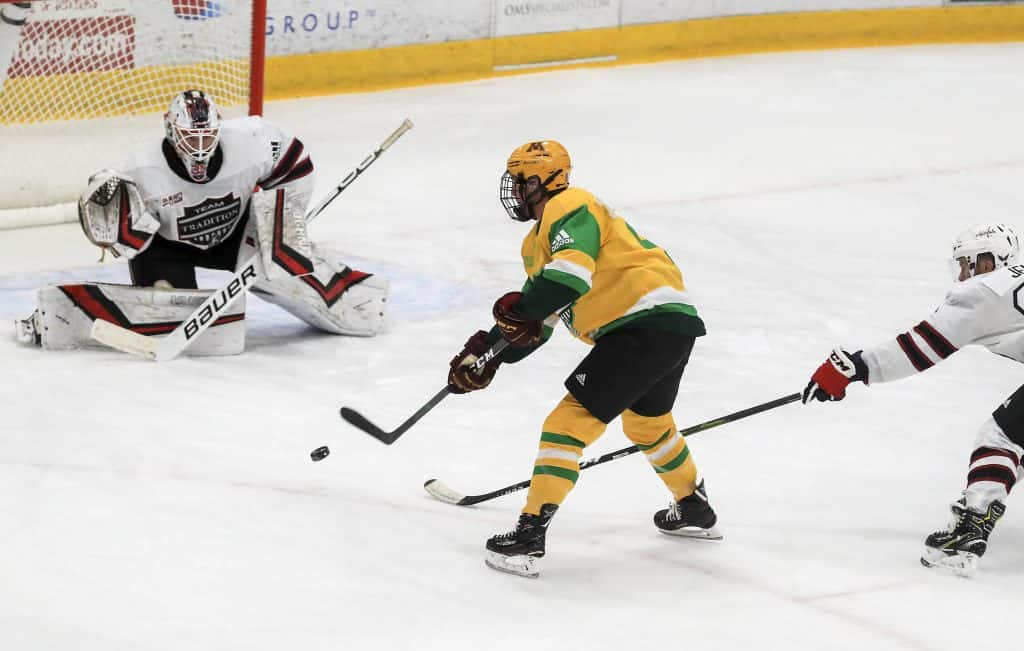 Puck-moving proficiency
Moe, who will be a Gophers freshman in the fall and will compete for the wide-open starting goalie job, said later that he looks forward to seeing the back of Walker's jersey headed toward the other team's net instead of toward him.
"I don't like playing against him. I'm just hoping he doesn't do anything crazy or make a highlight reel if he gets one against me. He's not a player you like to play against," Moe said, after Tradition won a high-scoring game in overtime. "His overall speed is so fast and his hands are good. He can make you go one way and then take it another way on you."
Former Edina and Notre Dame star Bo Brauer was the recipient of Walker's set-up passes at the goalmouth on more than one occasion. Having played with Walker's older brothers in youth and high school hockey, Brauer sees plenty of traits that will mean future success.
"Two-on-twos aren't easy when you're going up against a couple NHL defensemen, but when he gets the puck and gets up to speed you're just trying to match it, and he put the puck right on my stick a few times," said Brauer, who plays minor league hockey in the ECHL. "Unreal hands, unreal vision, he can fly up the ice, and that's a good recipe for a goal-scorer."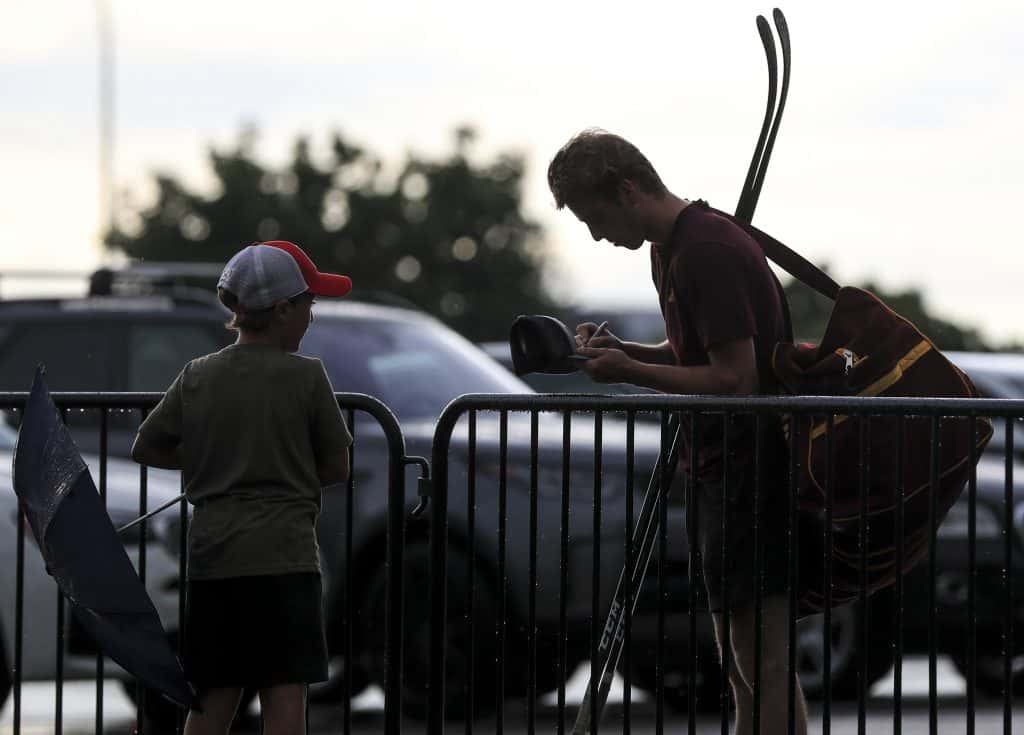 Home, and hockey, await
A crowd of autograph-seekers waited outside Braemar's back entrance as Walker headed that way, maroon hockey bag slung over his drooping shoulder, looking exhausted. There were two more games at the rink that night, but he was headed back to Dinkytown rather than lingering in his hometown.
"Going home to kick my feet up. I'm pretty beat. Long day," he said. "These games kind of drain you, so I'll probably put on Netflix and relax."
The Gophers lost 12 players off last season's team, so in just his second year, Walker will be a veteran, looked-upon for leadership, on and off the ice, by the team's dozen newcomers. By the time he left Braemar that night, the Gophers' Oct. 6 exhibition game with Mount Royal was 61 days away.
"I'm trying to just keep improving. We'll have a young team but man, we'll have a lot of talent, and I think we'll be able to do something with it," Walker said. "It should be a fun year. It's kind of crazy that I'll be one of the guys that they look to, but I think I'm ready for it. I'm just excited for the year."