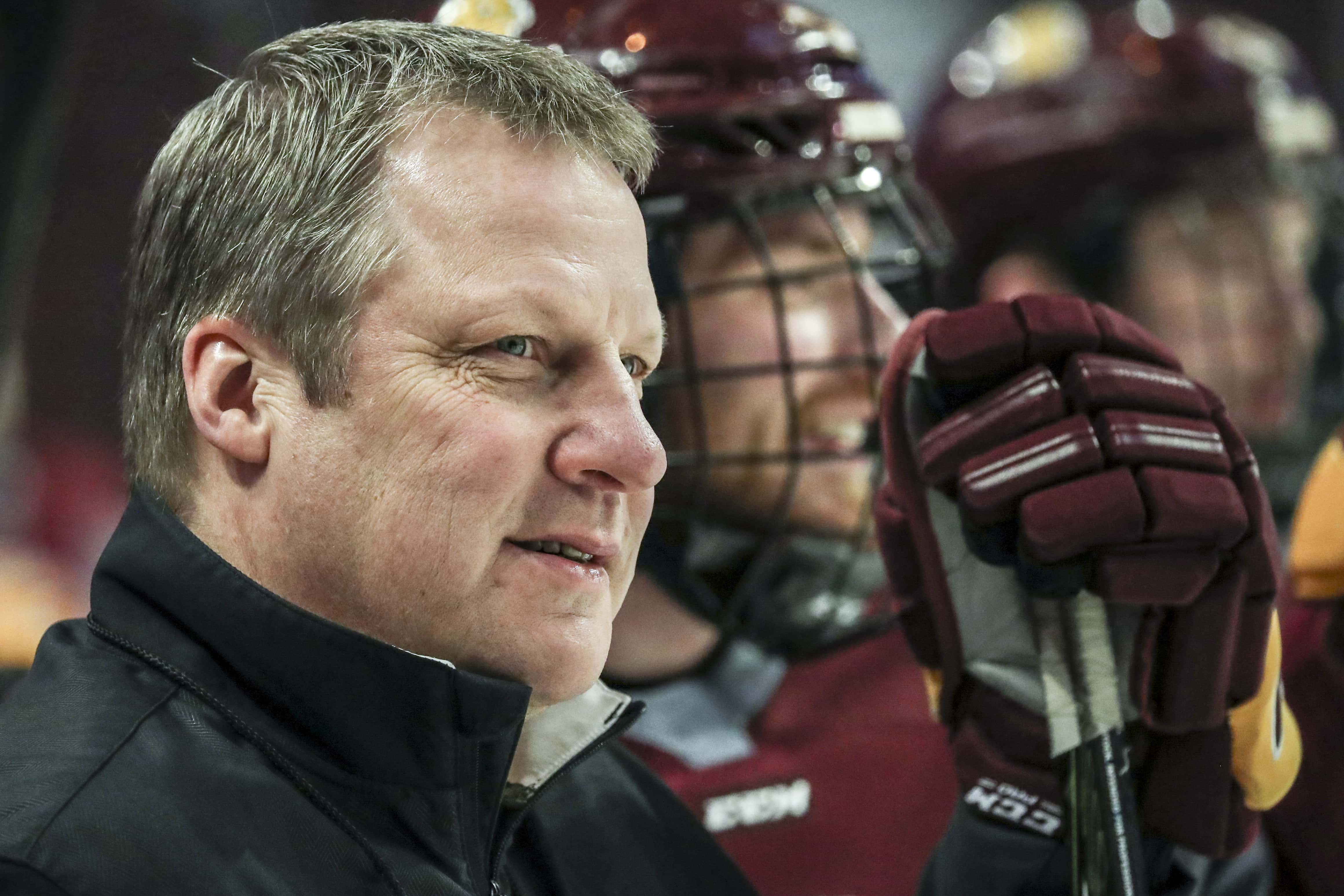 By Matt Wellens
DULUTH, Minn. — When the 2019 World Junior Summer Showcase gets underway later this month in Plymouth, Mich., it will be a reunion of sorts for Minnesota Duluth coach Scott Sandelin.
Sandelin, who enters his 20th season at UMD this fall on the heels of back-to-back NCAA championships, is serving as head coach of the 2019-20 U.S. National Junior Team and he'll begin the process of selecting that squad July 26-Aug. 3 at USA Hockey Arena.
Sandelin's staff for the showcase features three former UMD staffers in Brett Larson, Derek Plante and Nick Siergiej, plus a current member in Chris Garner.
"It goes back to a lot of things. You get guys you trust and know, especially for the tournament," said Sandelin, who has brought back most of the staff that worked under Minnesota State-Mankato's Mike Hastings at last year's World Juniors. "That's a big reason I wanted a lot of the same staff because I really enjoyed working with those guys last year."
Larson, the current head coach at St. Cloud State, will serve as an assistant under Sandelin at the showcase and from Dec. 26, 2019 through Jan. 5, 2020 during the 2020 IIHF World Junior Championship in Ostrava and Trinec, Czech Republic. This will be the first World Juniors experience for the Duluth native, who was an assistant under Sandelin at UMD from 2008-11 and 2015-18, helping the program win two national championships.
Garner and Siergiej also will join Sandelin and Larson at the World Juniors. Garner is going into his 12th season as the Bulldogs' equipment manager and will perform the same role with the junior team. Siergiej was the Bulldogs' director of operations from 2005-08. He's now at Notre Dame and will be Team USA's video coach.
Plante, a Cloquet native, was an assistant under Sandelin from 2010-15 and now works as a development coach for the Chicago Blackhawks. He will be a guest coach for the showcase and help Larson lead Team Blue in exhibitions against Sweden, Finland and Canada.
USA Hockey has invited 44 under-20 players, including incoming Bulldogs freshman forward Luke Loheit, to this year' showcase.
"It's a pretty wide group of players," Sandelin said. "It's just a matter of trying to narrow some things down. We're not going to pick the team out of this camp. This gives us a good evaluation of what we have and what we need."
Two recruits defer enrollment
Two UMD recruits who signed national letters of intent in the fall to play in 2019-20 are deferring their enrollment, according to Sandelin.
Goaltender Zach Stejskal of Grand Rapids, Minn., and forward Devlin McCabe of North Oaks, Minn., will return to juniors this upcoming year and instead become freshmen at UMD in 2020-21.
Stejskal, 19, has spent the past two seasons in the Unites States Hockey League and North American Hockey League after leaving the Thunderhawks following their run to a Class AA state championship in 2017, when he was a junior. Stejskal posted a .935 save percentage and 2.47 goals-against average in the NAHL last year with the Wilkes-Barre/Scranton Knights.
McCabe, 19, also has spent the last two seasons in the USHL after leaving St. Paul Academy following his junior year. He totaled seven goals and 18 assists in 58 games with the Lincoln Stars and Sioux City Musketeers in 2018-19.
As it stands now, the Bulldogs' 2019-20 freshmen class will include Minnesota Wilderness goaltender Ryan Fanti, 19, of Thunder Bay, Ontario, as well as four forwards: Loheit, 18, of the British Columbia Hockey League's Penticton Vees; Brandon Puricelli, 21, of the Springfield Junior Blues (NAHL); Brady Meyer, 18, of the Green Bay Gamblers; and Quinn Olson, 18, of the Okotoks Oilers (Alberta Junior Hockey League).
Loheit (Ottawa Senators, seventh round, 2018) and Olson (Boston Bruins, third, 2019) are both NHL draft picks.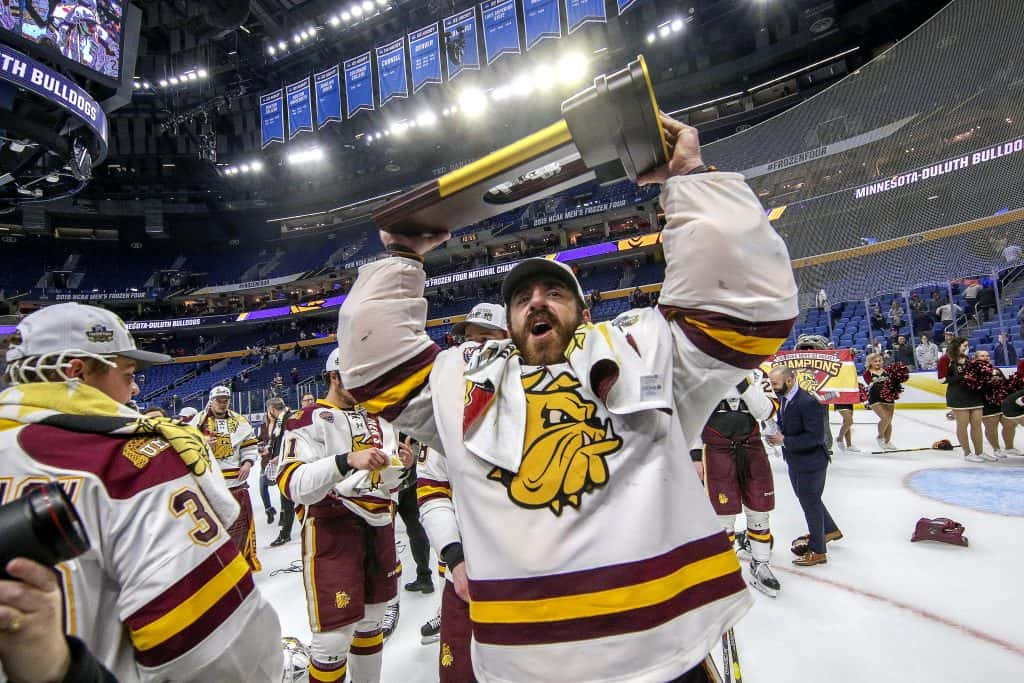 Shepard skipping development camps
When all is said and done this month, 16 past, present and future Bulldogs will have taken part in NHL prospect development camps this summer, but one name is notably absent.
Senior goaltender Hunter Shepard is not participating in any NHL camps this summer, saying he wants to be healthy for the Bulldogs in the fall as they try to become the second team to win three consecutive NCAA championships, joining the 1951-53 Michigan Wolverines.
Shepard, a Cohasset native, took part in two camps a year ago with the Buffalo Sabres and Minnesota Wild. He has a career 1.84 GAA and .924 save percentage at UMD with 54 wins and a school-record 15 shutouts.
Former Bulldog Joey Anderson — who played 34 NHL games this season — became the 16th Bulldog to take part in an NHL development camp this week, joining Olson, Justin Richards and Nick Wolff with the Boston Bruins, Riley Tufte and Parker Mackay with the Dallas Stars, Mikey Anderson with the Los Angeles Kings, Nick Swaney and Louie Roehl with the Wild, Loheit with the Senators, Scott Perunovich with the St. Louis Blues, Cole Koepke with the Tampa Bay Lightning and Dylan Samberg with the Winnipeg Jets.