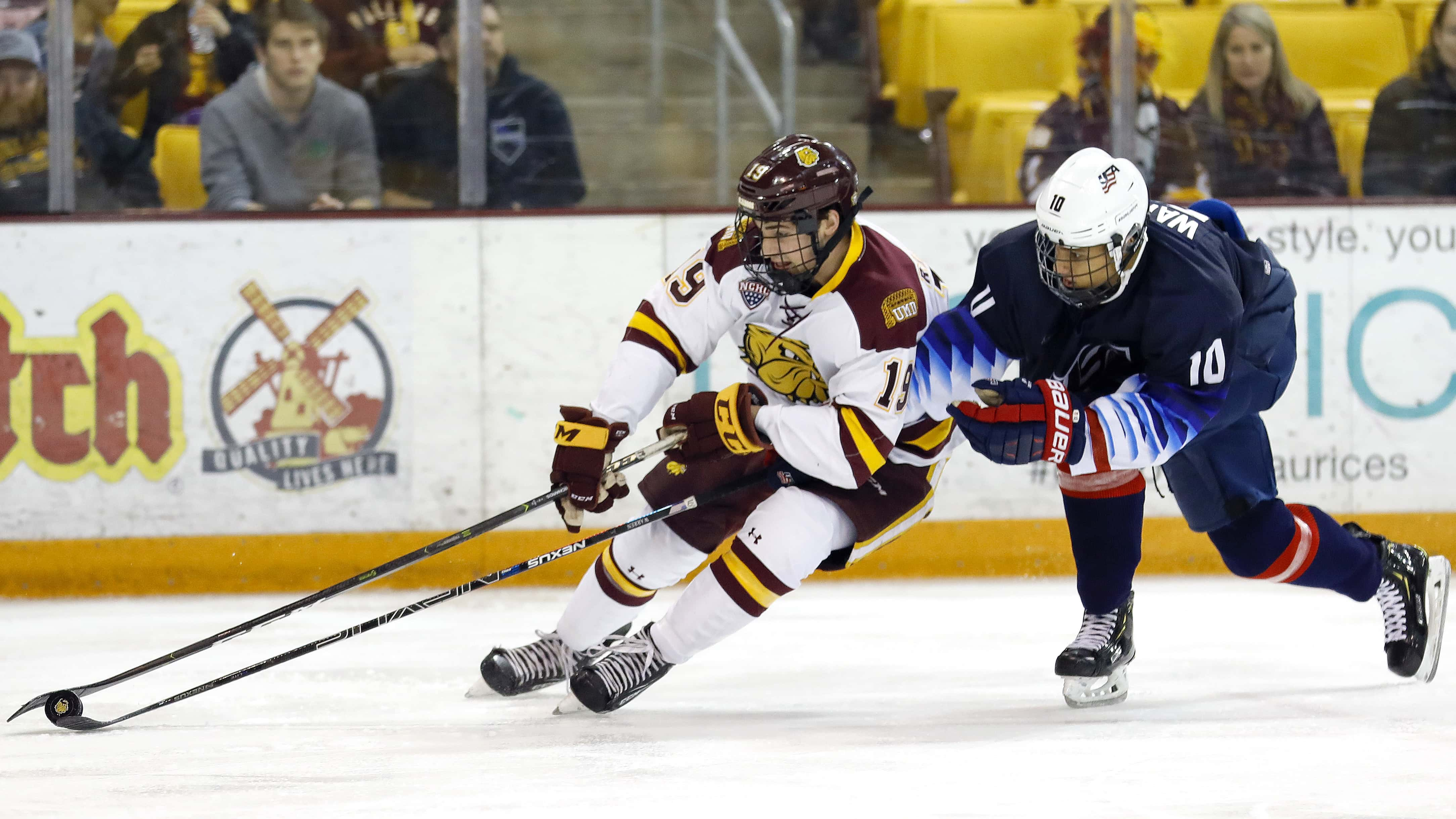 By Dane Mizutani, St. Paul Pioneer Press
ST. PAUL, Minn. — Minnesota Wild prospect Marshall Warren still remembers hurriedly ducking his head under the boards as a kid so his friends wouldn't see him skating on the other rink.
"I was really embarrassed because they would be walking by about to play hockey and I was out there figure skating," Warren explained. "I would actually hide until they were gone so they wouldn't laugh at me."
Who's laughing now?
Using the skills learned as a figure skater to his advantage, Warren developed into a standout blue liner with the USA Hockey National Team Development Program. The 18-year-old showcased his abilities as a two-way defenseman last year with 34 points (8 goals, 26 assists) in 58 games, and the Wild felt compelled to use a sixth-round pick on him in last weekend's NHL Draft.
Not long after being selected, Warren had a plane ticket to the Twin Cities with his name on it, and has spent this week trying to turn as many heads as possible at Wild development camp.
"I'm the youngest guy on the blue line here, so I'm just trying to follow the lead of everyone else," said Warren, who is from Laurel Hollow, N.Y. "It's been basic drills so far, so I haven't really been able to show everything I've got. I'm hoping by the end of the week everyone knows what I can do."
His best chance to showcase his talents will come at Friday's 3-on-3 tournament. He models his game after Chicago Blackhawks star Duncan Keith, and the loads of open ice should allow the 5-foot-11, 170-pound Warren to fly around with reckless abandon. He's also confident that his figure skating background will shine through in that format.
"I've always felt like my skating is my biggest strength, and that definitely goes back to figure skating as a kid," Warren said. "Just the tight turns and escaping from pressure and having the confidence getting up and down using my skating abilities really comes from that. No matter the situation, I'm never really uncomfortable on the ice."
Looking back on it now, Warren is grateful his mother, Lisa, pushed figure skating on him as a kid. Never mind the fact that he wasn't too keen on it at the time.
"She would always tell me that I had to be a good skater before I could play hockey," Warren said. "I was like 4 years old when I started figure skating, and then I was like 6 years old when she let me pick up a stick, and then I was like 8 years old when I really started playing. She always held me back and told me my time was eventually going to come."
It did last weekend in the stands at Rogers Arena when he heard his name called over the loud speakers. That moment was years in the making for the family, and while it took a lot longer than expected for Warren to hear his name called, none of that mattered when he put on the Wild jersey for the first time.
"As long as I make the most of my opportunity it doesn't matter where I was picked," Warren said. "All that's going to do is fuel my fire. I'm going to keep trying to prove to everyone the type player I am."
In the meantime, Warren will take his talents to Boston College in the fall. He will only be a few miles away from his older sister, Arielle, who attends Boston University and just won nationals as, wait for it, a figure skater.
"I was a little embarrassed when I was a kid and I'm grateful for it now," Marshall said. "It all worked out in the end, even though there might be a little bit of a sibling rivalry there with those schools. I'm just glad we're both out there doing our thing."