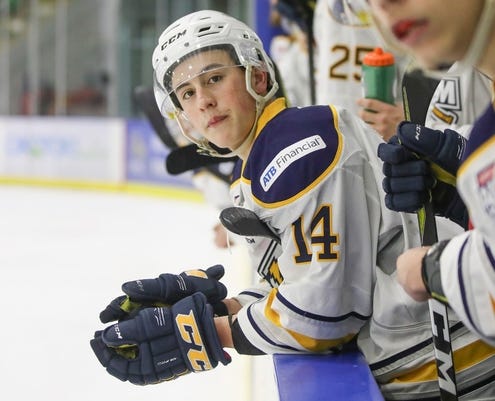 By Mick Hatten
ST. CLOUD, Minn. — A good indication of where Zach Okabe's heart was for college could be seen on his head.
In September 2017, Okabe verbally committed to play college hockey for the University of Vermont. If you saw him that fall, though, you'd have had a difficult time knowing it.
"When I was 11, I visited the Mall of America when I was in Minnesota for hockey and I got a St. Cloud State hoody and hat," said Okabe, who turns 19 in January. "I still wear the baseball hat all the time. I wrote 'Zach, No. 14' on the hat. That's the number I requested (recently). I've always been 14.
"That sounds really bad coming from me being a Vermont commit and I was still wearing my St. Cloud hat to school. It makes me seem like a really bad recruit."
Well, not anymore. When Vermont associate coach Kyle Wallack left the program to become the head coach of the Albertus Magnus College men's hockey team in Connecticut, Okabe de-committed. In August 2018, he verbally committed to the Huskies.
Okabe will be part of a 10-player freshman class for the Huskies this fall. Most of the team's freshman class is on campus this week for workouts and some orientation. Okabe, though, is in Alberta, finishing his classes for his high school degree. He plans to be on campus in July to get situated.
Before that, Okabe is hoping that he can add another hockey hat to his collection: One from an NHL franchise. Okabe, who is listed at 5-foot-9 and 168 pounds, is ranked No. 201 among North American skaters in the 2019 NHL Central Scouting Final Rankings. The NHL Draft will be held June 21-22 in Vancouver, British Columbia.
There are 31 teams and seven rounds of the draft, which means 217 players will be chosen. So Okabe is likely to be a late-round pick if he is chosen.
"Obviously, it's a good compliment to be listed (by NHL Central Scouting) and it only takes one team to get invited to a camp," he said. "There will be 31 opinions coming my way. Good or bad, I'll try to take something from it. If there's something bad, I'll do what I can to fix it or get better at.
"The good ones will be flattering, but I don't put too much into it."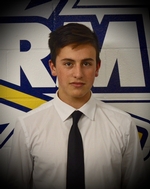 18-year-old freshman
At age 18, Okabe will be the youngest player on the St. Cloud State roster in the fall. He has junior eligibility remaining after spending the last two seasons with the Grande Prairie Storm in the Alberta Junior Hockey League.
"I have mixed emotions because I really love it here and it's become my home in my short time here," he said of playing for Grande Prairie. "I have a lot of really close friends and good memories here, so that's the sad part.
"But I'm super excited to get things going in St. Cloud. I can't wait to meet everyone and go for the championship and be part of the winning culture. I'm super excited about college in general."
So where did Okabe's interest in St. Cloud State originate? He's not from the area.
Okabe was born in Japan, has lived in five countries and his hometown is listed as Okotoks, Alberta, which is about 35 miles south of Calgary.
But his father, Bob, is Japanese and played club hockey for St. Cloud State. Bob works as a plastics designer, which is the reason for all of the moving around earlier in Zach's life.
"After the stuff went down with Vermont, I had a meeting with my family adviser to go over things and saw that St. Cloud was still interested," he said. "I visited a couple schools (Denver and Massachusetts) and St. Cloud was the last stop before home."
He will join a St. Cloud State team that will be looking for some offense from its freshman class. The Huskies' top four players in points, and five of their top six, from last season will not be back.
Good numbers
Okabe, a wing, was the AJHL Rookie of the Year in 2017-18 when he had 22 goals and 35 assists in 58 games. Last season, he had 31 goals and 27 assists in 60 games. His 31 goals tied for ninth in the league in 2018-19.
"My role changed and I was doing some more shooting," he said. "I was hanging onto the puck a bit more and I was more comfortable.
"I'm definitely getting stronger with my skating in general and I definitely got bigger. I'm going to be the youngest guy on the team, so I've got to make sure to get ready to go against the big guys in the corners comfortably and come out with the puck. I'm working on getting as explosive as I can for the season."
Despite not playing a lot of center in his career, Okabe considers himself a creator on the ice.
"I see myself as a playmaker," he said. "The goalies are going to be a lot better and I'll have a lot less time in college. My game might shift again to playmaking because there are some guys who can really shoot the puck.
"I've got to adjust when I get there. I think a good thing is that I can adapt to both types. I can put the puck in the net if I need to."
Okabe said that he has been in regular contact a future teammate since the second half of last season. Kyler Kupka, a 20-year-old forward, played against Okabe in the AJHL for the Camrose Kodiaks.
"I've also talked with Jami Krannila and we're in the same boat because we're both still pretty young," Okabe said of Krannila, who turns 19 in October.
The other freshmen
Here's a quick look at the rest of the freshman class for the Huskies:
> Chase Brand (5-10, 160, 20, F, Nevis, Minn.) had 17 goals and 54 points in 62 regular season games playing for the Madison Capitols of the United States Hockey League. Brand played high school hockey for Park Rapids.
> Jaxon Castor (6-3, 191, 22, G, Phoenix, Ariz.) played for St. Cloud State's club team last season and was 7-3-1 with a 2.09 goals-against average and .946 save percentage. His save percentage was the fourth-best mark in American Collegiate Hockey Association Division 2. In 2017-18, Castor split the season between the USHL's Dubuque Fighting Saints and the North American Hockey League's Shreveport Mudbugs. He was 7-6-1 with an .891 save percentage and 3.02 goals-against average for Dubuque. He finished the season with Shreveport and was 10-5-1 with a .931 save percentage and 1.50 goals-against average in 18 regular season games. Castor was 9-2-1 (.929, 1.66 GAA) in 12 playoff games to help Shreveport win the NAHL's Robertson Cup.
> Henry Enebak (5-11, 186, 20, F, Lakeville, Minn.) had 16 assists, 24 points and 62 penalty minutes in 51 regular season games playing for the Carleton Place Canadians of the Central Canada Hockey League. He played high school hockey for Lakeville North.
> Krannila (5-10, 159, 18, F, Pori, Finland) had 17 goals, 45 points and 81 penalty minutes in 60 regular season games. He also had two goals and three assists in 12 playoff games to help the Sioux Falls Stampede win the USHL's Clark Cup.
> Kupka (5-11, 183, 20, F, Camrose, Alberta) tied for ninth in the AJHL in assists (41) and tied for sixth in points (71) in 60 games. In three seasons with Camrose, Kupka had 72 goals 86 assists and 105 penalty minutes in 153 games.
> Joe Lamoreaux (6-1, 183, 20, G, Shorewood, Wis.) was fifth in the USHL in games played (48), faced the most shots (32.2 per game) and was 9-34-1-2 with an .897 save percentage and 3.60 goals-against average for the Madison Capitols. The Capitols had the second-worst record (15-38-5-4) in the USHL.
> Thomas Rocco (5-9, 160, 19, F, Downingtown, Pa.) had 29 assists, 42 points and was a plus-30 in 56 regular season games for the Aberdeen Wings of the North American Hockey League. He tied for 13th in the NAHL in plus/minus. Rocco also had nine points in 12 playoff games to help the Wings win the NAHL's Robertson Cup.
> Ondrej Trejbal (6-3, 190, 20, D, Nove Mesto, Czech Republic) had 29 assists, 40 points and was a plus-10 in 55 games playing for the Minnesota Wilderness in the NAHL. He tied for seventh among NAHL defensemen in points and tied for ninth in assists by a defenseman.
> Trevor Zins (6-1, 188, 20, D, St. Michael, Minn.) had 12 goals, 34 assists and 58 penalty minutes in 58 games playing for the Trail Smoke Eaters of the British Columbia Hockey League. Among BCHL defenseman, he tied for fifth in goals, sixth in assists, was fourth in points and tied for fourth in power-play assists (16). Zins played high school hockey for St. Michael-Albertville.