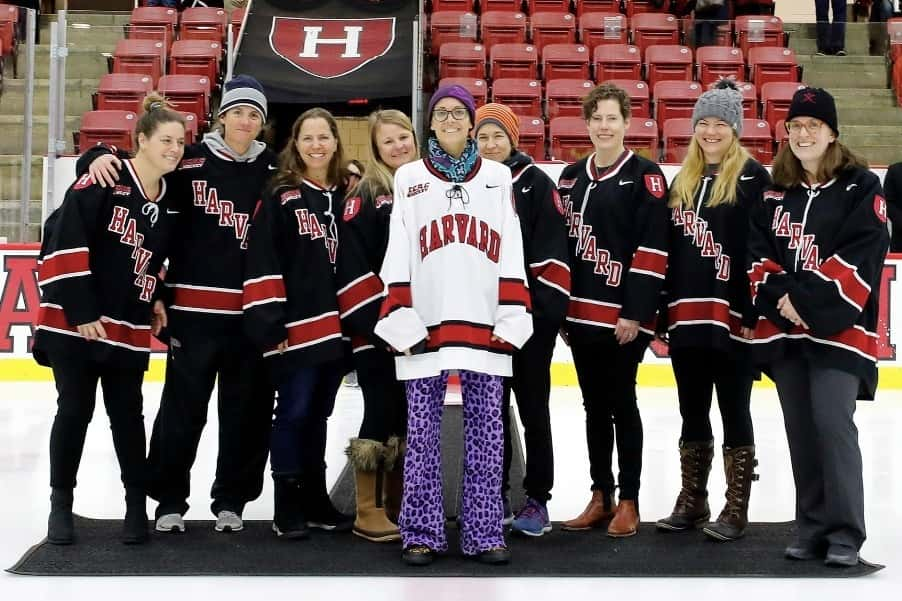 By Louie St. George
The voice, out of place as it was, gripped Angie (Francisco) Flygh as soon as it escaped the speaker's mouth.
Flygh was a freshman defenseman on the Harvard women's hockey team in 1997-98. During a lull in practice, there was a sound she couldn't mistake.
"I heard that Duluth accent," Flygh recalled.
It's one the Duluth East graduate knew well. And when she spotted the owner of the words, she found fellow Northland native Alison Kuusisto, who was making quite an impression on her recruiting visit to the Ivy League school in Massachusetts.
The outstanding Denfeld goaltender was wearing "a little bit of a wild outfit," Flygh remembers, including gingham pants — and, undoubtedly, her million-watt smile.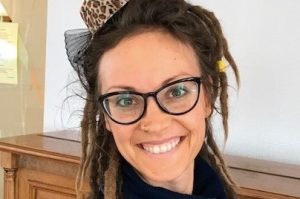 Kuusisto never worried much about fitting in.
"There are free spirits, and then there is Ali Kuusisto," Flygh said. "She's just fearlessly herself."
"Outlandish pants," as another former Crimson player, Sally Duval, called them, are a Kuusisto staple. Leopard skin, bright polka dots … it was all on the table. Even if the rest of her teammates were wearing all black on game day, Kuusisto would have "some kind of funky pattern going on."
Proudly.
"She isn't an all-black kind of person," Duval said. "She's colorful."
That's remained true all the way to the end. Kuusisto, then 35, was diagnosed March 9, 2016, with stage 2B cervical cancer, which has since reached stage 4. Kuusisto lives in Paonia, Colo., with her husband, Greg Hottinger, and their five children, all of whom are 10 or younger. Social media posts indicate Kuusisto's family is in the process of making final arrangements.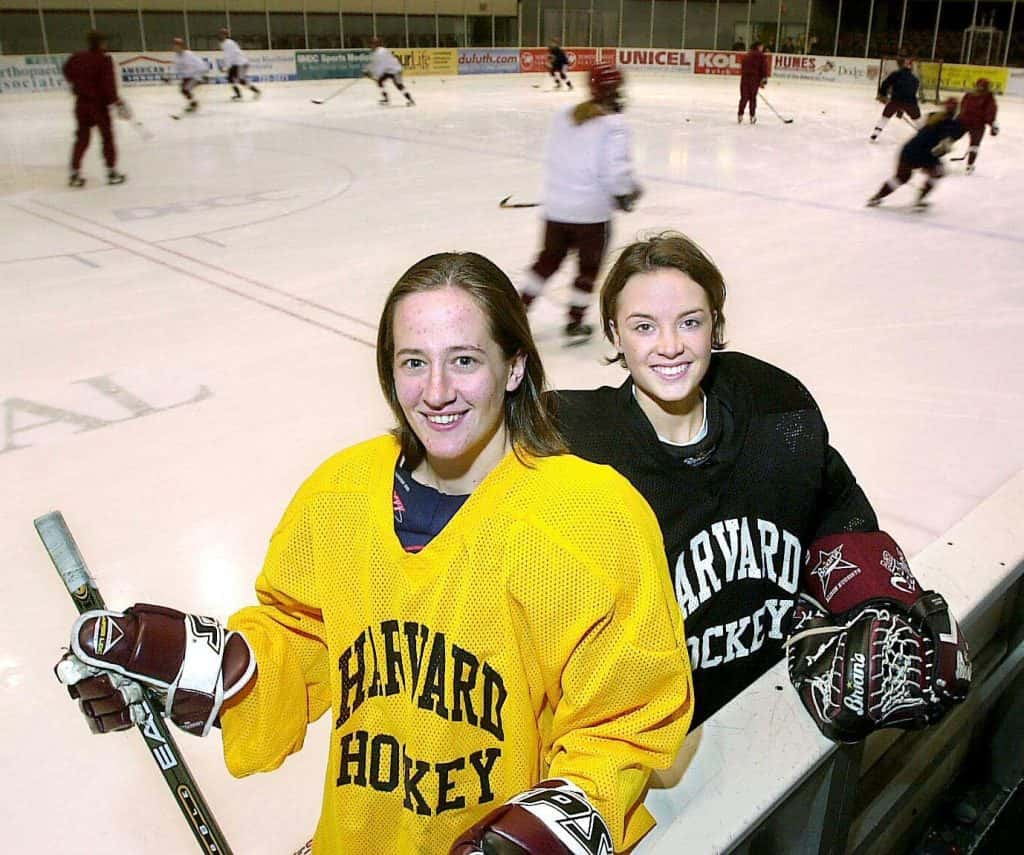 National title 
The 1998 Denfeld graduate and multi-sport athlete was a goalie on Duluth's first high school girls hockey team, the Dynamite. Kuusisto then headed to Harvard and, as a freshman, was thrust into action when starting netminder Crystal Springer broke her collarbone. Springer aggravated the injury in the national semifinals, forcing Kuusisto between the pipes for a championship showdown vs. New Hampshire.
The drama stretched into overtime, where the Crimson snagged a 6-5 victory. Their freshman goalie, a year removed from playing high school girls hockey, which was in its infancy in northern Minnesota, was steady throughout.
"She didn't let the moment become bigger than she was," Duval said of Kuusisto's performance in the 1999 title game.
Added longtime Harvard coach Katey Stone: "She was probably the loosest person in the rink."
One of Kuusisto's coaches with the Dynamite, Jack Shearer, never was surprised at the success she enjoyed in college hockey. He said Kuusisto was "very driven." She knew what she wanted and charged after it.
Shearer has been around young athletes for decades. After so long, he said, you start to get a feel for what each kid is about.
"And when you looked at Ali, you thought, 'This kid's got something,' " Shearer said. "She was the whole package."
That included being a consummate leader, the kind who "took the younger kids under her wing," Shearer remembered. Kuusisto, whose infectious personality endears her to so many, always has time for others. To meet Kuusisto is to meet a new friend. A playful and goofy friend who never takes herself too seriously.
"She was an athlete (at Harvard), but she had a lot of other close connections with people who were not on the hockey team and not involved in sports," Flygh said. "All sorts of people in college were drawn to her."
That's likely because, as Stone noted, "She makes everybody around her feel good. She just has a magnetic personality."
While Laura Bellamy never met Kuusisto, she nonetheless looked up to her. Bellamy, associate head coach of the Minnesota Duluth women, was a star goalie at Denfeld, where she graduated in 2009, then Harvard. Sound familiar? The career trajectory wasn't lost on Bellamy.
"I wanted to be 33 because that's the number (Kuusisto) wore at Harvard," Bellamy said. "She definitely had an impact on my life."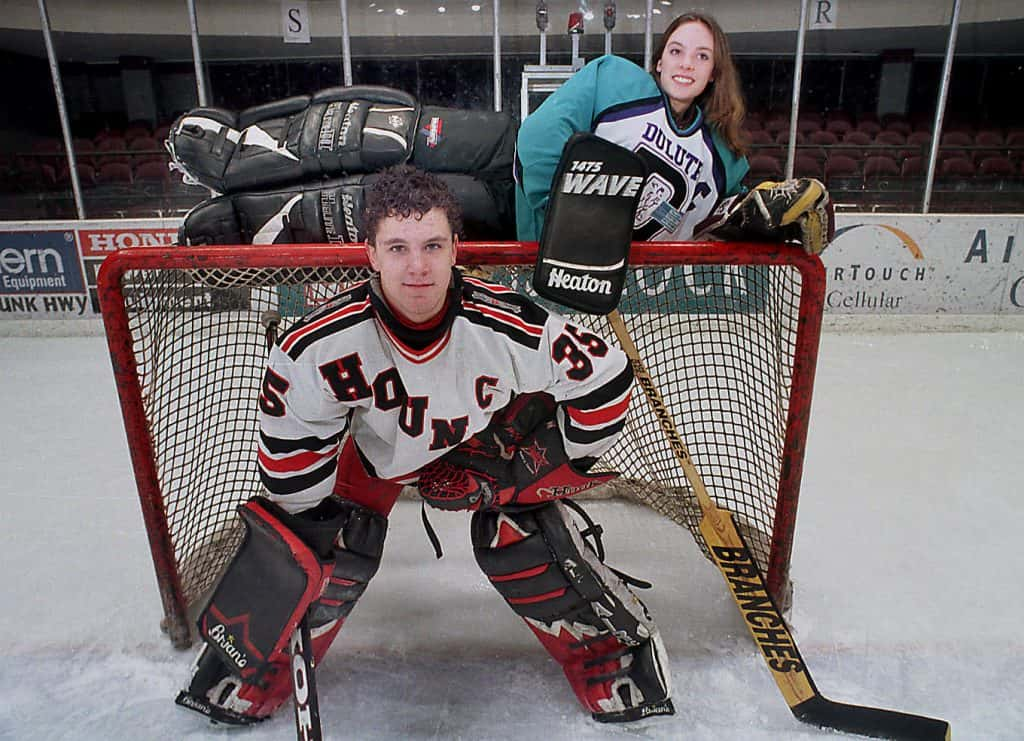 Mother of 5
After graduating from Harvard in 2002 with a degree in psychology, Kuusisto embarked on what could best be described as a nontraditional life. She is a certified massage therapist who believes strongly in natural medicine and holistic health. Among Kuusisto's many roles, and certainly the one she is most passionate about, is stay-at-home mom, which was especially helpful when she and her family were living half the year in Colorado and the other half on a beach in Mexico.
Ditto for her willingness to home-school their children.
It's a lifestyle she loved — leading art projects, brewing her own kombucha, teaching a different language and culture, encouraging a reverence for nature — and one she wrote about elegantly on her blog, "Triumphs and Disasters." In a March 2018 post, she discussed the possibility of an "early death."
"I now have 5 children between the ages of 1 and 9. They deserve to have their mother in their lives for a long time. I have a lot to live for. I'm only 37. I have so many dreams that are ready to become reality. I believe in my healing capacity and I am committed to consciously assisting my body in healing.
"And yet to be patient with so many unknowns and to have complete faith and the willingness to let go of expectations, is no small feat.
"I want to live. And not just live but thrive. And to love with wild abandon and adventure with wonder like a child. And to be inspired and to inspire others, all from a place of love. To know love so richly it oozes from every pore of my skin. To be so alive that when it's time for me to pass, my spirit will have the momentum to live on, in new dimensions.
"I take a deep breath in. For in every breath, is life."
Shortly after her 2016 diagnosis, the tumor growing on Kuusisto's cervix was deemed inoperable because of its size and location. According to her blog, she was told "my only option was high dose chemotherapy in conjunction with radiation." However, she and Greg pursued Gerson Therapy, which Kuusisto describes as using "food and nutrition and detoxifying practices as its medicine, eliminating wastes, regenerating the liver, activating the immune system and restoring the body's essential defenses (including the enzyme, mineral and hormone systems)."
The worthiness of this decision was reinforced when Kuusisto learned she was pregnant with their fifth child. The Gerson Therapy was safe to continue. And, initially, it shrank Kuusisto's tumor by 45 percent, she wrote.
But the cancer never went away and instead advanced aggressively. And yet, those who know her say, Kuusisto attacked the disease with vigor and optimism.
"Throughout this sickness, she's just continued to count her blessings and have gratitude and celebrate all kinds of moments," Flygh said.
This past January, when Harvard celebrated the 20th anniversary of the 1999 championship, Kuusisto did the ceremonial puck drop. Surrounded by ex-teammates dressed in black or gray pants and black jerseys, Kuusisto typically stood out.
She was wearing a white jersey.
And purple pants with black polka dots.
> Kusisto's treatment and care the past three years have come at a steep cost. To offer financial support to her and her family, visit the GoFundMe page set up for Kuusisto at gofundme.com/for-kuus039-kids.